When Aquatic Life first announced their Twist-In reverse osmosis filters, it was hard to know what to make of this unusual new type of reverse osmosis filter. Seeing pictures or watching video can only tell you so much, but after seeing the Twist In filters in person, we have no doubt that this is what the future of hobbyist-grade water purification looks like.
For years we've been trained to think of reverse osmosis as a fairly substantial up-front cost of owning a reef tank, and a tool that takes a bit of know how to operate, properly. Between the hookups and the drain, float valves, backflushing and booster pumps, regularly replacing cartridges and testing TDS, there's a lot about contemporary water purifiers that can confuse, and go wrong.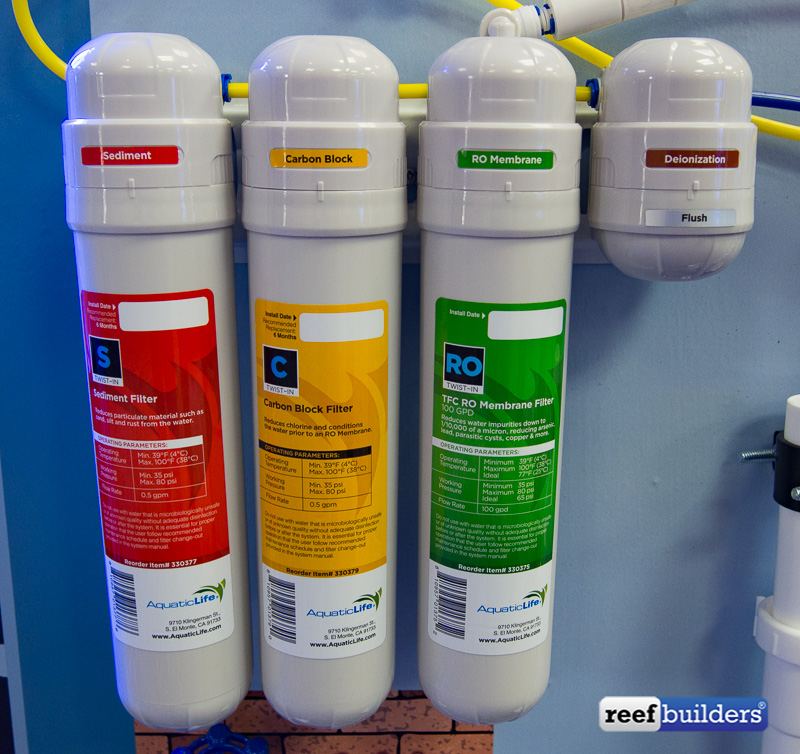 The new Aquatic Life Twist In reverse osmosis pretty much streamlines the entire process of owning and operating a very good water filter. The claim that the new Twist In Filtration from Aquatic Life is our claim, not theirs.
We've owned a myriad of canister-based reverse osmosis filters over the years, with all the bells and whistles. But if you could have ultra pure water from a smaller, easier to use device with cheaper replacement cartridges, why would you use anything else?
Unless you absolutely require high volume water purification or top shelf efficiency,  the Twist In Filtration is absolutely what reverse osmosis filters will look like in the future. The entire water purification industry is headed in the direction of smaller, easier to use twistable and lock-in water purification systems, so it's not like Aquatic Life got the concept out of thin air.
What we love about the Twist In Filtration is that it seems to offer up the convenience of full sized reverse osmosis units, in a tiny package, and a greatly reduced price, with seemingly no drawbacks or compromises. We'll have to see how the actual package performs in real life and day to day usage, but so far, we've got big expectations for Aquatic Life's newest reverse osmosis water purifier.