The Grassy LeDio RX122 LED spotlight is a new controllable aquarium light from Volx Japan. Where many companies have developed specific aquarium fixtures, Volx was perhaps the first and probably the only company still really committed to making their lights in the screw-in PAR38 spotlight form factor.
We've enjoyed many different PAR38 LeDio spotlights from Volx Japan over the years, most recently being the diverse colors of the RX072 LeDio series. The RX122 LeDio are the newest and most advanced LeDio that Volx has ever made, and the first to have wireless intensity and color control across multiple channels.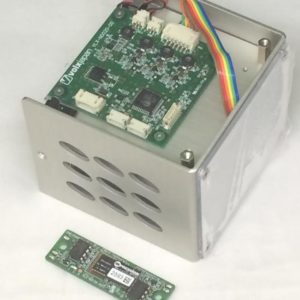 Details on the new LeDio RX122 are scant, but we do know that they will need to work with a dedicated communication hub in order to access the control features. Without it the RX122 will be a standard PAR38 LED spotlight, but with 12 total LEDs and ten more watts of power than the RX072's 14 watts.
It is unclear how the communication hub works with the RX122 LeDio, we know it uses bluetooth for wireless communication, but we think you'll still be able to use any old incandescent base for power.
The PAR38 form factor is still a very effective way to deliver passively cooled LED spotlighting, and we're glad to see Volx still championing the format. They've developed so many different versions of their LeDio series but the controllable RX122 has the most potential to regain mindshare of curious and critical reefers alike. Expected release date for the RX122 LeDio is November 20th at which time we hope to learn more about how much they cost, and how they work.