Captive fish can do some wild and wacky things in an aquarium environment. Nowhere are we more shocked than when are fish become completely unafraid of their terrestrial caretakers, and almost become friendly.
This video from the Port of Nagoya Public Aquarium in Japan is a surprising account of one grouper who has mistaken humans for cleaner wrasses. With seeming disregard for how delicious humans find groupers, this particular specimen has not a care in the world presenting his business end for a nice dental checkup.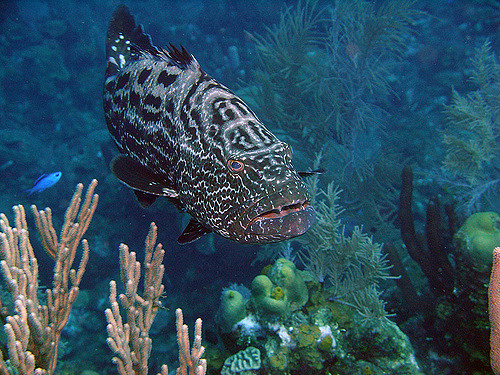 Part tooth cleaning and part jaw massage, the encounter between this grouper's jaws and a pair of opposable thumbs seems so relaxed we imagine this is a routine between the fish and its curators. Fish are intelligent enough to have some nuggets of awareness, and the grouper's good vision might even be able to identify one particular aquarists with whom it enjoys this hands-on rapport.
But big marine fish predators aren't the only ones who sometimes lose all fear of the aquarist. We've seen videos of large cichlids that enjoy being 'handled' and we've previously shared a video of a purple tang that seems to enjoy getting scratched. It just goes to show that there's more going on in the minds of marine fish than we give them credit for, and however shocking, this is probably not the last video of this kind that we'll encounter in the future.