We all want to preserve the clarity of our acrylic or glass aquarium. While sometimes it can be challenging especially with an acrylic tank, using the right tools will leave your aquarium clear of algae and scratch-free.
You will want to buy a magnetic scraper for weekly or daily cleaning. You will be able to clean the majority of the algae with a magnet. If you have an acrylic aquarium, make sure to use a magnet safe for acrylic.
For extra protection for your aquarium walls, you can cover your magnet with an abrasive plastic mesh, like the ones that cover a kitchen sponge. The fine grooves of the plastic cover trap sand so it does not come in contact with the aquarium walls. Change out the cover when needed as it gets worn down or covered in algae.
While you are cleaning, make sure to check your magnet for any sand granules or debris which can be caught between the two magnets. Remove them before continuing to clean your aquarium so there is no risk of scratches.
You may have to do this frequently while scrubbing near the sand. Some darker sands may have magnetic particle in them. So you want to pay close attention to this while scrubbing near the bottom of your tank.
Run the magnets slow and in straight lines so you do not miss any algae that is difficult to see. If you are using a plastic cover, move the magnet in the direction of the grooves. This will allow you to remove the algae as efficiently as possible.
If you are looking for a deep clean after finishing with your magnet, you can use a scraper to reach the corners, sand line, and hard to get areas of your tank. You can use a metal blade scraper with glass panels. For acrylic tank you will need to use a plastic or felt tip blade.
Depending on how often you clean your aquarium pink coralline algae can build up. We like keeping the back wall of our aquarium 'au natural' and like to see coralline or algae build up. On the side and front walls we use a plastic blade on acrylic for any spots that are tough to scrub off.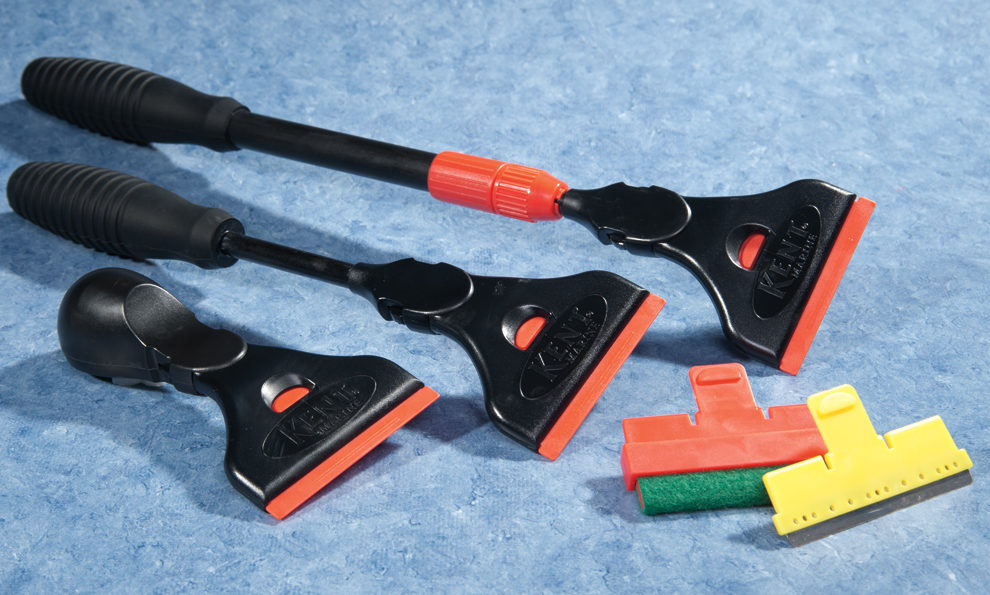 If you're expecting guest and really want to show off your tank, take a minute to look closely at each panel for any spots you might have missed. Look through the side panels from different angles to see if there is any left over algae.
Investing in an aquarium care magnet, and adopting a weekly or daily routine will keep your take looking it's best. Remember to pay attention when cleaning your aquarium to avoid sand getting stuck between your magnet.
These simple steps can prevent your aquarium from getting scratched while maintaining optimum clarity. Although there are more fun aspects of keeping an aquarium than scrubbing algae, it allows us to connect with our tanks, looking at their detail closer than we normally would.