What To Keep
There are many interesting animals which can be kept in a saltwater aquarium. What to keep depends on your experience level, tank size, and equipment setup.
Make a wishlist of fish and corals you would like to have and research their care requirements. Take note of the minimum tank size for fish and their compatibility with other marine fish. For corals take note of light and flow requirements for each species.
Tank Types
Narrowing down your tank type can help when choosing what to keep. The three general tank types are, reef tank, fish only with live rock, and species specific tank.
Are you captivated by coral and can't wait to grow your own reef, or do you simply want to keep a certain fish. Think about what first caught your eye and what you would like to see in your own saltwater aquarium.
Reef Tank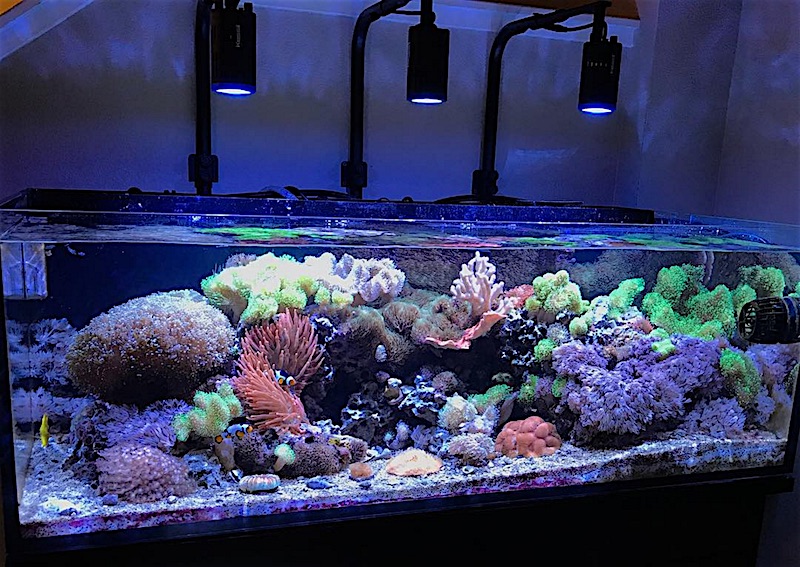 Reef tanks are saltwater aquariums dominated by coral. Corals are photosynthetic animals that require a quality light source to survive. Corals also need flowing water and each coral will need slightly different light and flow conditions.
For beginners or those with nano tanks, we recommend soft corals, Zoanthids, mushrooms, or aquacultured small polyp stony (SPS) corals like birdnest, Montipora and Pocilopora.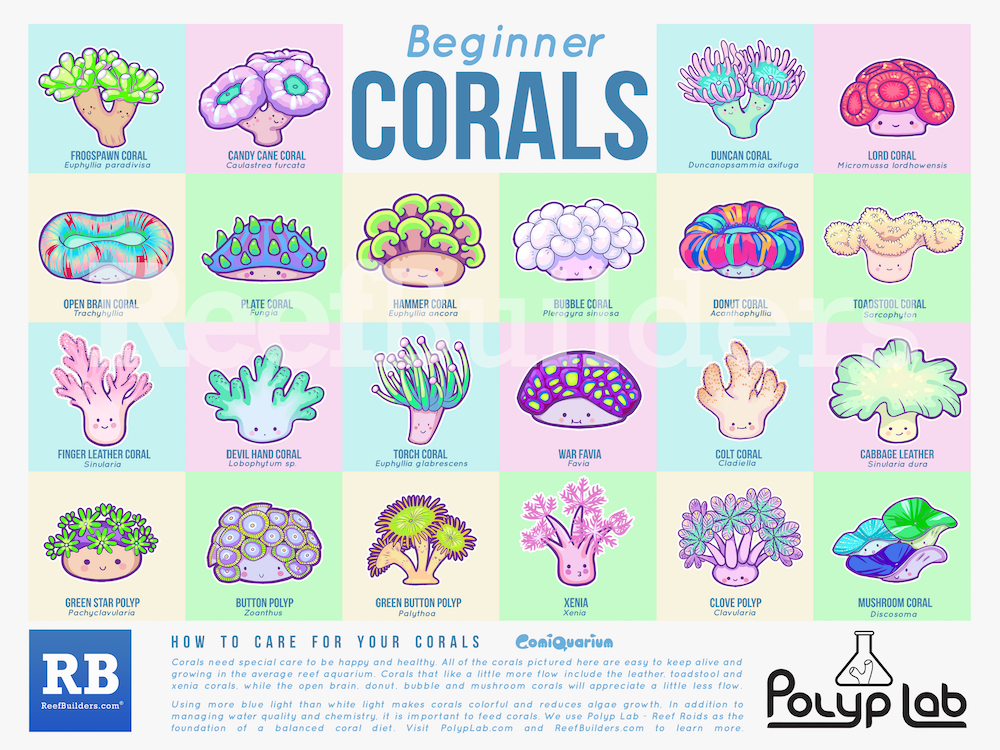 Once you've started dialing in your reef-keeping skills look for hardy encrusting corals like Montipora or Favia, and colorful large polyp stony (LPS) corals like Micromussa or Cyphastrea
If you want to keep branching stony corals like Acropora, you will need to invest more into lighting and filtration. Start slow and work your way up to Acropora corals. To keep your reef thriving, research calcium reactors, as stony corals need calcium to grow big and strong.
Fish Only With Live Rock
Fish only with live rock aquariums are built just for fish. Leave your FOWLR tank bare bottom with clusters of live rock for easy maintenance. You can also add artificial corals or sea grasses so you aquarium still looks like a reef. This is a great option if you just want to keep fish, without the work of growing coral.
Species Specific Tank
Species specific tanks are aquariums dedicated to a single species, or a collection of species with similar care requirements. A few species specific tank include LPS aquariums, seahorse tanks, or jellyfish aquariums.
Why put everything in one tank? For example LPS corals require less light than stony corals. They love to be fed, and can handle a tank with somewhat dirty water. A species specific tank lets you keep all these corals together under the same conditions without having to worry about the needs of other corals.
Jellyfish need to be kept in a circular or cylindrical tank with a special flow so they don't get caught in corners or bump into rocks and tear their bell. Seahorses have sensitive immune systems, and are best kept in their own tank with a clean bare bottom and plenty of hitching posts.
Choosing what to put in your aquarium is an exciting decision that requires some thought before you start. Making sure you have the proper sizes tank and equipment setup will ensure your inhabitants flourish.
---
The Reef Builders guide to setting up a Saltwater Aquarium or Reef Tank. What to know before you buy a Saltwater Aquarium. We will cover more aquarium basics topics in future articles.