This xanthic Eibl's angelfish is such a rare and unique specimen, this is only the second time we've ever had the pleasure of documenting this color morph. We thought we were checking our inbox to see a picture of a nice Tigerpyge hybrid angelfish, but what we got instead is something even more precious.
In this very unique example of Centropyge eibli the thin candy orange stripes are about the only thing normal about this fish. But the xanthic body gives it a screaming yellow overall color which is intensifying the orange on other parts of the body, notably the fins and the orange belly that Eibl's angels sometimes show.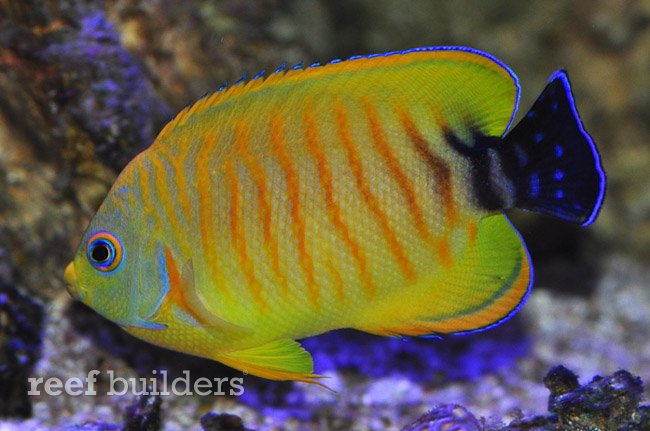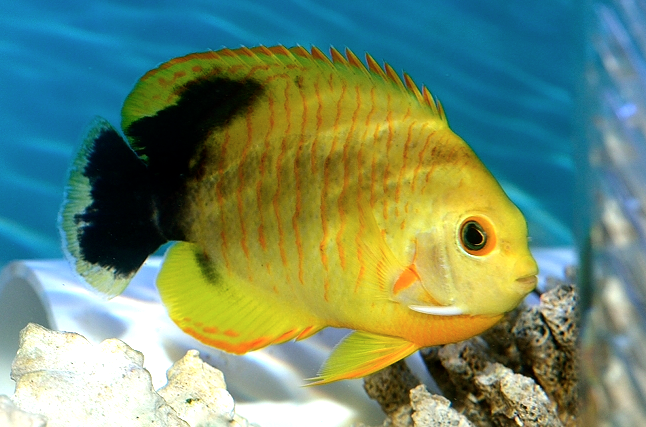 The vibrant yellow body color is reminiscent of the screaming orange coral beauty angelfish that are sometimes collected, usually in the area of the Coral Sea. Alas, some of these specimens can revert back to being completely normal fish, but sometimes, as in the case of Jimmy Ma's fish, the color doesn't seem to change at all. Only time will tell which direction this xanthic Eibli angelfish will go down.
Reefmaster Indonesia scored this sweet xanthic Eibl's angelfish in the Eastern Indian Ocean and it's easy to see how it could be mistaken for a true hybrid of Centropyge eibli and Centropyge cocosensis. Luckily for us we've learned that this gorgeous and very special pygmy angelfish is headed to the United States so we hope to encounter it on our travels in person one day.