The Xaqua Naked is a very interesting new device that blurs the line between form and fucntion. Is it a stand with a built in sump? Or a Sump that also happens to function as an aquarium stand? Either way, the Naked Sump-Stand from Xaqua is a startling new direction for aquarium filtration design, the All In One Stand.
In the late 80s and 90s, acrylic tanks were all the range and plenty of these came with their own canopy and stand, both made of a gauche glossy finish that wouldn't fly in today's interior decor. Interestingly, these all-acrylic tanks, often made by acrylic tank builders were among the first all in one tanks, usually with skimmer, 'bio-balls' and other filtration right into the back.
Oddly enough, none of the acrylic tank builder back then thought to take the concept one step further by building the sump right into the stand. This is where XAqua's Naked sump-stand comes in, thankfully with a fit and finish that is much more suitable to contemporary designs and actually being in your living room.
The Naked appears to be a spanking new product from XAqua, with webpages created for many different sizes, but actual photographs of only a single model. The Naked 85 has a footprint of 50 x 60 cm (~20 x 24 inches) with roughly two-thirds of that space taken up by a sump space that you can customize to your liking.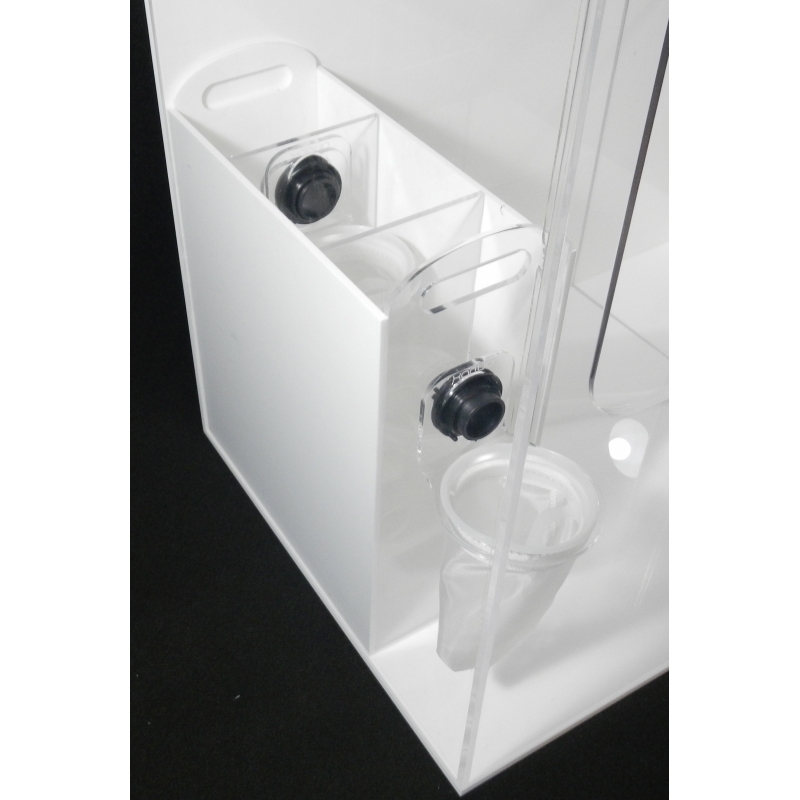 The reason that the XAqua is an All In One Stand, and not just a sump-stand is that it also include a built-in top-off reservoir! There's a also a third section in the XAqua Naked, presumably for all the electronics, and each section of the Naked AIO Stand includes appropriately sized cutouts for placing the requisite pieces of reef gear.
XAqua makes a clever dual-stage prefilter that can fit right into the sump space, and of course they encourage you to use their own CNC machined and lathed protein skimmer. The XAqua Naked is available in black, white or clear acrylic, with customization options for each side of the AIO Stand.
The Naked is so new, that pricing or availability is completely unknown at this point. But what should be clear by now is that the Naked AIO Stand is a brilliant idea that could streamline the components needed for a quality reef aquarium, and we're sure to hear a lot more about the Naked from XAqua in the future. [XAqua]