Hippopus porcellanus, the China Clam, is arguably the rarest species of giant clam living today. It has a very restricted range second only to the Devil Clam, but it is extremely rare where the species has been found. Unfortunately, the China Clam's beautiful shell and shallow water habitat has made it an easy target of harvesting for food and for ornamentation.
We've been on the trail of this elusive species ever since we learned of its existence more than 20 years ago. Earlier this week we finally came face to face with this mythical creature and saw for ourselves how this clam species is more than a little different from the much more common and widespread Hippo Clam, H. hippopus.
Alas, we did not find this clam growing wild on some natural reefs – instead we visited a clam farm in Palau to see the few broodstock specimens they hold in their natural 'clam paddock'. This first encounter with Hippopus porcellanus was following some extensive diving around the islands and reefs of Palau, where many Hippo clams were seen, but no wild H. porcellanus clams were found.
Oddly enough, the Hippo Clam is raised by the tens of thousands per year at this one farm alone, and it is an important source of food which is grown by many native Palauans. Meanwhile, the China Clam is much more difficult to raise, and only one cultured specimen had been produced in the last few years.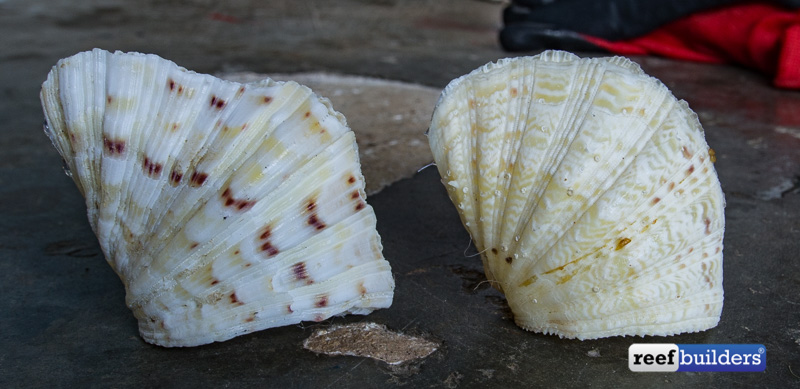 This mariculture barrier is discouraging to learn about such a rare species of clam, and hopefully this species is abundant somewhere on the outer reefs where the clam naturally occurs, mostly out of reach from human exploitation. Nevertheless, it was an exciting experience to finally see this elusive clam species that I learned about more than twenty years ago as a budding marine aquarist.
The shape and color of the China Clam is incredibly distinct, and there's virtually no confusing it with its close relative the Hippo Clam. The overall shape of the shell is much more rounded, with fewer but wider and much less jagged folds.
The mantle is mostly dark, somewhat reminiscent of the Devil Clam, with a varying degree of fine greyish-white lines and gold spots that are nearly psychedelic in some specimens. Some individuals sported a wicked pattern that is somewhat reminiscent of black tiger maxima clams, but in a wholly different shape and presentation.
I had definitely built up a lot of anticipation for my first encounter with one of the rarest species of giant clams. Thankfully the clams I got to see definitely didn't disappoint, and big thanks to the staff at the Palau Mariculture Demonstration Facility for answering all my questions, and affording me the self guided tour of their giant clam garden.
Stay tuned for videos featuring the PMDC clam farm and Hippopus porcellanus in the near future, there's lots of great video clips to go along with these photos.