Join us in Sulawesi Indonesia as we explore the Island's Northern Coast. Get ready for an unforgettable experience with the Passport to Paradise Reef Builders Destination.
This eleven-day itinerary allows us to visit all of North Sulawesi's amazing underwater diversity. We start the trip at the Murex Manado Resort to explore the pristine walls of the Bunaken National Park.
From there we take a boat transfer to Bangka Island. Surrounding the island are walls of NPS corals, and a kaleidoscope of reef colors. The last stop on our trip is the world famous Lembeh Resort. Lembeh is known as the mecca of muck diving and has the world's highest concentration of biodiversity.
WHEN: AUG 10th – AUG 20th 2017
PRICE: Starting from $2,995 USD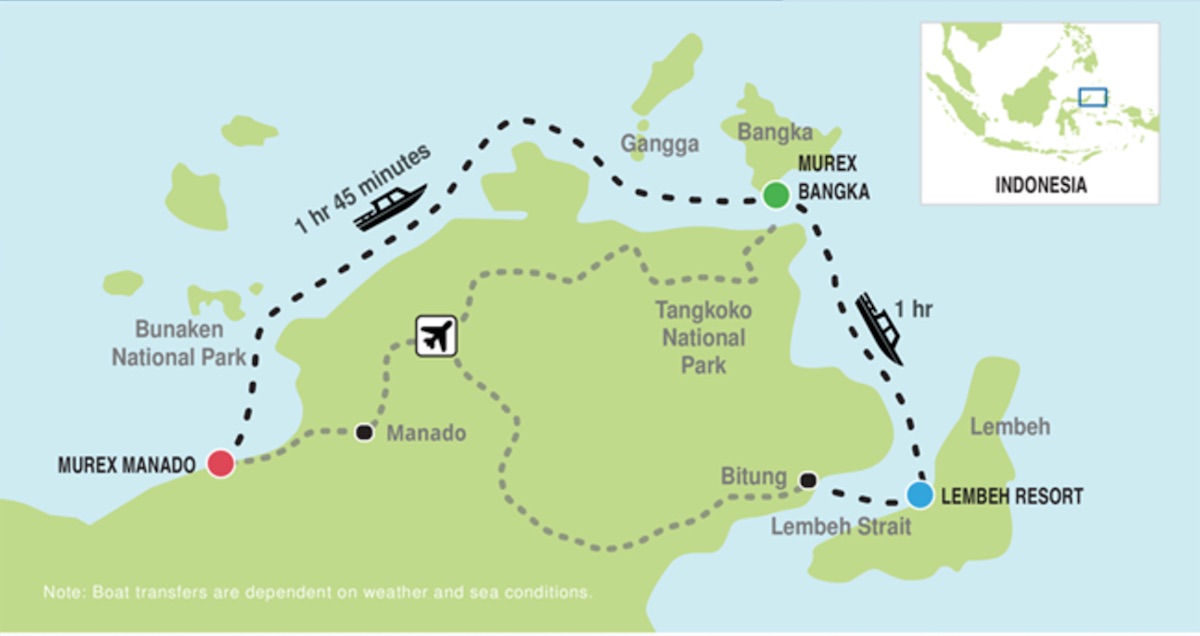 What's Included
This rate includes;
– 4 Nights Accommodation in a Deluxe Room at Murex Manado
– 3 Nights Accommodation in a Deluxe Ocean View room at Murex Bangka
– 4 Nights Accommodation in a Garden View Room/Deluxe Ocean View Cottage at Lembeh Resort
– 27 Guided Boat Dives with Air (including 2 dives per boat transfer)
– Unlimited Complimentary Self Guided House Reef Dives with AIR
– Arrival airport escort service (upon exiting terminal)
– Round Trip Airport Transfers
– Boat Transfers between Resorts
– All meals & snacks; free-flow drinking water, coffee & tea; taxes and Free Wi-Fi
– $2,995 Price based on double occupancy in a Garden View Suite
– $3,225 Price based on double occupancy in a Deluxe Ocean View Cottage
Check in August 9th, Check out August 20th
What To Expect
The clear, warm waters surrounding Sulawesi Island have some of the highest levels of biodiversity in the world.
The trip starts in Manado Bay at the Murex Manado resort. We will spend four nights diving around Manado and the spectacular walls of the Bunanken National Park before making our way towards Bangka Island.
We will spend another three nights at the Murex Bangka resort diving the NPS and Soft coral fields surrounding the island before making our way to the Lembeh Straight. The last stop on our trip is the famous Lembeh resort. Scientists believe Lembeh Strait has the highest concentration of unusual marine life found anywhere on the planet
Want to stay longer? Add an extra night at the Lembeh Resort starting from $280 USD per person sharing.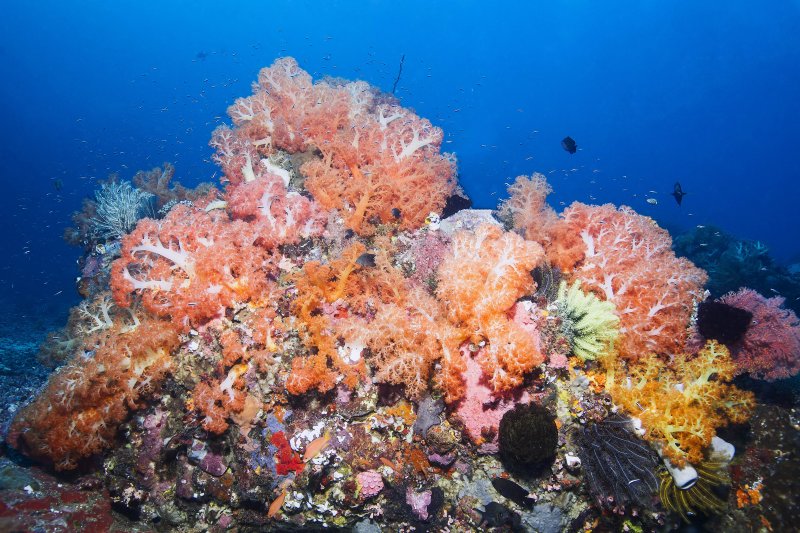 To reserve your spot on the Reef Builders Destination trip contact [email protected].
A 25% deposit is required to confirm your reservation.
Price based on double occupancy, flights not included.

Murex Manado
Day 1-4
The trip starts at the Manado International Airport. The hotel is located 25km (approx 1hr drive) from the airport. All your airport and hotel transfers including boat transfer between hotels are included in the trip. Once you land in Manado just sit back and enjoy the ride, you have nothing to worry about.
Manado Bay House Reef
Manado Bay is in Murex Manado's front yard. You can head out to the house reef for a dive on an easy to follow marked dive trail. In the north of the bay enjoy hard coral gardens or head south for fabulous muck diving.
The house reef can have strong currents, so your guide will tell you whether or not it is safe to proceed. Your guide will be happy to take you, but if you would like to go with your buddy and without a guide, you will still be briefed on the site and be assisted when you get out of the water.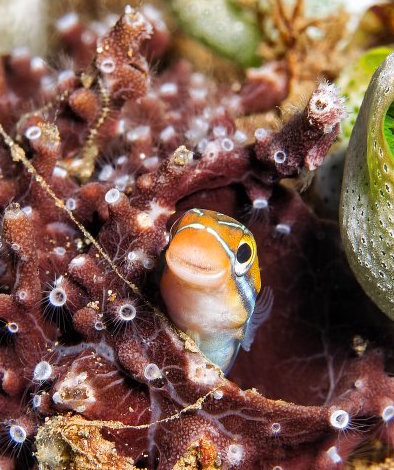 Manado and Bunaken Boat Dives
A usual day of diving around Bunaken National Park and Manado Bay starts at 8:30am, when you board the comfortable diving boats and journey to the first dive site. Snacks are available on the boat during surface intervals and lunch is either served in the boat or at Murex Manado depending on the dive sites.
Bunaken National Park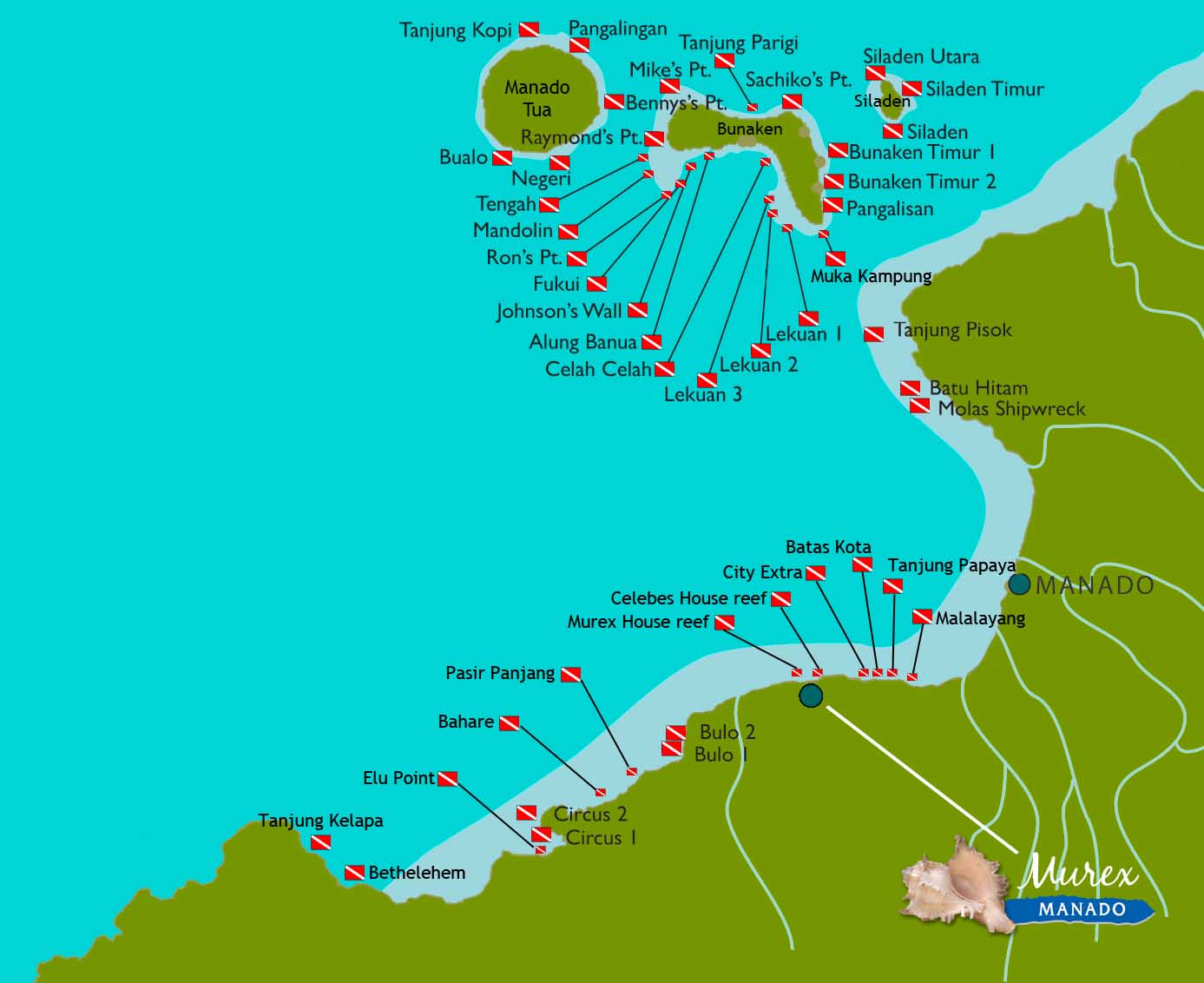 Bunaken National Park is a 90,000-hectare marine reserve, the park and the tiny group of islands that lay within are located just off the tip of North Sulawesi. The main island, Bunaken, lies just North of Manado Bay, directly across from Murex Manado.
To the east of Bunaken lies the tiny island of Siladen and to the west is the old dormant volcano, Manado Tua. Up north Mantehage, Nain Besar and Nain Kecil. All of these islands are surrounded by fringing reefs with steep drop-offs and walls.
Bunaken has an average temperature of 29C (84F) and is known for clear waters, abundant hard corals, reef fish and great marine bio-diversity. The beaches of Bunaken are turtle nesting grounds. If you are lucky you'll see Rambo, a resident sea turtle who is at least 250+ kg! As you can imagine, he's hard to miss, if he's around.

Murex Bangka
Day 5-7
Boat transfers to Murex Bangka Resort departs at 8:30am. Along the way we will dive at two sites in the North of the Bunaken Park. Depending on times and conditions your guide will decide what sites to dive.
Lunch will be served on the boat while you are underway to the Bangka Resort. When you arrive at Bangka Island a Resort Supervisor will welcome you on the beach and show you to your room so you can settle in. The hotel staff will take care of your gear! If you'd like, catch the 2:30pm boat dive for your first dive around Bangka. The rest of the day is up to you: join the night dive, snorkel, or take a nap.
Night Dives
Night dives begin around 6:30pm. You can choose to do a night dive on the house reef or by boat. Some of the best night dives are a short boat ride away, and your guide can tell you the best night dive spots to see the craziest nocturnal creatures. Night dives meet for a briefing at 6:15pm before heading out at 6:30pm.
Bangka Island
Bangka Island is located just north of Sulawesi. Dive sites around and nearby Bangka Island are known for their underwater topography with pinnacles, gorges and swim-throughs. The pinnacles and bommies off these sites are covered in soft corals and critters.
While there may not be the "weird critters" in abundance at Bangka as Lembeh, there is still the frequent sighting of three different types of pygmy seahorses, a large variety of nudibranchs, blue ring octopus, boxer crabs, and frog fish, just to name a few.
The strong currents and deep water surrounding the Celebes Sea bring up nutrient-rich waters to feed the diverse coral gardens. Soft corals, sea fans, sponges, schools of Blue Striped Snapper and hard corals attached to pinnacles and bommies are a wide-angle photographer's dream.
A usual dive day in Bangka starts at 8am, and the first two dives of the day follow the same schedule as the dive schedule for Bunaken. However, after everyone is up from the second dive we'll head back to Murex Bangka for lunch.

Lembeh Resort
Day 8-11
Boat transfers to Lembeh Resort depart at 8:00am. Our first dive will be on a pinnacle off the northeast corner of Sulawesi at Batu Punteng. Nutrient rich waters feed the fields of soft corals, sea fans, sponges and hard corals. This pinnacle is also teeming with fish. During your surface interval we will transfer to Lembeh Strait for your second dive. Directly after the second dive you will be dropped off at the critters@Lembeh dock
Muck enthusiasts who venture within the waters of Lembeh Strait have endless opportunities for finding and photographing rare and unusual critters. Feel you need more time? Book extra nights at the Lembeh Resort before you arrive to ensure availability.
Muck Diving In Lembeh
Lembeh isn't just home to frogfish, it's home to 8 different species of frogfish, 12 species of octopus, numerous crustacean species that cannot be found anywhere else on earth, 3 species of pygmy seahorse, countless numbers of nudibranch species, and new finds and discoveries are continuously being made.
Some of Lembeh's most iconic species include the Hairy Frogfish, Pontohi Pygmy Seahorse, Wunderpus, Mandarin Fish, Mimic Octopus, Rhinopias Scorpionfish, Flamboyant Cuttlefish, Blue Ring Octopus, and the list goes on – take a look at our Critter Log to see the weird, wonderful, and bizarre species that await you.
Land Based Tours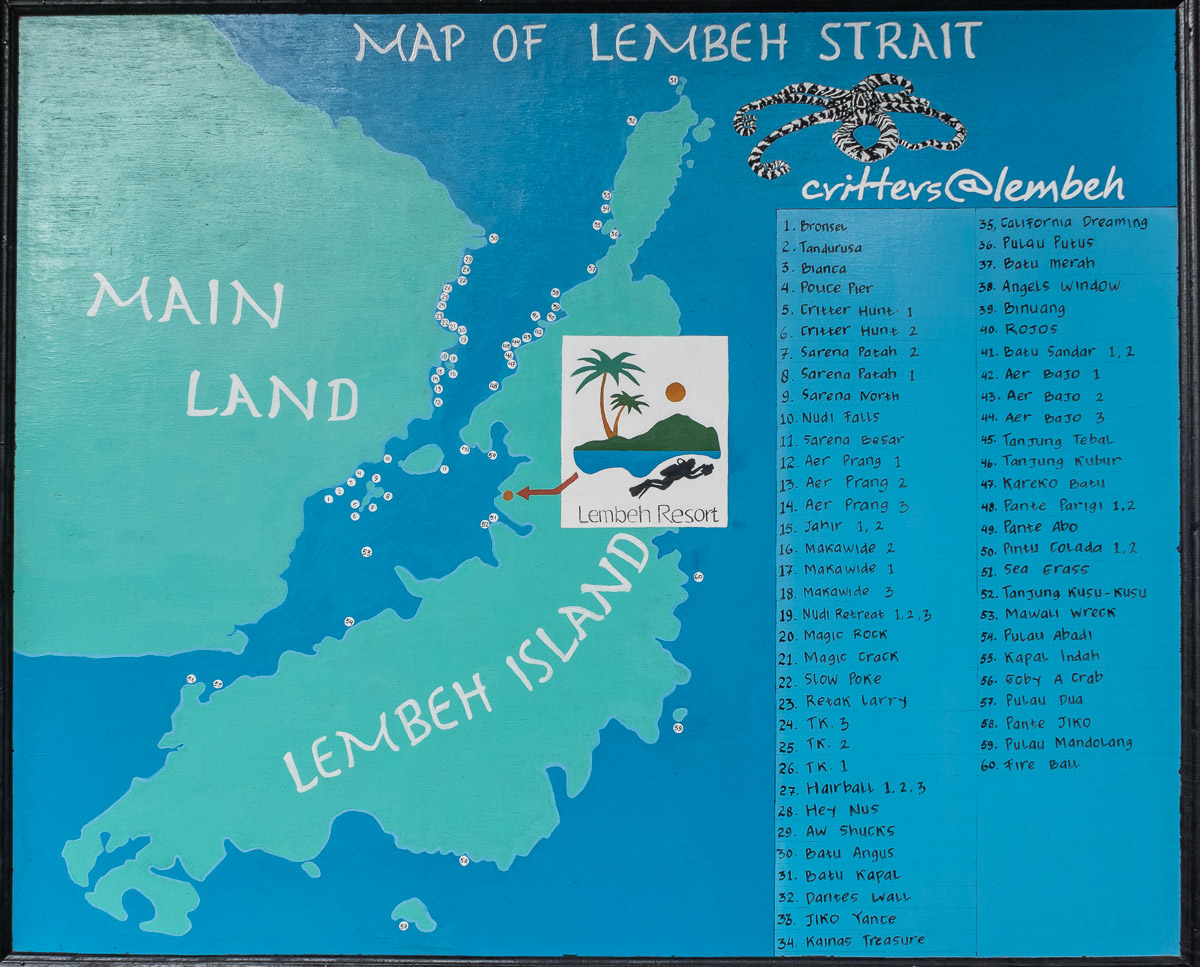 Enjoy a little glimpse of traditional Minahasan culture and see some of the amazing sights that North Sulawesi has to offer. A full range of land excursions ranging from short ninety-minute tours of the local village to full day tours of the Minahasan Highlands.
Full list of land based tours can be found here, Manado and Lembeh.
One especially popular tour in Lembeh, and perfect for the free afternoon of decompressing the day before flying, is the Tangkoko National Park Tour, where guests can see many land 'critters' such as the famous Tarsiers and Black Crested Macaques.