We know that we kind of have a thing for hybrid marine fish but today's Damselfish hybrid is very special. Surely it isn't the first hybrid damselfish ever but it is the first Dascyllus or 'Humbug' damselfish hybrid that we've ever come across.
With so many angelfish and butterflyfish hybrids documented on an almost weekly basis, you might be wondering why is it that damselfish hybrids are so rare. Damselfish are very common so you'd expect the occurrence of hybridization to be equally high.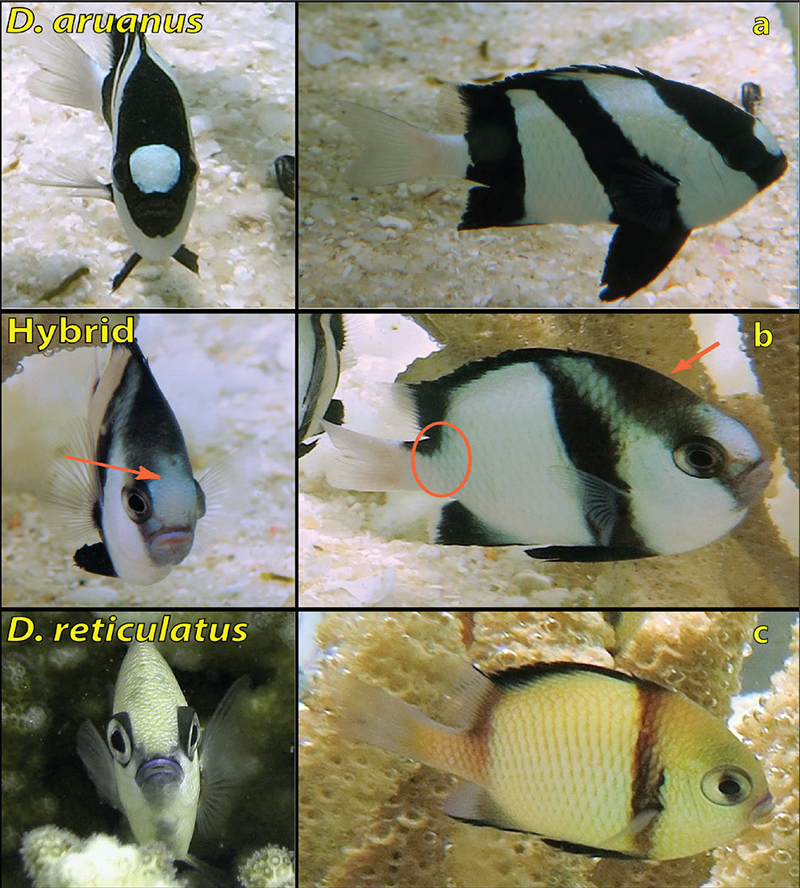 The big difference between damselfish and angelfish or butterflyfish is that they are demersal spawners, meaning they build nests on the ground. The angelfish and butterflies are broadcast spawners so there is a very short courtship between the fishes, and also the chance of accidental hybridization.
With nest building comes some degree of cooperation in defending the eggs. So it's surprising to imagine two closely related species of damselfish, who would normally compete for space, come together to protect and defend their hybrid egg nest.
But let's not forget, clownfish are kind of damselfish too, and clownfish hybrids are about as common as they come. It's unclear why clownfish would be so much more open to criss-crossing their genetics with other species while damselfish very rarely do.
The damselfish hybrid was sighted in the Great Barrier Reef and consisted of the three-stripe humbug, Dascyllus aruanus and D. reticulatus. [Coral Reefs]