BIKI The Robotic Photography Fish
BIKI is the world's first unmanned underwater vehicle which propels itself through the water like a fish! Not only is this the cutest underwater drone we've come across, it also has a powerful onboard camera capable of capturing 4K footage.
BIKI is lightweight coming in a 1.1kg (2.4 pounds) and uses a bionic fish tail to reach speeds up to 1 mph. The robotic fish is small enough to pack in your suitcase at 10.47inch Long 4.17inch Width 5.83inch High and is safe to use in the ocean, lake or even in a pool.
This new underwater drone is currently in the development stage but has some promising features. The BIKI robot is being developed by the company Robosea.
BIKI comes with ABS crashworthiness and is built to last with resistance-to-weathering glass fiber. No matter what difference in temperature from 0 to 70°C (32-158°F), corrosive offshore environment, or under long-term sunlight, BIKI will always be kept in perfect condition.
We are excited by the high-quality camera inside BIKI which records in 4K at 30fps and comes with a 124° Wide-Angle Lens, and 32 GB of internal memory. BIKI is also equipped with 2*307 lumen lights, and if we could make any suggestions it would be to bump up the lumens.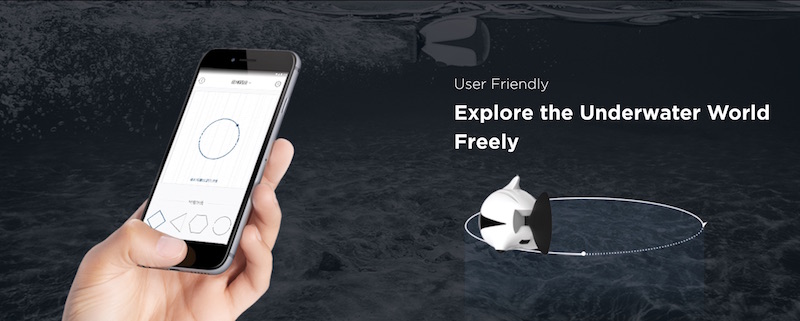 You will be able to operate this swimming camera through a smartphone app which allows you to design your our route for the fish to follow. BIKI also promises an impressive 150 minutes battery life with a depth rating to 196 feet. It is also the only UUV featuring automated balance, obstacle avoidance, and return to base.
What's interesting about BIKI is the lack of tether. Most of the underwater drones on the market all come with a long tether allowing it to communicate with the surface. We assume there will be very little control of BIKI underwater aside from setting the predetermined course using the app, and perhaps a follow me feature similar to the iBubble.
You can learn more about BIKI on their website and signup to be the first to know when they launch. If you sign up now you can also receive 40% off the future retail price.