Filling Out Your New Reef Tank
One of the biggest challenges for new aquarium hobbyists is patience. It's not uncommon to have a rock garden in your living room for two months before your aquarium is cycled and ready for its first inhabitants.
When the time is right, and your tank parameters are stable, the name of the game is to add fish and corals one by one. As time goes by, your rock garden will be dotted with tiny frags, and a half dozen snails. Maybe you add a clownfish to liven things up, but you're still left with lots of open bare rock.
It takes time and effort to grow corals, not to mention the financial investment required for lighting, filtration, flow, and livestock. So the reality is it could take a year or longer before your tank starts to resemble a coral masterpiece. And a year is being generous.
A tank like 500g masterpiece below at Aquatic Art has been running for six years and the owner Cris has a special knack for growing sps corals. It's unrealistic to think that within a year your tank could look like this. Instead, new reefers are stuck with a pile of rocks and a few bite-sized coral frags wondering when, if ever they will achieve the coral reef tank of their dreams.
Hardy Inexpensive Corals
New hobbyist can get discouraged by their slowly evolving rock gardens and might rush to add fish or corals and end up with a crash. But there are a variety of hardy inexpensive corals you can add which fill up empty space, and transform your empty box into a living reef display you will be proud to show your friends.
What you don't often see are simple reef tanks filled to the brim with hardy inexpensive corals. Although this is often the case for low maintenance tanks, which are being cared for by service companies. These corals are also resilient to newbie mistakes like shifting salinity, and nutrient buildup.
Take for example the Tyson Reef Tank. This tank is 15 years old and is full of easy to grow, low maintenance corals, but the tank looks great. You can tell the coral have had time to mature and fill the space, however, most of these corals have been trimmed to not over take the tank.
Leather Corals
Soft corals like Cabbage leather, Toadstool leather, and Finger leather add bulk and movement to a reef tank and you can often pick up these inexpensive corals at your local fish store. If you're lucky you may even find a large colony which someone has removed from their mature tank and brought back to the shop!
If you can't find these corals, just ask. Most fish stores should be able to order them in for you. And if the shop also has service accounts, ask them to set aside any bigger colonies which are overgrowing tanks they care for.
When looking for leathers, keep an eye out for green polyps, or leathers with extra long polyps. You can also find yellow leather corals, but make sure to put these in high flow environment. Also, cabbage leathers can be found in a toxic green or classic pink and finger leather comes in a range of colors.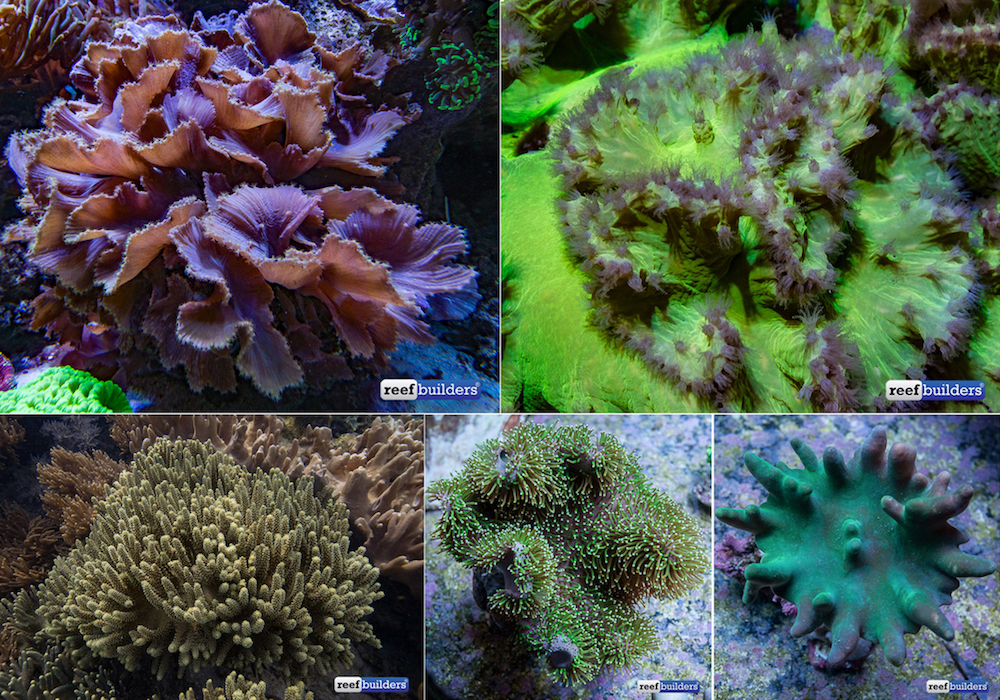 Mushrooms
Once you've started filling out your tank with leather corals you can add hardy colorful corals which stick low to the ground and grow outwards to cover your rocks. This includes mushrooms like Ricordea, Rhodactis, and Discosoma.
While some shrooms can fetch record-breaking prices and come in mind-bending colors, you can usually find rocks with a half dozen polyps that won't set you back a fortune. Mushroom grow rather quickly and spread out into large fleshy discs.
They are easy to keep and will live in just about any light or flow conditions. Mushroom coral will also respond well to feeding, just be careful not to over feed your corals as this could cause a spike in unwanted nutrients.

Splash of Color
A couple other coral your can add for a pop of color and growing rock cover are Green Star Polyps, Zoanthids, and Flower Anemones. Green star polyps are one of my favorite rock cover corals. You can find all different shades of green and once it grows out it resembles a patch of neon grass.
It's true there are plenty of zoanthids with sexy names and the price tag that comes with, but like mushrooms you can also find full rocks of zoanthids to provide quick and easy coverage. Zoanthids are especially popular for nano tanks, and some aquarist even keep whole tanks dedicated to these colorful polyps.
Flower anemones are another great addition to your reef tank. Flower anemones come in all sorts of colors and if you keep several of them together it is possible for them to spawn and spit out little baby anemones. The only downside to flower anemones is there are mobile. Once you put the anemone in your tank it will move around until it finds the perfect home. So while they add color you never know where they will end up.

If you're just starting out and your tank is ready for new corals, take a closer look at leather corals. Keep your eyes out for brighter varieties or long flowing polyps, and don't be shy to ask for these corals by name at your local fish store,
If you are looking to fill a hole in your tank look for rocks covered in mushrooms, zoanthids, or green star polyps. And if you are just looking to add a pop of color or invest in a designer variety of coral, look for single polyps of mushrooms, zoanthids or flower anemones.
And don't give up! Reef tanks take patience but once you've invested the time corals start to fill out, your parameters become easier to monitor, and within no time you'll have your own slice of paradise.