Acanthurus triostegus – Convict Tang
By: Greg Collinske
The convict tang is one of the most widespread Acanthurus species in the world as well as in our hobby. Found throughout the Indo-Pacific and Hawaii in small groups to enormous schools, these successful and adaptable fish have strived to make their mark in the world's oceans.
Prison Stripes
Acanthurus triostegus has an oval shaped outline with six vertical black bars over a white body color. These color patterns combined with their schooling behavior make these fish a challenge for any predator to successfully hunt.
In using a schooling tactic for defense, convict tangs have adapted a single underdeveloped caudal spine or 'tang' at the base of the tail. This is seldom used for protection as it is in various other species of surgeonfish.
Some experts have noted the Hawaiian convict tang may prove to be its own subspecies Acanthurus triostegus sandivicensis complete with its own slight marking deviations. The Hawaiian species exhibits a black line beneath each pectoral fin, where other Indo-Pacific convict tang species are most often characterized by a black dot.

Community Service
Convict tangs play a crucial part in keeping the reef ecosystem healthy. They are constantly grazing on fast-growing algae on the reef, which over time would impede coral growth and reproduction. It just so happens that the convict tang is equipped with a downward facing mouth, perfectly designed for picking off these algae growths.
Some of the wild species of algae consumed by convict tangs are known to carry a toxin called 'Ciguatera'. This toxin is harmless to the fish; however, it can be toxic to humans and is considered poisonous if eaten.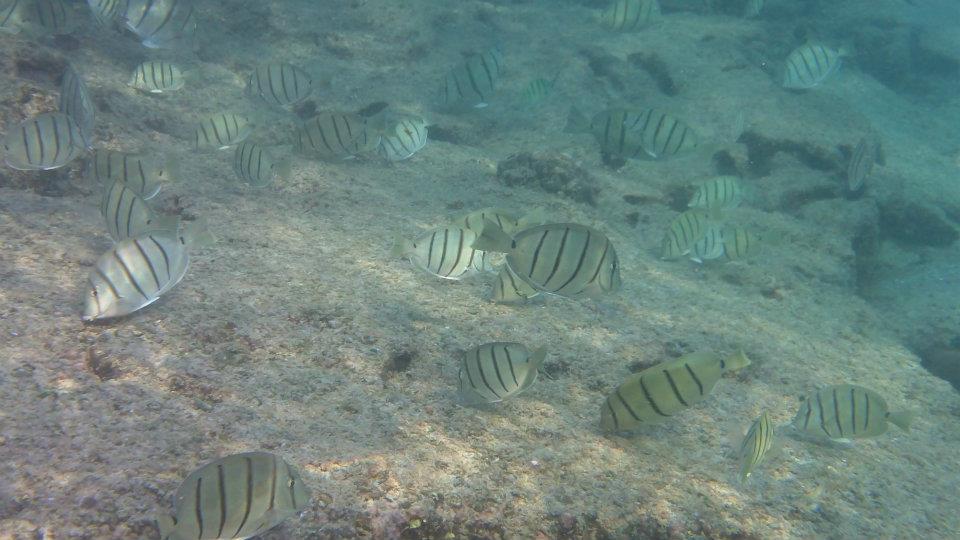 Convict Care
We advocate pre-display quarantine for the best success with tang species, this generally involves treatment of external and internal parasites, fungus, and bacterium in a separate quarantine tank prior to introduction. During this time, we encourage supplemental feedings of nori seaweed for constant foraging opportunities. Observations on the fish's overall appearance can easily be established during this period.
Aquarium size is critical for any species of tang for a couple of really important reasons; space for swimming, territory for its inevitable grazing, and where it will rest during the night cycle. We would recommend an aquarium 125 gallons or larger, this species does particularly well in reef aquariums due to the opportunity to forage over live rock daily.
Thought should also go into aquarium stocking to prevent aggression as much as possible; consider both species and space requirements especially with other surgeonfish species. If many different species are to be kept together we advise picking fish with a different body outline from a separate genus like Zebrasoma, Paracanthurus, Ctenochaetus, or Naso.
Convict tangs with their striking color pattern, smaller body size, easy going nature and continuous grazing capacity would make an excellent addition to any established reef aquarium with some considerations.
Juvenile Detention
We caught up with the young convict tang class of 2017, waiting it out in a tidepool in Hawaii recently. Check out our exclusive post hatch interview below!