Spiny Flower Coral
Mussa angulosa is a large polyp stony coral found in turbid Caribbean reefs. This coral has fleshy polyps which can grow in groups or as a single polyp. The polyps can be up to 10cm or 4inches across and underneath the polyp is a hard skeleton.
At night tentacles emerge from the center of the polyp. Since the polyp is quite large it is able to eat almost anything it traps in its sticky tentacles, including small fish and invertebrates. While this coral is photosynthetic, large fleshy corals like Mussa will trap and consume prey for extra energy.
Corals like Mussa are found primarily on reefs where the water is slightly cloudy because of suspended particles. These particles can be plankton, sediments, or organic nutrients the coral can eat.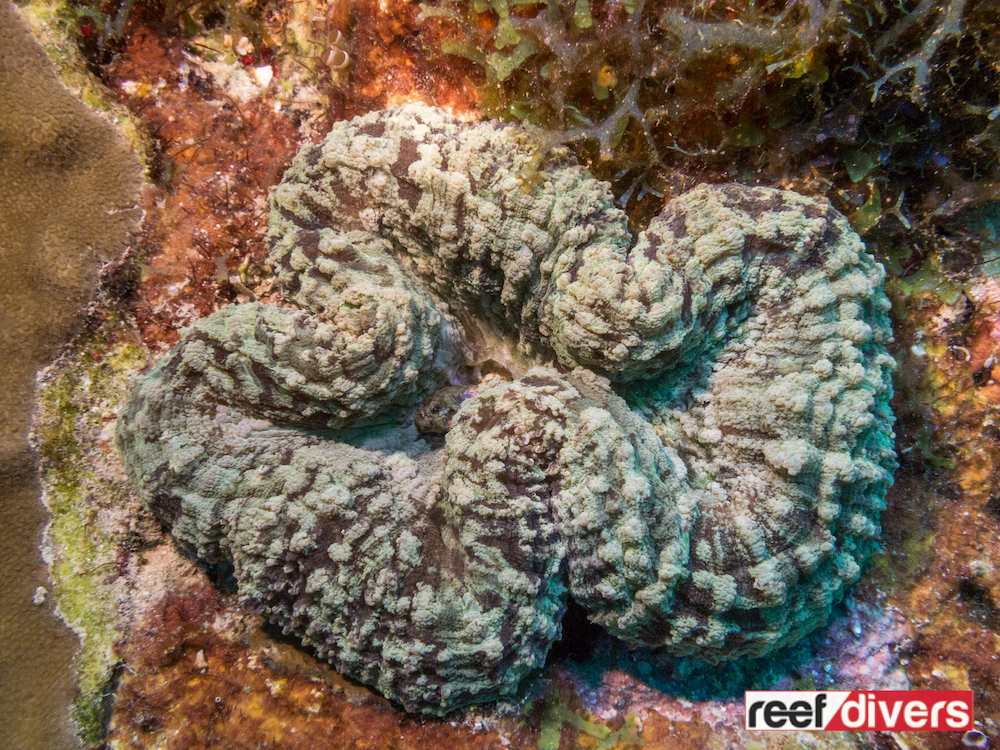 Polyps
Mussa polyps can be different shades of gray with hints of green, blue, red, orange or pink. The polyps can have striped patterns or be one solid color. Mussa angulosa is commonly referred to as the Spiny Flower Coral because of the bumpy texture running perpendicular to the coral's mouth.
The inflated polyps are round, however, underneath the polyps, the coral's skeleton is oblong or kidney-shaped. The form of the skeleton is an important distinction when you are trying to identify a single Mussa polyp.


Because of the round fleshy mantle, this coral could be mistaken for a
Scolymia
, which is a round single fleshy polyp found throughout the Caribbean.
Scolymia
corals always grow as a single polyp and always have a round skeleton.
Mussa
polyps have a rough spiny appearance and can grow into colonies with multiple polyps.
The tissue of the Mussa coral extends beyond the skeleton giving it the appearance of a skirt. The tissue of the scolymia coral appears to tuck below the skeleton.
The GREEN CORAL is a single Mussa polyp. Other 3 corals below are Scolymia.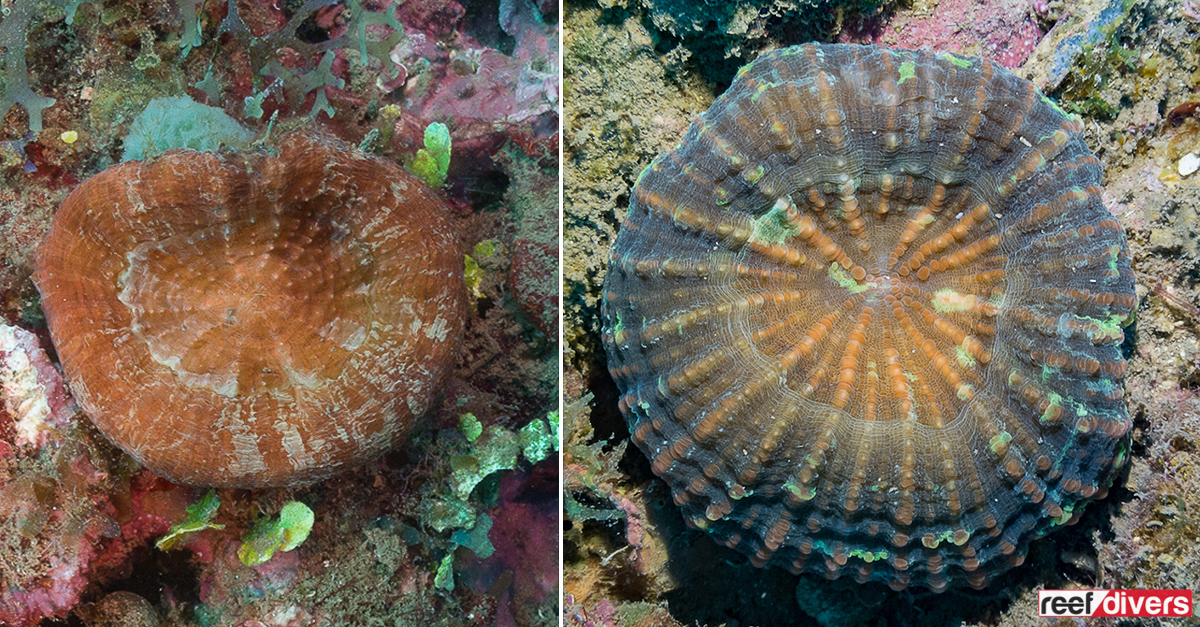 We found this Mussa picture online chatting with other coral enthusiasts and had to share! The photo was taken in Martinique by Carole Assier de Pompignan. This is a holy grail example of this brilliant large polyp species.
The colors in the image are adjusted to bring out the neon hue and darken the surroundings, however with a UV Fluoro torch this would be pretty darn similar to what we could see with our eyes. While these colors are not ideal for identification I love how corals photography inspires people to play with color and express the alien nature of the underwater world.
Gardens of the Queen, Cuba