Yesterday a story about a woman from Adelaide, Australia spread like wildfire across the internet. With limited information trickling in the bizarre story told that the woman was cleaning her fish tank when a piece of coral feel in causing a chemical reaction.
A few hours passes and a new story emerged, the woman was scrubbing her coral and the family is believed to have 'liberated spores' of coral they were trying to clean off the tank. As you can imagine chat groups erupted with theories of what's really going on.
Toxic airborne coral spores? This event was taken very seriously and a Hazardous Materials team was called in to investigate. Firefighters cordoned off the property and closed the street on Tuesday morning as they waited for specialists chemical experts to arrive to determine what sort of gases are in the air.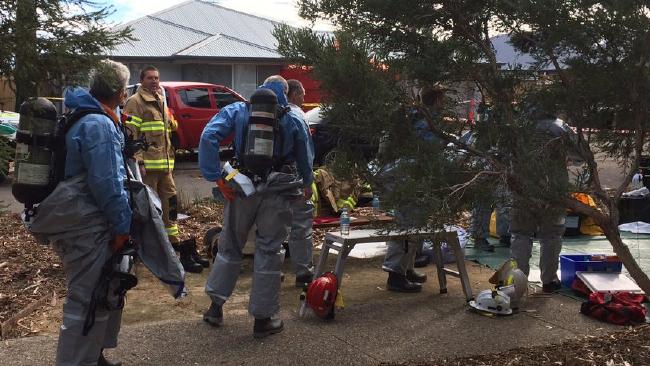 An article on The Advisor said, "officers at the scene consulted marine biologists with expertise in coral by phone during the decontamination." Perhaps they should have called the fish store first.
Head of Sydney University of Technology's Future Reefs research program Associate Professor David Suggett told The Advertiser he had only "anecdotal knowledge'' of toxins from coral affecting people and that such cases were "very rare indeed''.
"It's a very unusual job for us, we haven't come across something like this in South Australia," CFS hazardous materials (hazmat) specialist Sam Quigley said. "It depends what they had in their tank (because) a close relative of coral, called Zoanthids, are known to release toxins,'' he said.
"I have heard of incidents of aquarists fragmenting coral, breaking it into small pieces, and similarly, they've been exposed to toxins but that's anecdotal, I've never seen actual evidence. "When we work with (Zoanthids) we are very cautious indeed.
"Another factor to think about is the water quality in tanks can sometimes promote the formation of micro-algae … that are also prolific toxin producers. So we can't completely point the smoking gun to the corals.''
Palytoxins
We see this story over and over and want to remind everyone that Palytoxins from Zoanthids and Palythoas can be very dangerous for humans. You should always wear protective eyewear and gloves when handling zoanthids or palythoas and certainly don't try to scrub or boil them off a rock.
While we cannot say for certain palytoxin are the culprit here, there is a good chance this is the case. Palytoxin poisoning is more common than we think. In August 2015 Reef Builders posted an article about the dangers of palytoxins and without fail every single time we share this story we receive dozens of new personal anecdotes of swollen arms, nasty infections, or serious injury from this noxious coral.
We aren't a fan of sharing these unfortunate tails of reefers ending up in the hospital, but they serve as a good example to remind everyone about the dangers of palytoxins.[The Advisors]