Cirrhilabrus efatensis is a new species of fairy wrasse which was discovered living in Vanuatu in the South Pacific. This new species is in the small but distinct complex of hooded fairy wrasses which include C. bathyphilus, from the Coral Sea to the west of Vanuatu, and C. nahackyi from Fiji &Tonga to the east.
At first glance the three species of 'hooded' fairy wrasse might look quite similar, but a small set of distinct features help to tell them apart. The newly minted C. efatensis is the only species of have a well defined red face and front of body which abruptly ends about halfway down.
The 'original' hooded fairy wrasse, and the first one to be officially recognized is C.bathyphilus,, which has the most variable red coloring, which can be fully red on the top half of the body, but generally retains a red stripe from snout to tail. Meanwhile the Fijian C. nahackyi can be recognized by its minimal amount of red on the body, and especially the small but pronounced enlarged first dorsal fin spine which stands up like a mini banner.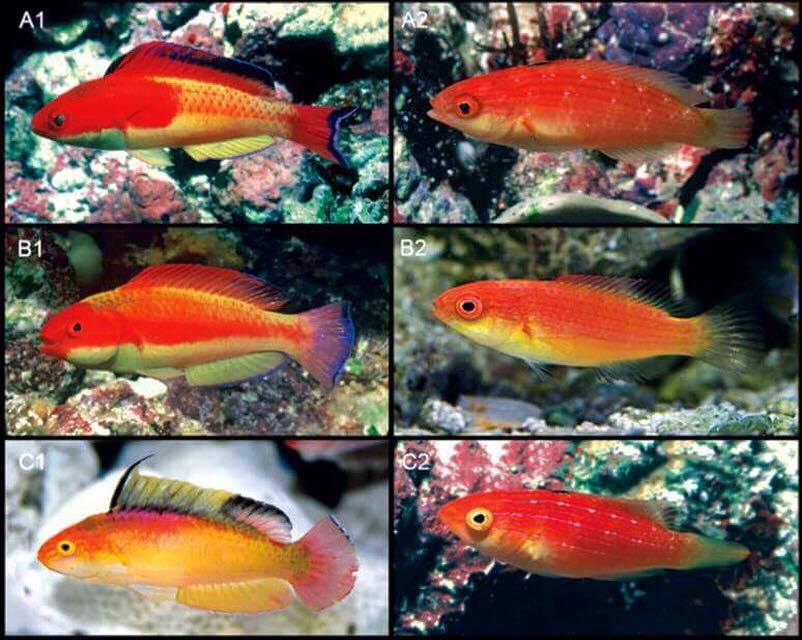 The third hooded fairy wrasse and newest species of Cirrhilabrus is described by Walsh, Tea & Tanaka in the Journal of the Ocean Science Foundation where you can dive and learn more about this interesting species group.