You know what's silly? Having a refugium. You know what's sillier? Using a refugium to shelter sand and algae while putting precious corals on your sand bed or precariously throughout the reef.
The Frag Fuge Reef Sump is an exciting new water filter from ProClear Aquatics with a well overdue concept. Instead of putting a bunch of useless mud, sand and algae in an area of high real estate, Pro Clear takes the logical step of making a beautiful and safe place for new and baby corals.
Now obviously, many of us have created spaces in our sumps and even refugium areas for holding corals in the system, but outside the display tank. The Pro Clear Aquatics just streamlines this process and finally turns the refugium into useful real estate, by turning it into a very nice nursery for our new and growing corals.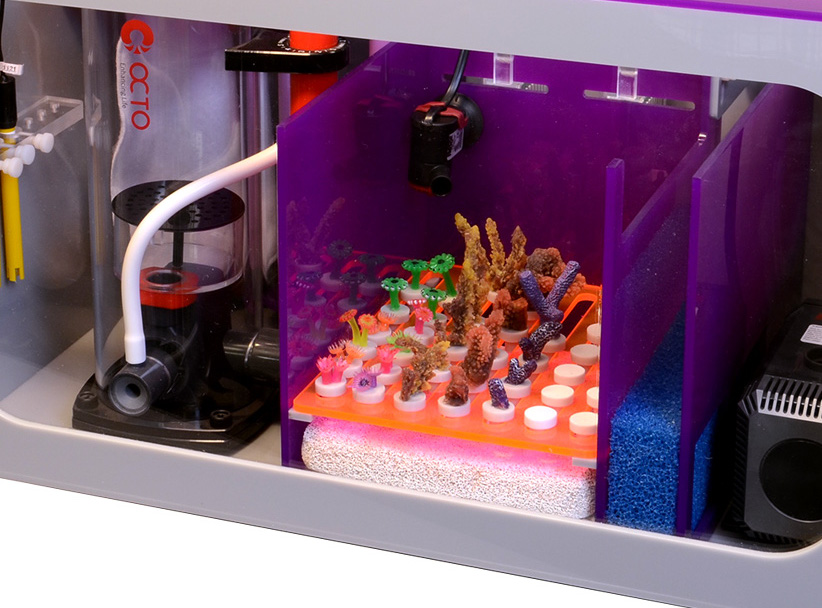 Of course none of the hardware save for the frag rack actually comes with the Frag Fuge Reef Sump, but at $300 estimated retail price this is actually quite the looker. When we first saw the picture we definitely did a double-take, not that ProClear isn't up to the task of making quality gear, just that usually they swing for a more 'affordable' bill of materials.
Flow gate allows for customization of flow through the frag section so you can make sure your corals don't get too much flow. Also has notches to route the cord of a small pump into the frag section etc. Purposefully designed to also hold up to two of the 1″ thick Cermedia MarinePure plates.