PADI Instructor Zambezi's Story
This is the story of Zambezi, a Mozambican Divemaster I had the pleasure of working with from 2013 to 2015.
Antonio "Zambezi" Zivane was born and raised on Bazaruto, a small island fringed by sand dunes, and dotted with saltwater lakes. Residence of Bazaruto still live in traditional huts made from reeds collected in the lakes, and most of the residence live without electricity, and running water.
At 37 km long and 7 km wide, Bazaruto is the largest island in Mozambique, and one of five islands in the Bazaruto Archipelago. There are two hotels on Bazaruto Island, and at 16 years old Zambezi was lucky enough to start working at the Anantara Hotel as a gillie (fishing assistant).
Zambezi has a charismatic personality and worked his way up through the activities team becoming a skipper, and then learning to dive. When I met Zambezi he was 23 and had recently been certified as a PADI Divemaster..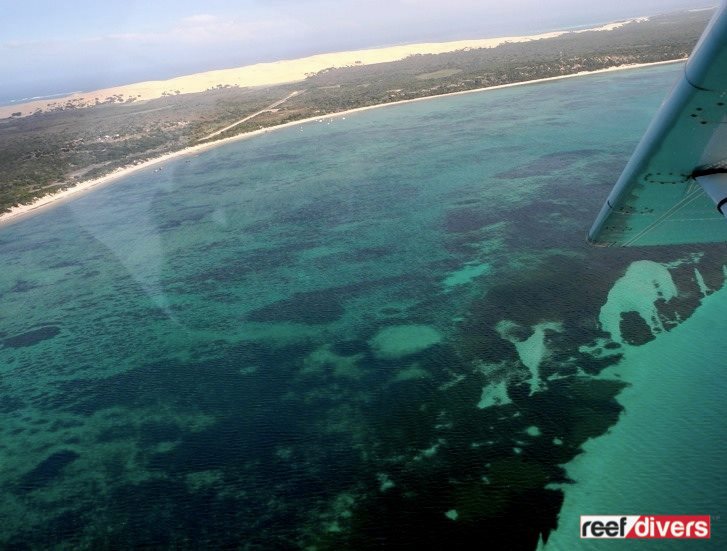 Education
There are three elementary schools on the island with classes up to the 8th grade. While current generations are more likely to attend school, growing up Zambezi and his age group were unlikely to study past the 3rd or 4th grade. It wasn't until 2016 when the island elementary schools went to grade 8. Before that, they only offered classes up to the 4th grade.
Those wishing to get a high school education will have to live with relatives on the mainland, which is a three-hour boat ride from the island. This lack of formal education presented a challenge for Zambezi when becoming a dive instructor, but I was always inspired by his, and all of the activities team members desire to learn more.
Going PRO, is a great way to travel the world, meet new people, and dive dive dive. But for people like Zambezi becoming a Dive Instructor is so much more.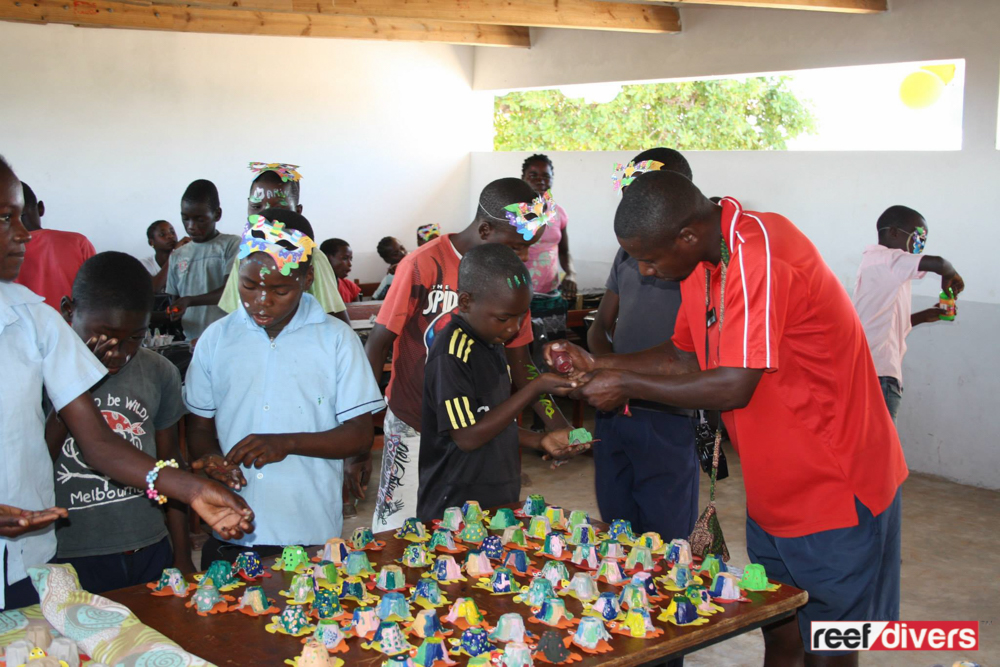 IDC Training
When I did my dive instructor course in 2007 I was fortunate to have the dive center I was working at pay for my IDC course. I am very greatly for this opportunity and have always tried to pay this forward to local dive staff I meet around the world.
To become a PADI Dive Instructor you need to be a PADI Divemaster who has been certified for size months, with a minimum of 60 logged dives to start the course and 100 logged dives to write the instructor exam. When you are ready to Go PRO you can enroll in the PADI IDC (Instructor Development Course).
This course varies in length depending on the individual course director, but in general, they are 7 to 10 days long. The course is divided into two sections. The IDC course and the IE (Instructor Examination).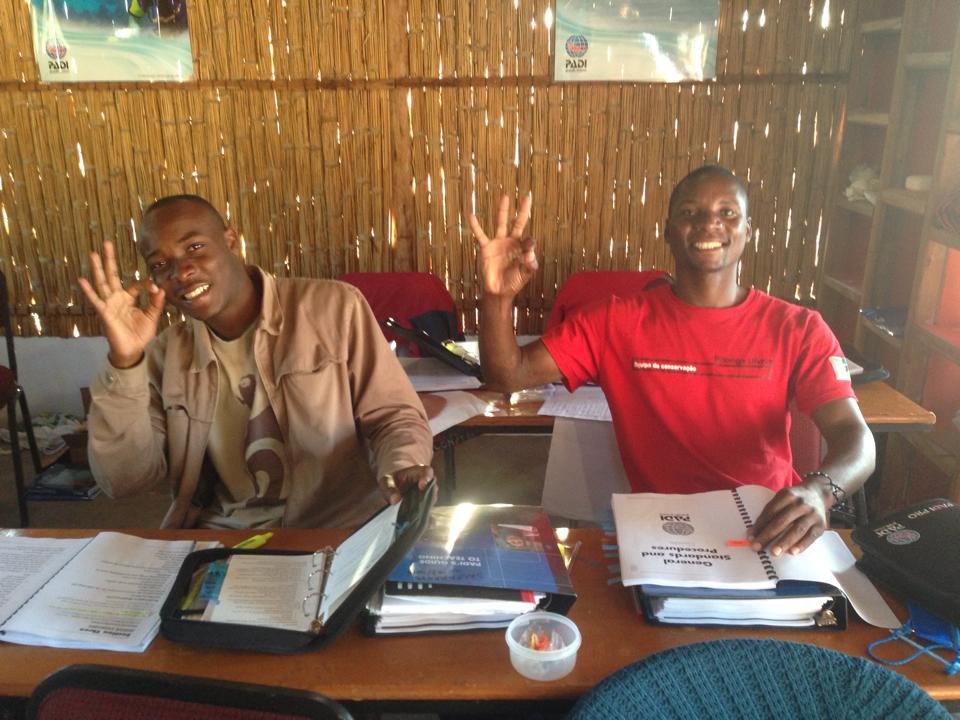 During the IDC course, you will learn PADI core values, how to use the PADI Standards and Procedures, and the business of Scuba Diving. You will be given a PADI IDC course pack which includes a workbook and encyclopedia of diving to answer all your questions. During the IE you will be evaluated on your teaching abilities, dive theory knowledge, and understanding of the PADI system including a written exam for each topic.
For most new instructor the 10 day IDC course is enough time to learn about all the important topics and enough time to study and prepare for the IE exam. For others, especially divemasters like Zambezi, passing the IE exam can be insurmountable.
Ocean Revolution Mozambique
I always knew Zambezi was smart, even though he only formally completed grade 4. He wanted to learn and always took his own initiative to pick up PADI course books and start reading.  I knew I wanted to help Zambezi become a PADI instructor so I reached out to Ocean Revolution Mozambique, a NGO which empowers Mozambicans to become stewards of the ocean.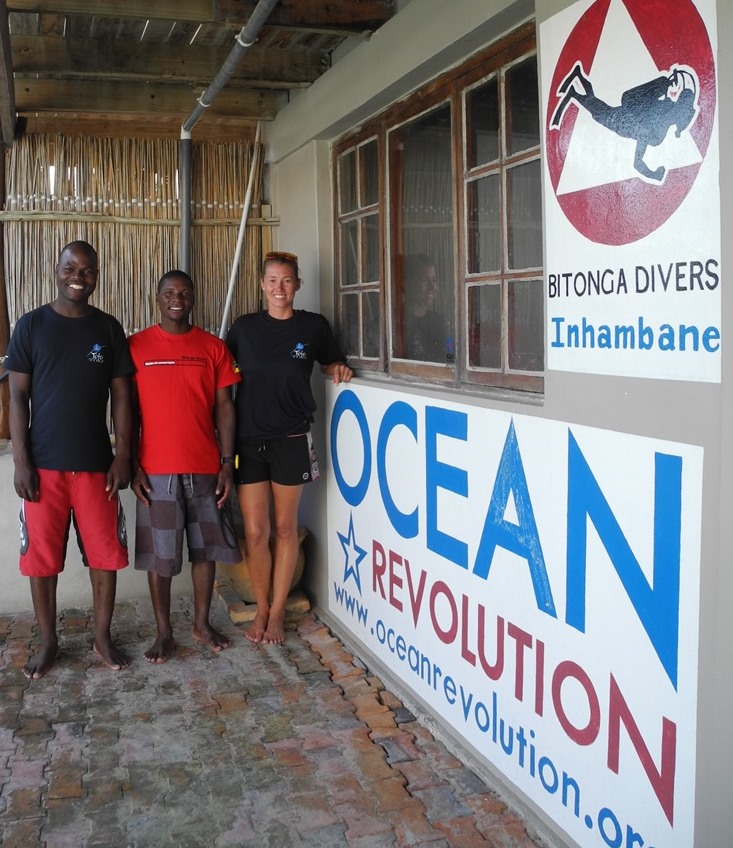 Ocean Revolution and Bitonga Divers
With the support of the Anantara Hotel, Ocean Revolution agreed to sponsor Zambezi so he could attend the IDC course just South of Bazaruto in the diving mecca of Tofo Mozambique. With 6 months noticed I knew the pressure was on. I quickly developed a course outline and study guide to keep Zambezi on track.
You are welcome to download the PDF course outline I created HERE.
For Zambezi, English is his third language after his native Xítsua, and second language Portuguese. I was committed to helping Zambezi succeed and I knew it would take hard work and focus. We spent several hours together each week reading the IDC textbooks, learning to pronounce English words and wrapping our heads around some of the advanced physiological, and mathematical problem involved in the course.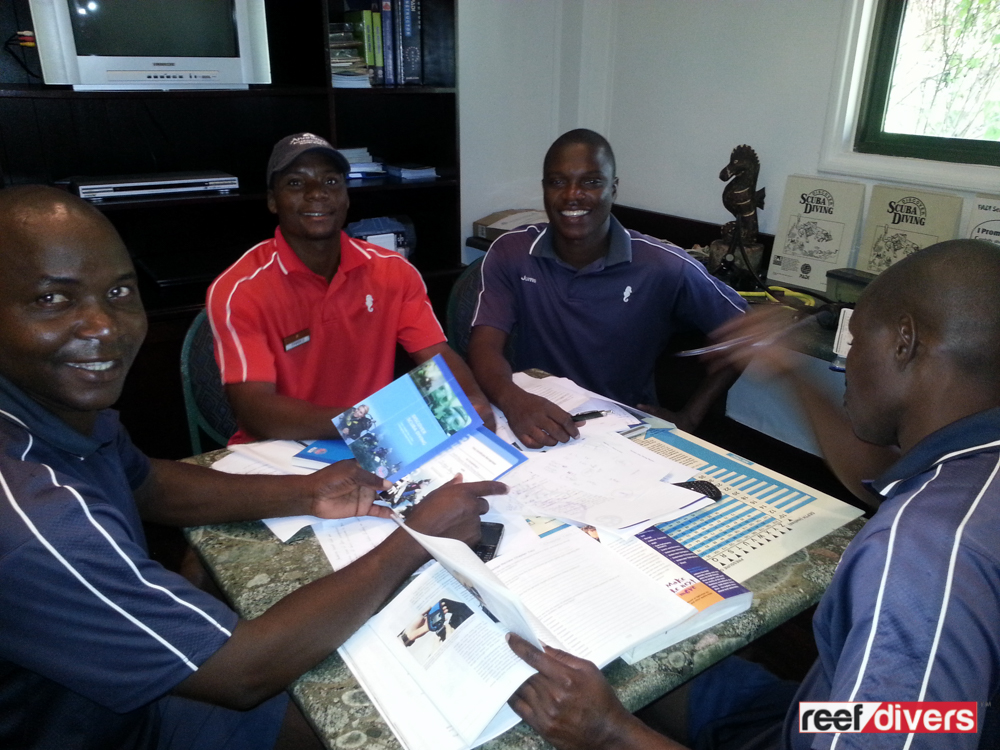 I remember it taking a least one month before Zambezi really understood, what is blood, and how it relates to plasma, red blood cells, hemoglobin, and carbon monoxide poisoning. This involved watching YouTube Videos, flash cards, PADI workbooks, and other helpful sources found online. If you live in a country with free education and attended high school this is a reminder we should not take education for granted.
Teaching Zambezi to study involved back to the basic training. I had to explain how to read a textbook i.e, titles are at the top of the page and bold for a reason. Under that you have a paragraph with a smaller title which means everything in the paragraph will be about the topic. I was impressed with his commitment to learning even if it took months to grasp seemingly simple topics.
Together we practiced using the workbook answering questions and taking multiple choice exams with a time limit. Over the course of six months his knowledge and confidence grew and he was ready to head off to the IDC course.
IDC Round One
The IDC course Zambezi attended was in Tofo Mozambique, a popular diving destination 4 hours south of Bazaruto. He had never been to Tofo so this adventure in itself was a complete eye opener.
Tofo is a touristic town and the best place to dive with manta rays and whale sharks in Mozambique. Tofo is on the mainland and is considerably more developed than the island. Surrounding communities have electricity and better access to water, and Tofo itself has a number of dive schools and a bustling tourism community. 
While in Tofo Zambezi was given another three weeks of tutoring before the PADI IDC. This training in Tofo was organized by Ocean Revolution and Bitonga Divers which other Mozambican Instructor candidates.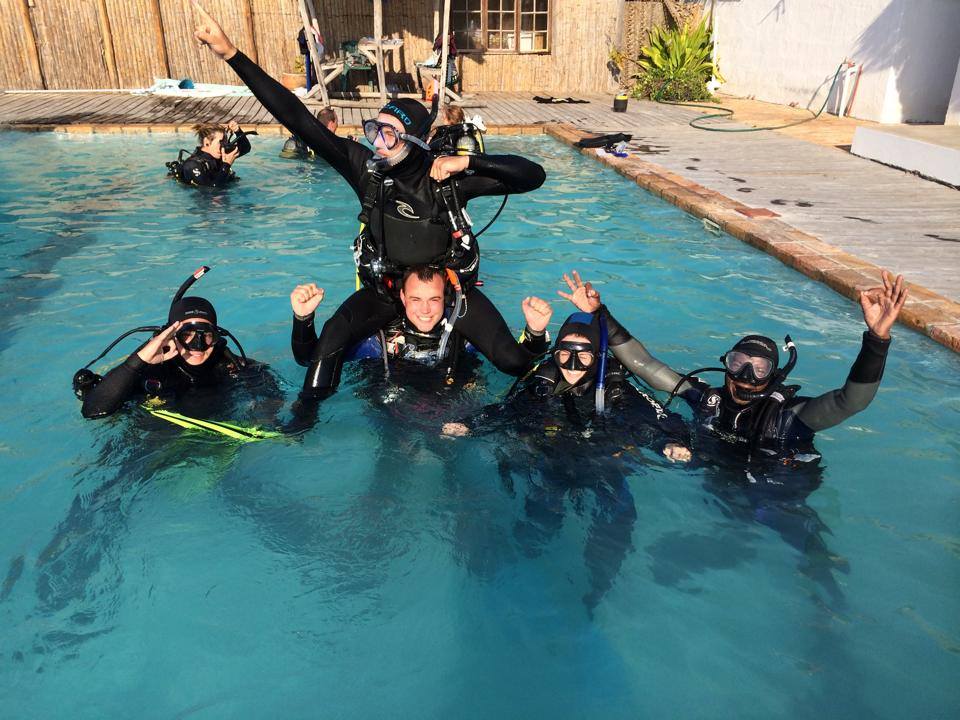 During the IDC, the course director instructor was impressed with his skills underwater and patience with students. Everyone loved his outgoing attitude and saw the same potential I saw for him becoming a Dive Instructor.
The IDC course lasted two weeks followed by the Instructor Exam (IE). Yet despite his best efforts, Zambezi was unable to finish to all the questions and did not pass the test. After completing the IDC course he was awarded the PADI Assistant Instructor certification and told he should keep studying so he could attend a new round of exams later that year.
Zambezi was a little disappointed but proud of his achievement at becoming a PADI Assistant Instructor.
Staff Training
At this point, I made an open invitation to each member of the activities team, together Zambezi and I would help anyone on the team who wanted to become scuba certified. I worked with Zambezi in the classroom to improve his English reading, test taking and any subject he needed help with.
We then set up knowledge review session with the team so Zambezi would have the opportunity to explain scuba diving to his colleagues and answer questions in his native language. The best way to understand a subject is by teaching!
After a few months, we were able to certify one of our skippers Alberto as an Open Water Diver and our Dive Skipper Diogo as an Advanced Diver. This training helped Zambezi practice his new Assistant Instructor skills and kept him learning.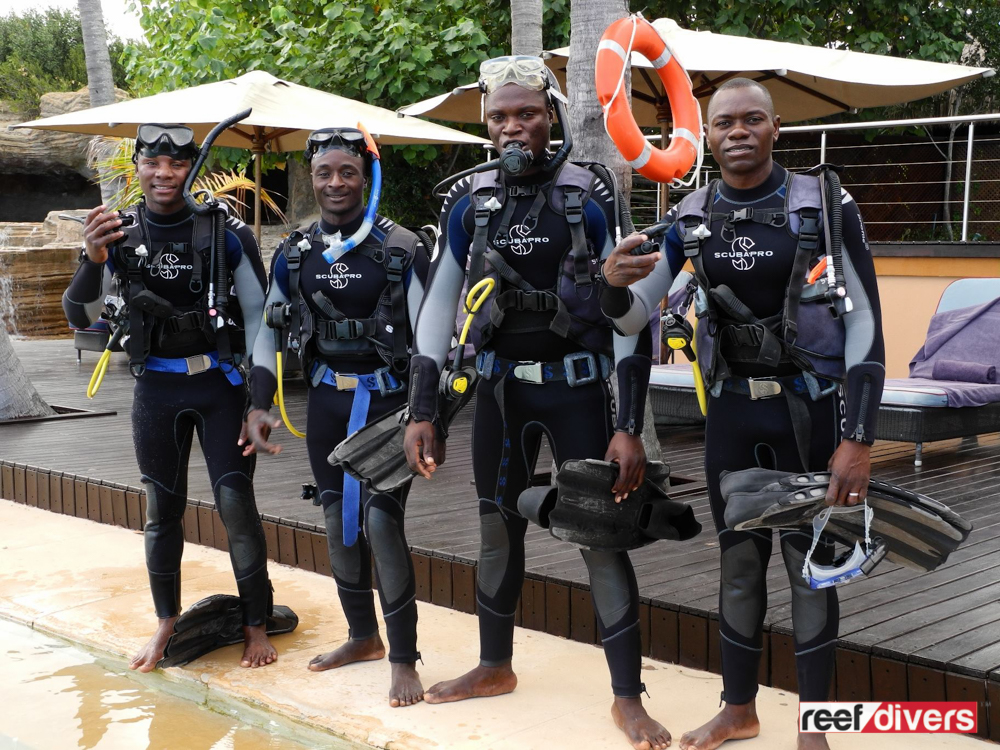 IE Round Two
In the Summer of 2015, after I had left Mozambique I was contacted by Ocean Revolution saying Zambezi only had a few months left to complete his IE without having to redo the IDC Course. How it works is if you pass the IDC and fail the IE you have 12 months to retake the test.
After a few calls to the hotel trying to convince them how important it was to send him they agreed, and Zambezi flew to South Africa where he had the opportunity to retake the exam. He had continued studying after I left and was ready to retake the test. And this time HE PASSED!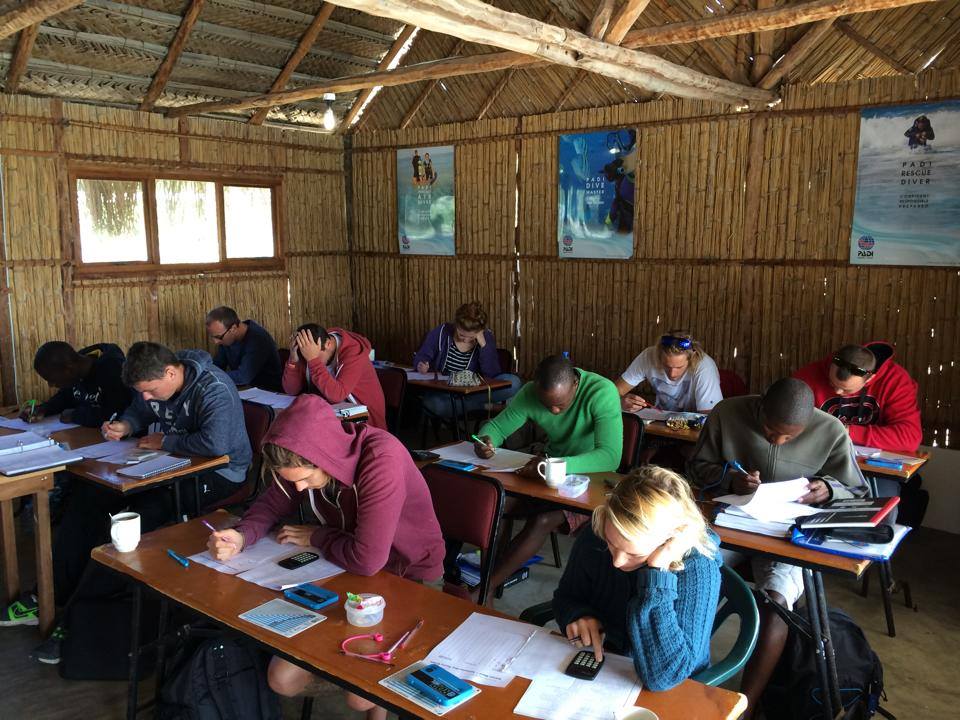 The IDC Course Will Cost You
Aside from the education gap, often one of the challenges of teaching locals to dive is getting the employer to buy in. In a remote location like Bazaruto expat staff come and go, often times leaving the dive shop without an instructor for months.
Having a local instructor is one of the most valuable resources to any dive shop as they continue to build up their repertoire of local sites and are able to pass their knowledge onto others in their community. The IDC Course and IE exam aren't cheap so getting the employer to spend thousands of dollars on an employee is often the limiting factor.
That's what makes organizations like Ocean Revolution so important. Without their support divemasters like Zambezi would never have the opportunity to grow and advance their career. Ocean Revolution supports the education of Mozambicans divers, scientists, activist, and other ocean-related professionals.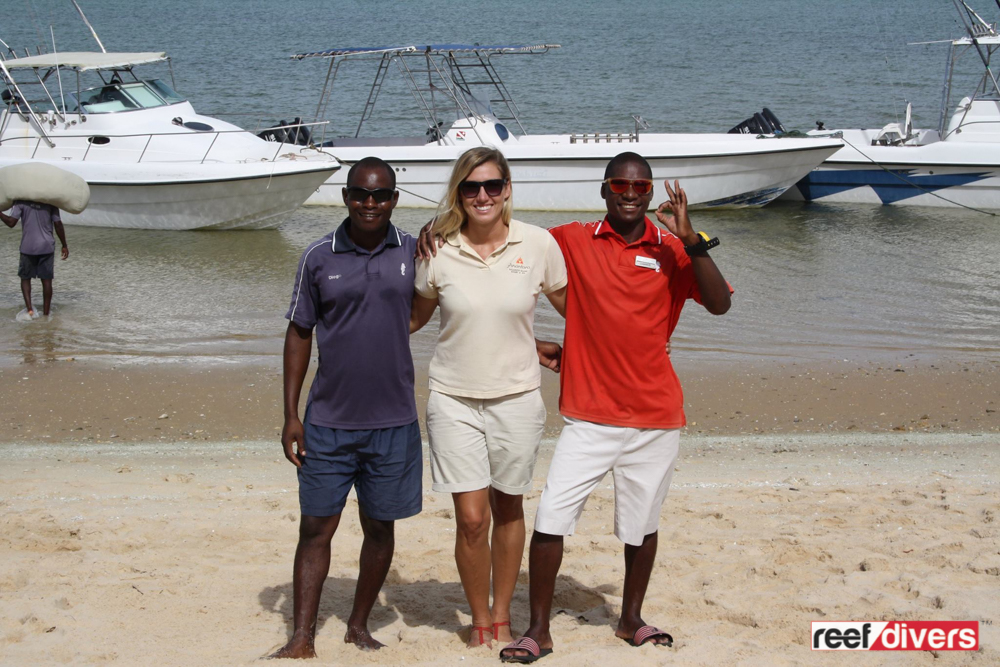 Now a PADI Dive Instructor Zambezi is able to take on new responsibilities at work and earn a higher salary. Zambezi supports his family, and helps pay for younger siblings to attend high school. He is able to teach his colleagues to scuba dive and just last week he certified Diogo our dive skipper as a PADI Divemaster!
Diogo was very keen and worked hard for three years to achieve this certification and I am sure the day was made even sweeter when his lifelong friend Zambezi signed the paper.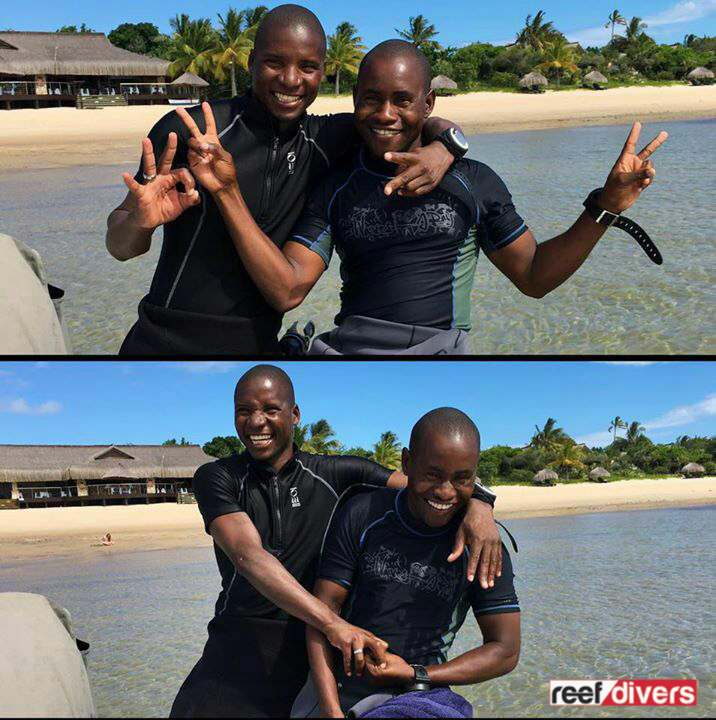 Hard Work Pays Off
Taking the time to train divers like Zambezi is a commitment. With patience, hard work pays off and can make a huge difference in their lives. Not to mention the value their local experience can bring to dive centers.
Being a dive instructor is more than just an interesting job that allows you to travel. For people like Zambezi and Diogo it is an opportunity to earn a sustainable living from the ocean and a vector for lifting coastal island communities out of poverty while conserving the ocean instead of extracting resources.
Thanks to the support of Ocean Revolution Mozambique, the Anantara Hotel Bazaruto, Bitonga Divers and Amanzi Scuba.