EcoDivers Roatan
EcoDivers Roatan is a bespoke dive center, steps from the hustle and bustle of Roatan's West End strip. Unless you go searching for EcoDivers, you could miss this hidden gem.
The island of Roatan is a true scuba diver's paradise. A lush underwater reefscape, with crystal clear water all within a 5-10 minute boat ride from the shop. The dive sites are accessible to all skill levels starting with sandy reef flats which lead to deeper coral covered ridges, channels, and walls.
EcoDivers takes out small groups to ensure a personalized experience. Groups are usually no more than 4 divers per divemaster or instructor, if not smaller. Their dive boat can comfortably seat 12 passengers, and the water in the West End is usually much calmer than the South side of the island with little to no waves.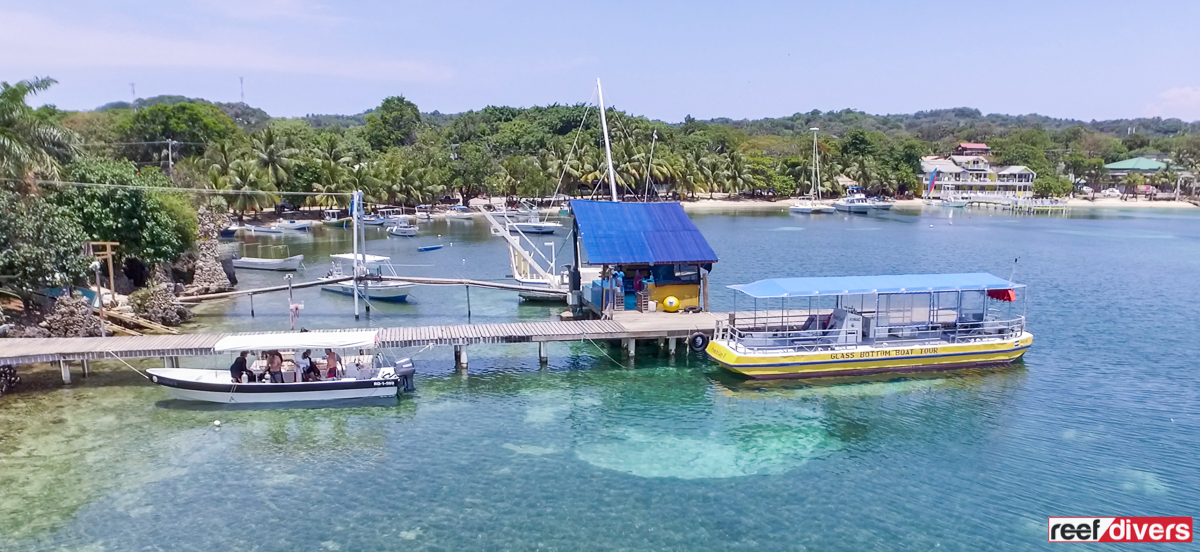 The best reef to dive in Roatan is fins down in front of the island's West End. In a survey from 2015 the reefs in Roatan's West End received the highest grade looking at the overall health of the coral reef in all of Mesoamerica.
The West End is only a short taxi ride from the airport, ferry, and cruise ship terminal (15-20minutes) and EcoDivers can accommodate single tank dive trips for cruise ship passengers passing the day on Roatan. Just make sure to email them a few days before you arrive to organize a trip.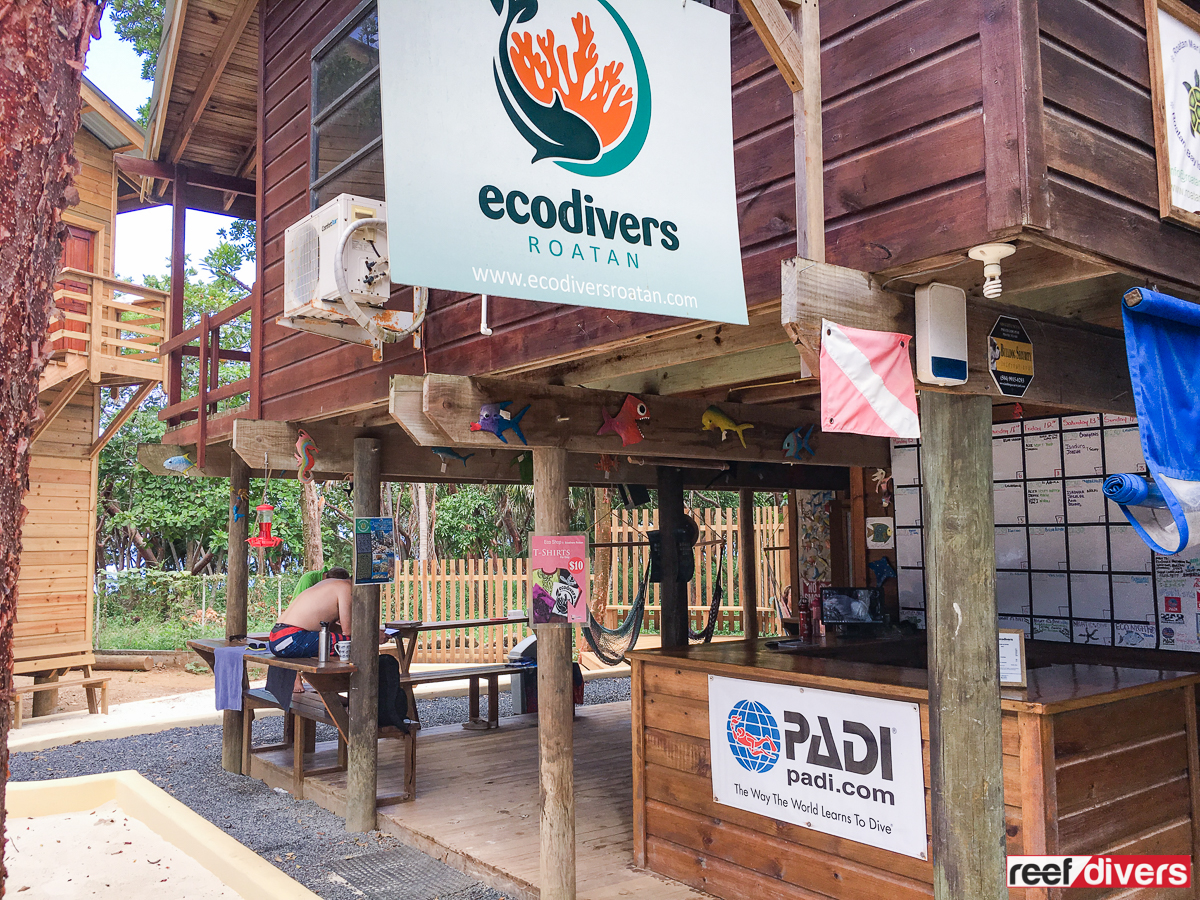 Something For Everyone
Roatan has to be one of the best destination I've found in the Caribbean where you can learn scuba diving, and EcoDivers offers PADI dive courses starting from Discover Scuba Diving up to Divemaster. The dive sites and accessible, and each site offers the possibility of a deeper profile for more experienced divers.
Underwater as you approach the edge of the coral ridge you will find an exhilarating drop-off. If this is your first time diving on a wall you will notice the water turn a deep azure blue before you fly over the precipice and peer down into the abyss.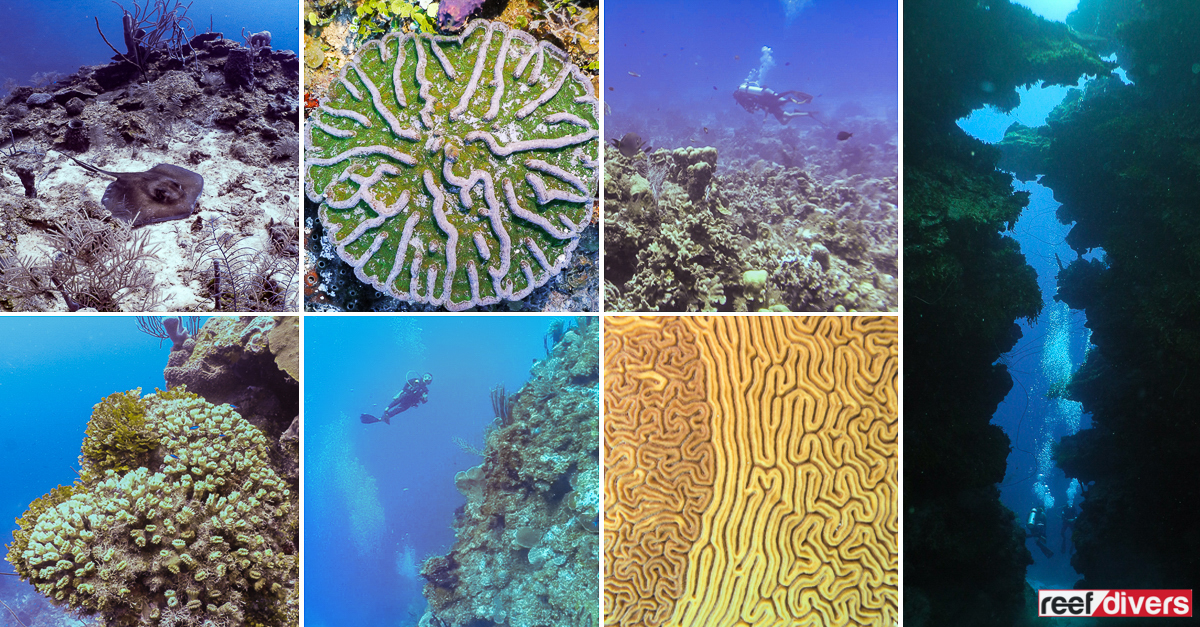 EcoDivers Shop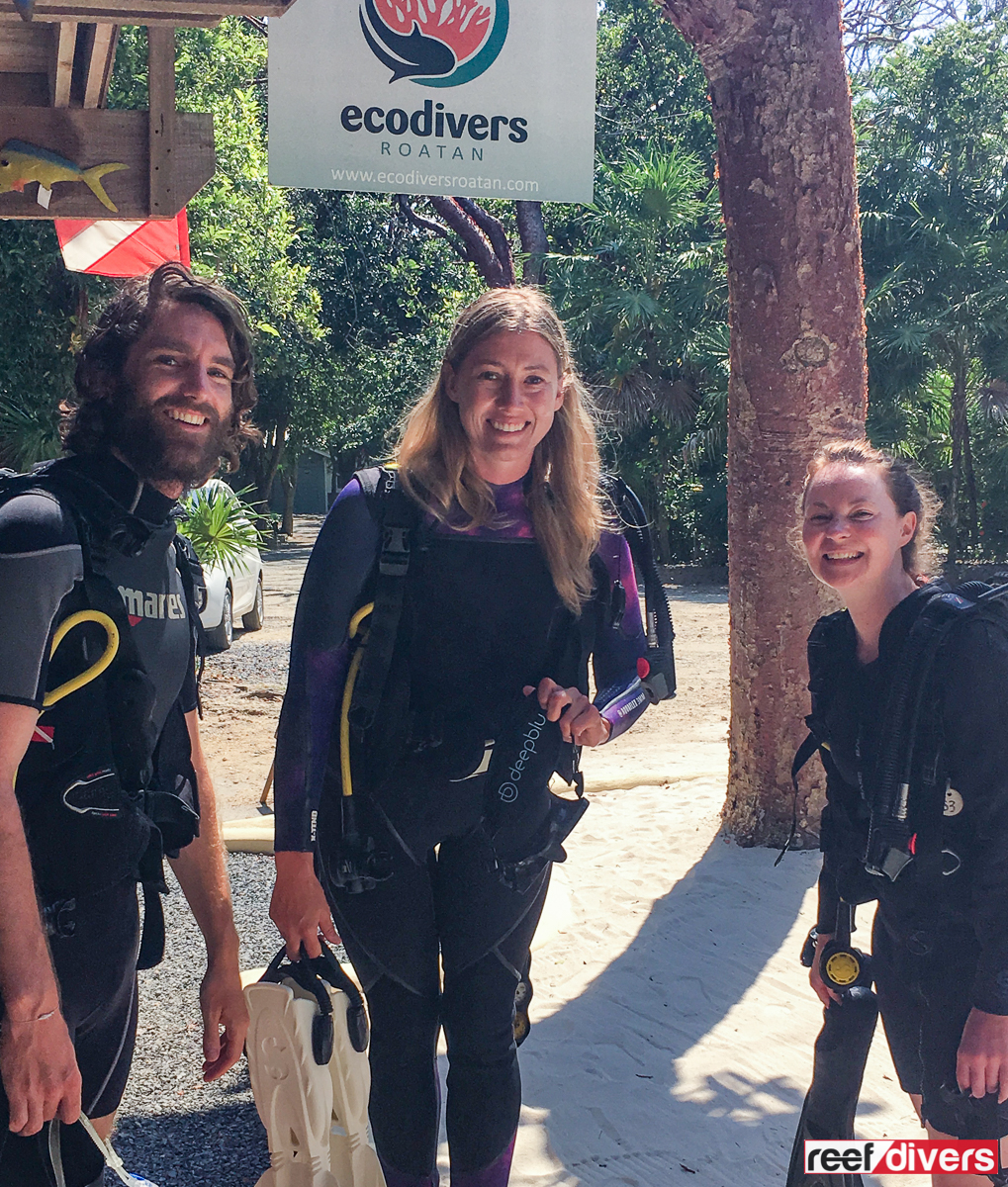 We had the pleasure of working with EcoDivers Roatan for two weeks and it's undeniable, EcoDivers has the perfect laid back yet professional vibe. The dive shop is nestled under the tropical canopy steps from the northern end of Half Moon Bay. The dive center is clean, simple, and relaxing, with a team of skilled, passionate staff.
The focus in EcoDivers is to provide scuba diving tours for certified and non-certified divers in a fun, safe environment, while also leaving guests with a positive message about protecting and preserving the environment.
In particular, EcoDivers has a strong focus on marine conservation awareness and offers fun weekly events like 'critter count dives' where guests can dive with a small donation and help count Diadema (Sea Urchins) on a night dive.
One of the most fun nights is Sunday Trivia Night. This event takes place every Sunday starting from 6:30 pm. Some weeks in started with a short presentation and last week we were able to give a coral identification presentation spreading the reef diving love.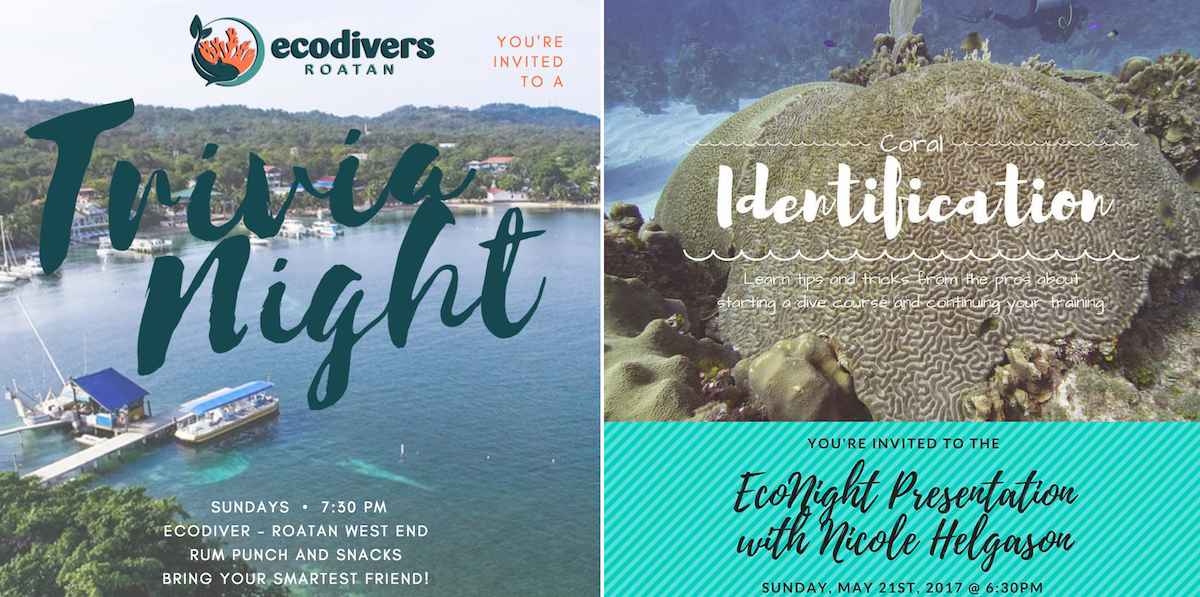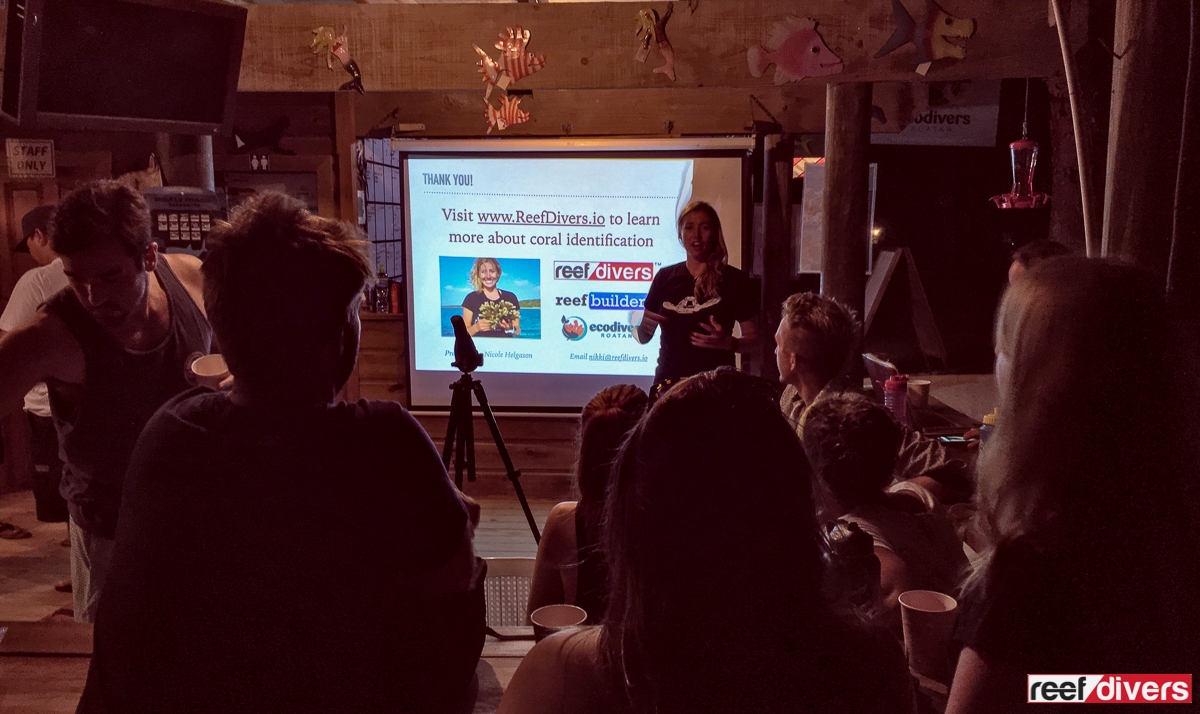 With EcoDivers you can be sure you will have the best diving experience possible in Roatan. And after the dive you can just kick back in the hammock and talk about all the critters you saw underwater. The perfect end to a perfect dive.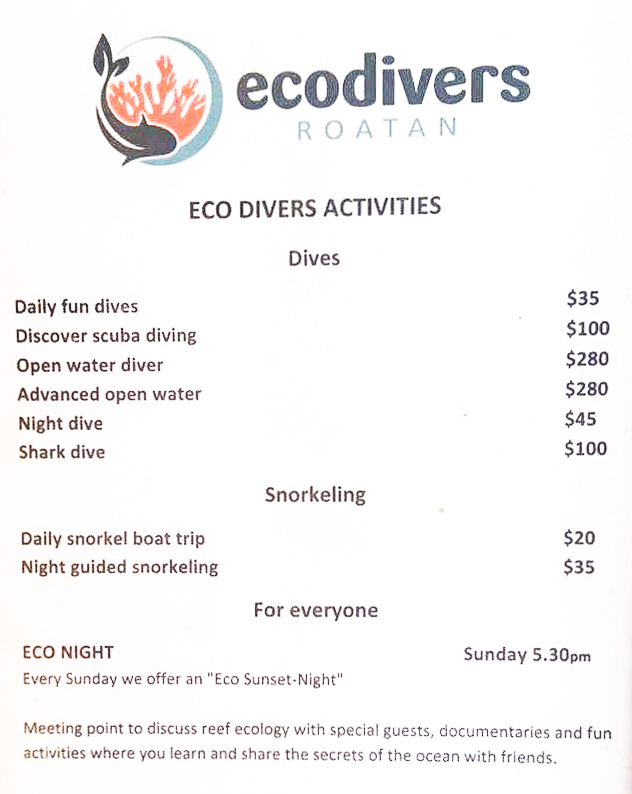 Single tank dives for certified divers start at $35 including all rental gear. For guests staying at the Half Moon Resort, or divers wanting to purchase a package of 5 or more dives you can receive a discount on your price. Please contact EcoDivers to secure your rate.
For nondivers you can take the plunge with your PADI Discover Scuba Diver Course starting at $100 USD or go all the way and get certified with your PADI Open Water Course from $280 USD. If you are already certified and want to Go Pro EcoDivers offers PADI Divemaster internships for people interesting if contributing to their marine conservation initiatives.
EcoDiver Roatan is open 7 days a week. The dive shop is located at the far end (North) of the Half Moon Bay inside the Half Moon Resort. It is open to the public, both for certified divers, snorkelers, and anyone who wants to learn to scuba dive.