If you recall the Titan Gills scam that ran on a crowdfunding website, there was the promise of swimming underwater, but a well designed video just couldn't replace science. Well there is another Kickstarter project, Scorkl that just launched that is a bit more realistic providing a small, refillable air container to allow you to swim underwater for short periods.
Similar to HEED bottles used in the military to provide a few minutes of air to help escape from helicopters that crash in the water, or its civilian cousin the Spare Air designed for an emergency backup when SCUBA diving, the Scorkl is a small canister that gives you about 10 minutes of air. But they promote it as refillable on the fly with a simple bicycle air pump.
According to the product description, it is manufactured to the same specifications and manufacturing standards as a normal SCUBA cylinder using an "always-on, breathe-on-demand, balanced single stage regulator and uses the same time proven technology found in regulators used by SCUBA divers around the world." There is also a pressure gauge to tell you how much air is left in the tank.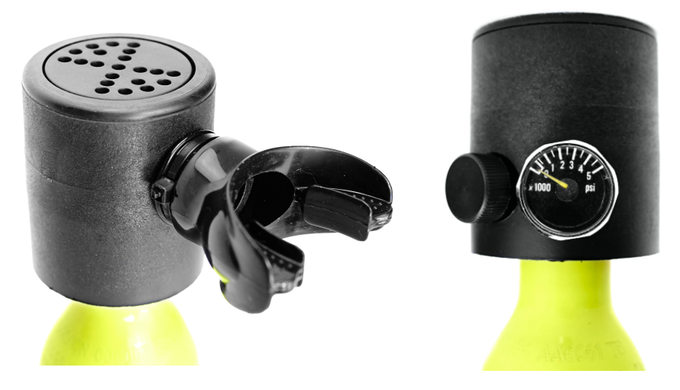 We were a intrigued by the use of a hand pump to allow manual filling of the tank. It seems like it would take a lot of time to pump it up to 3000 PSI, but they state the pump filters the air and with a four-stage system, produces a high pressure stream capable of filling the tank.
It looks fun and compelling and worth taking a closer look. The project has already reached and surpassed its $22,630 goal by over $10,000 in the first day alone.
The Kickstarter page here goes live on Wednesday 7 June (please link to the Kickstarter page if you feature). My website is available here (though please link to the Kickstarter page instead of my website) and the Scorkl Facebook page is here