Today's newest species of marine fish comes from very deep reefs of Indonesia, but it was discovered in a very peculiar way. Cymatognathus aureolateralis is a new species of anthias which is very closely related to Symphysanodon, but was elevated to its own genus due to some very interesting snagletooth patch.
Having first been sighted from deep diving ROVs searching for coelacanths in Indonesia, the first specimens of 'Wavy Jaw Slopefish' actually turned up in a fish market in Tanjung Kodok, Bitung, North Sulawesi, Indonesia. The fish were caught on hook and line so there's no information about how deep these fish were caught, but there exists one photograph of this fish spotted at 199 meters or 650+ feet, so it's safe to say these fish came from very deep.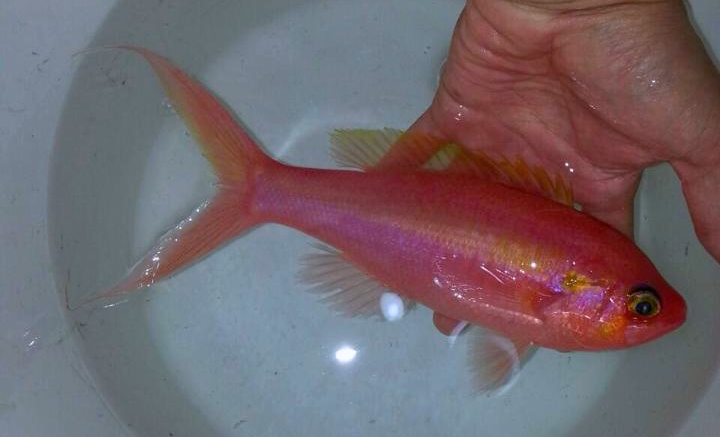 Cymatognathus aureolateralis was described from three specimens and while they share much in common with Symphysanodon, their deeper body and especially that funky set of chompers really set them apart. Elevated patches of teeth give the jaw a wavy appearance, hence the curious name of Wavy Jaw Slopefish.
This newest species and genus of Anthias was described by Kimura et. al in the latest volume of ZooTaxa.