Royal Caribbean has partnered with social media company Snapchat to introduce a new way to share your scuba diving adventures. Royal Caribbean a cruise liner company, has designed a new scuba diving mask called the SeaSeeker with a pair of Snapchat Spectacles built right into the frame!
Recently we've been seeing more sponsored ads and social media promotion for Royal Caribbean in our news feed, and it appears the company is actively trying to inspire a millennial generation of cruisers. Snapchat has an estimated 160+ million users per day and a growing platform for Royal Caribbean.
Snapchat allows you to share 10 second videos or photos which stay on your story feed for 24hr before disappearing. Now divers, snorkeling, and freedivers can share their first-person view of the underwater world like never before.
The SeaSeeker mask is rated down to 150 ft (46 m) and allows for up to 30 minutes of footage. And, with only 10 prototypes of the mask in circulation, there are still a few questions left unanswered.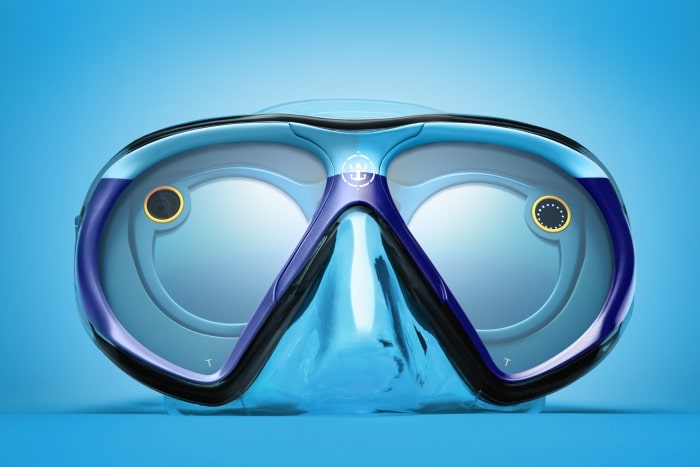 We're curious to know how the spectacles fit inside the mask and how mask clearing works. We've read the spectacles can be removed from the mask so we wonder if you would remove them between dives to be able to apply defog to your mask. Also it looks like the field of view is now restricted to the size of the spectacles, and from the pictures, it looks like the spectacles still have dark sunglass lenses, not ideal for diving in cloudy conditions.
To promote the new mask Royal Caribbean partnered with three divers to share unique experiences. You can follow along with marine wildlife photographer and conservationist Roberto Ochoa to Cozumel, Mexico, to provide a new look into the migration of whale sharks. Marine biologist Gabriela Nava to examine a coral reef restoration project, and free diver Ashleigh Baird wore a pair while visiting the Great Blue Hole in Belize.
The patent pending mask is the first of its kind not only for Royal Caribbean but also the world of diving. The SeaSeeker will only be available exclusively to Royal Caribbean passengers, although we hope once the technology it out in the world everyday consumers can get their hands on a pair of this social sharing mask.