This Black & Blue angelfish may not win any beauty contests among aberrant angelfish, but it is the first time we've seen this species don this kind of garb. Of the many different species of Centropyge, only a few species represent the majority of the aberrant specimens that we see, but it's about time that the yellowfin pygmy angelfish had a turn.
Centropyge flavipectoralis is an interesting, mostly dark pygmy angel from the Indian Ocean which is identified by a bright yellow pectoral fin. In dim light the yellowfin pygmy angelfish looks mostly drab. But with good illumination, you can more easily see the rippling blue bars along its side, a kind of hidden metallic quality not unlike Centropyge deborae.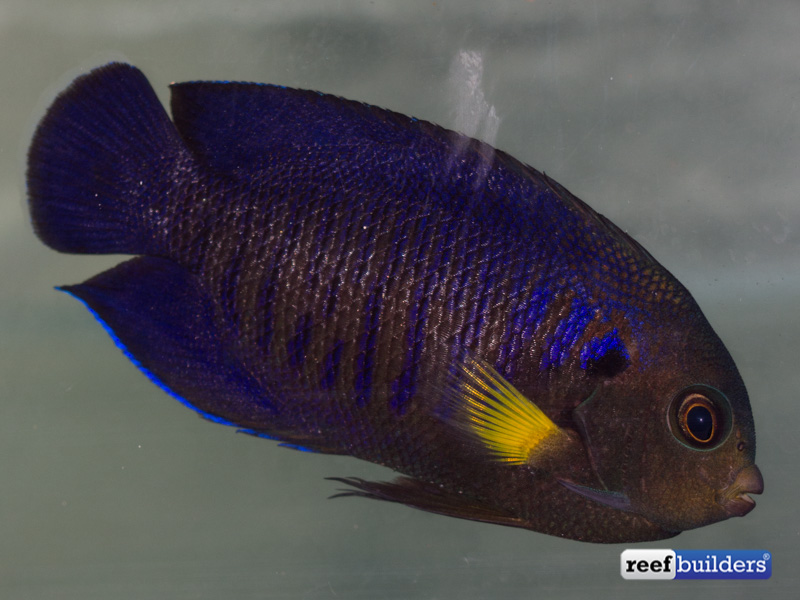 What makes this unusual aberrant angelfish so interesting is that the blue coloration is unevenly distributed into weird patches around the body. Furthermore there's odd regions of lighter brown coloration on the face and ventral areas.
But the real standout difference is the weird light colored dorsal fin which is a dirty yellow overall save for one big blue splotch. Other than that it's a very healthy looking angelfish specimen of a species that is rarely appreciated in the trade but which is usually a very good citizen in a reef tank.
It's hard to say whether the color will come or if it will change, but at least it's cool to know that these aberrations extend to one more species in the pygmy angelfish. Thanks to Sea Dwelling Creatures for sharing these photos of their shiny yellowfin pygmy angelfish.