The marine aquarium hobby as a whole has become incredibly adept at finding the most colorful, unbelievable, and crazy colored reef life that exceeds our wildest expectations at every turn. Mini Maxis and Flower anemones have had their turn, and now it's time for a totally underrated animal to get in the spotlight, the pizza anemone.
Pizza anemones, Cryptodendron adhaesivum, are not a rare anemone on coral reefs, but it's not too common either. We've seen this anemone come in a variety of colors, often with blue, green, purple or red, usually with a prominent colored perimeter that looks like the crust of a pizza, hence its name. But these two new specimens which have surfaced are on a whole other level when it comes to color and pattern.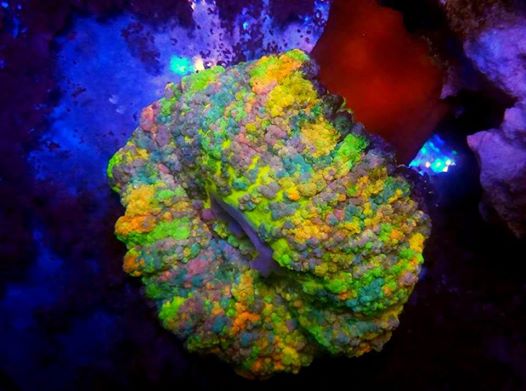 The crazy fruity pebbles psychadelic rainbow of color pizza anemone comes to us from Ultra Rainbow Corals, and this thing could be any more colorful if you'd designed it with photoshop. Its surface is a little more bumpy than we expect from these couple of photographs, and the outer ring isn't as pronounced as we'd expect from Cryptodendron, so there's still a possibility that this is a wild specimen of Heterodactyla hemprichii or a similar species which has a penchant for mimicking other tropical marine life. Whatever it is we're glad to know such a thing exists and now that there's a picture of one, hopefully it will serve as a 'most wanted poster' for the collectors.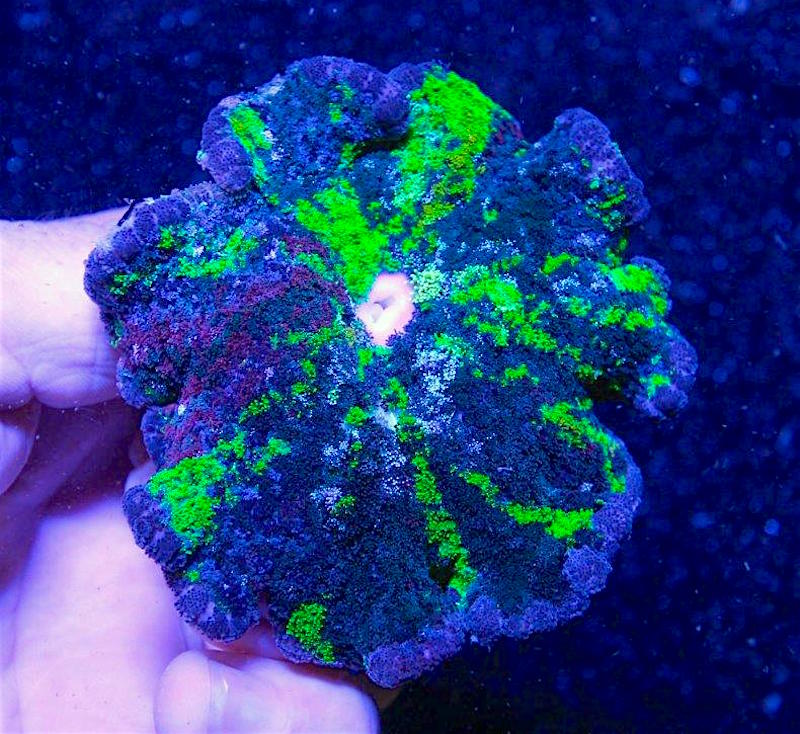 Next up is definitely a pizza anemone from Ultra Corals Australia – apparently there is something to having 'Ultra' in your business name. This specimen photographed here under blue-heavy lighting is actually dark blue, with a visible thick outer ring which is more purple colored.
The green streaks are clear to see in this specimen but this lighting barely shows the splotches of hot rod red the streak through one 'slice' of this specimen.
It's so cool to see some extremely colorful specimens of little known anemones that are wild and crazy enough to garner the attention of more coral-centric collectors. We hope this definitely sparks more interest for the reef scene to pay more attention to some of these fascinating species of anemones, we could stand to see more tropical anemone focused marine aquariums in our lives.