Ever since I started in the hobby in the mid 90s, Xmas Tree worm rocks, coco worms and feather dusters have been among some of the most fascinating non-coral animals for a reef tank. The popularity of Xmas Tree worm rocks has never really soared, but every now and then you get to see some really cool 'bouquets' of these colorful and active combos of corals and feathery gills.
The appreciation and availability of these worm-rocks is in full effect in Australia where I got to see so many different examples, with a wide range of different coral hosts. The most common coral that becomes 'infested' with these Spirobranchus featherdusters with colorful gills is usually Porites, sometimes Stylocoeniella.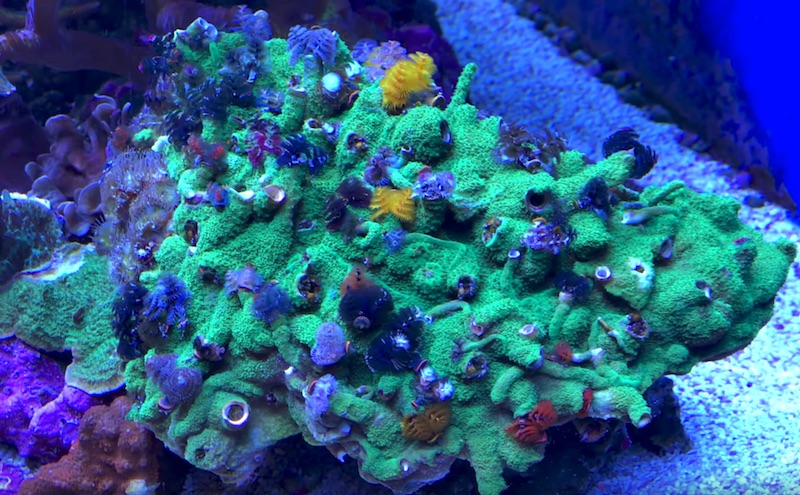 However in Australia they've got a wide diversity of other worm rock corals including Montipora and even some Cyphastrea. One of the most fantastic worm rock 'colonies' I witnessed was in the home tank of Darren Hatfield, owner operator of Reef Secrets in Gold Coast.
This stunner is a green Montipora that not only had a wide assortment of colorful worm gills, but it is also home to a handful of permanent coral hermit residents. This worm rock is so colorful and teeming with life that it could be a small reef tank unto itself. I featured this worm rock colony in the video of Darren's 'Sky Reef' but he's gone ahead and made a video of just this super-organism.
Christmas tree worms and feather dusters of the suborder Sabellida
The clip includes some excellent closeups of the worms and the coral hermits, giving you a window into this self-contained ecosystem. Props to Darren for the excellent video and if any importer/wholesaler/retailer gets their hands on some nice Xmas tree worm rocks, please do get in touch 😉