The Harlequin Shrimp is one of the most flamboyant crustaceans that we enjoy in our aquariums. It's right up there with the peacock mantis shrimp in terms of color, pattern and behavior, although it's a lot easier to accomodate in a community reef tank.
While the Harlequin Shrimp is actually quite common in local fish stores, there's a bolder much more colorful variety often referred to as the Hawaiian harlequin shrimp. Much like the harlequin tusk comes in a regular filipino form and a supersaturated Australian color form, so too does the harlequin shrimp.
The two color forms come from different places with the 'normal' harlequin shrimp with paler spots and a blue outline coming from the Indian Ocean and Indo-Pacific region, while the brighter 'hawaiian' harlequin shrimp coming mostly from the central and East Pacific Ocean.
These two forms of this wildly colored shrimp are so different that they were once considered two different species, Hymenocera elegans for the common harlequin and H. picta for the Pacific/Hawaiian Harlequin, but today they are both considered a single species, Hymenocera picta. If you're wondering why this species isn't more commonly kept in just a regular reef tank it's because these shrimp have the peculiar habit of eating only starfish!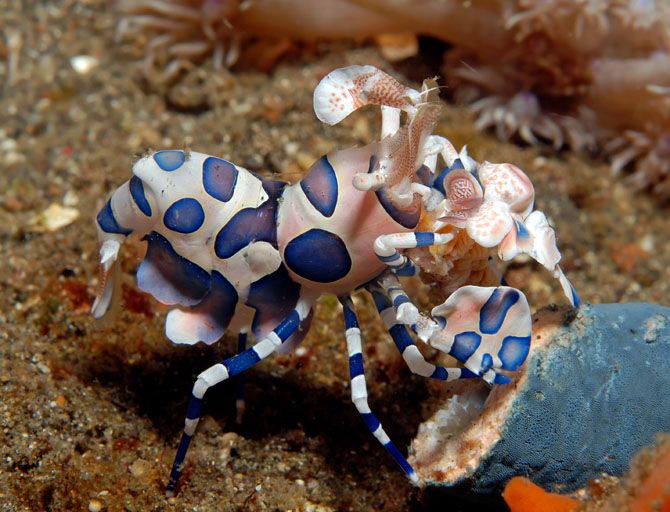 This might seem like a very expensive diet for these shrimp but there are ways to feed these shrimp without breaking the bank. The most popular technique seems to be to use a large common starfish like a chocolate chip starfish, cutting off one leg every week or so while keeping it in a separate aquarium, and feeding the central body once the five legs have been 'prepared' for these curious shrimp.
This shrimp was only successfully bred in captivity earlier this year but due to the moderate demand there is little danger of over-collecting these creatures from the reef. These fresh pictures of the rarely seen hawaiian harlequin shrimp come to us from Japanese pet store Splash Aqua and for more information do check out the webpage by the Waikiki Aquarium.