Macro Aqua is an aquarium manufacturer from Taiwan that sure does have a knack for creative aquarium devices. Their square protein skimmer with a completely new design definitely turned some heads in the last few months, and their AK65 & AK35 Liquid Dosers are grabbing attention for their interesting design.
It's really great to see dosing of aquarium being taken so seriously by the reef aquarium hobby that it's spurred an explosion of various dosing systems. At first these dosing machines were just basic dosing pump heads with a tad of programming, then we got wireless control, touchscreens and built-in magnetic stirrers, and now they are treading into controller territory with ATO functions, water change features, and some are beginning to work together with Alkalinity monitors.

The Macro Aqua AK Liquid Dosers have a built in dosing reservoirs which both hold the additives being administered, and also have float switches in each chamber to alert users when it's time to refill. It's quite interesting that all dosing systems need some kind of container to dose from, so why not include them with the dosing pump from the start?
Macro Aqua has implemented their dosing reservoir as a slide out drawer with four separate chambers, one for each dosing channel. This has the benefit of saving some space, and it also means that there's four fewer hoses to hook up to the dosing pump heads.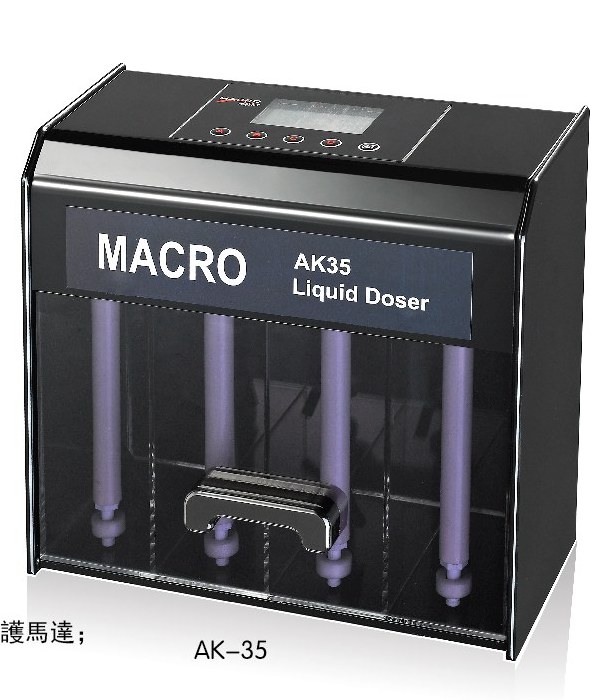 The AK35 & AK65 Liquid Dosers are basically identical save for the volume of their reservoirs with the AK35 storing 950ml per channel and the AK65 storing up to 1750ml in each chamber. Haven't been able to find out how much these are, or images of a real product beyond these digital renders, but we'll certainly be keeping our eyes peeled for future details on this compact dosing package. [Macro Aqua]