AquaticLife has a long track record of thinking outside the box, bringing us such novel ideas such as their All-In-One Power Deluxe reverse osmosis unit, the plug n play RO unit, the Flow Swing, and many more. Their newest offering harkens back to their original metal halide & T5 hybrid fixture, with a modern implementation using LED fixtures.
In theory the Aquatic Life Hybrid T5HO fixture seems pretty pedestrian but the way that this fixture is built is actually really great in real life. As simple as this light concept is, the way that AquaticLife has built this fixture should actually be very appealing to a wide variety of users who are already fans of established LED light fixtures.

Both sides of the Hybrid T5HO fixture have dual T5 strips with individual reflectors and one ballast per side. But in the center is where a universal mount allows users to neatly install their favorite LED light, be it the Radion, Kessils, Primes, Hydras and you could probably work some current USA striplights in there too if you wanted to.
The multi-function brackets are included and come with all the hardware needed to mount your LED fixture of choice. The one thing to know about the AquaticLife Hybrid T5HO fixture is that there are no arms or method by which to rest this fixture on the tank, so you'll have to make do with a purely suspended mounting solution.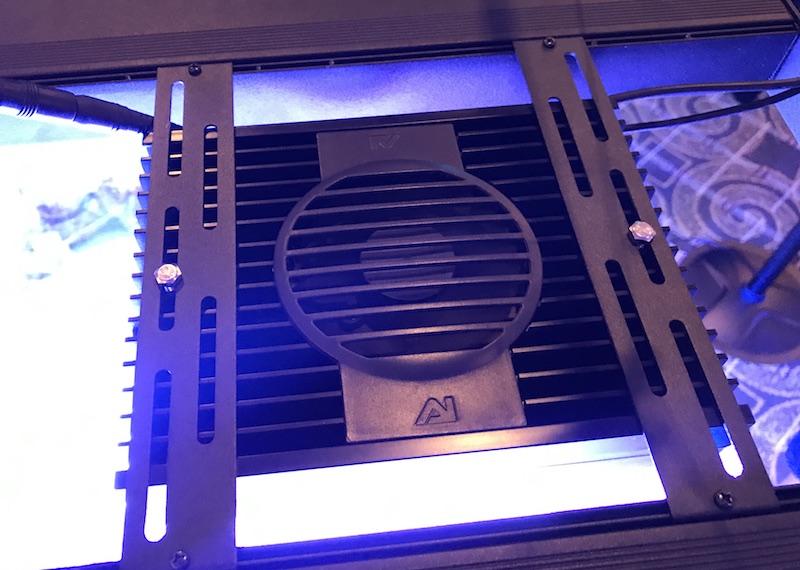 Today's LED lights are more than capable of lighting up most reef tanks today but if you've got a ton of corals, or really want to crank the light levels, the addition of four high output T5 tubes should be more than enough to give your reef a significant boost in nutritious par levels.
In this configuration you really do get the best of both world, the efficient and controllable lighting from modern LED lights, and the choice of the bright and diffuse lighting that comes from T5 lamps of your choosing – you'll also have to bring your own light timer to control the tubes and you can pick up one of AquaticLife's new fixtures in 2, 3 and 4 foot lengths for between $230 and $300. [AquaticLife]