For the past month reports of coral bleaching along the Mesoamerican reef have been making their way to my inbox. From Cancun to Honduras it seems multiple stretches of the worlds second largest coral reef have suffered some degree of coral bleaching.
The Mesoamerican Barrier Reef stretches over 1,000 kilometers from the tip of Mexico's Yucatan Peninsula, down the coast of Belize and Guatemala, ending at the Bay Islands of Honduras. In mid-September NOAA started issuing coral bleaching alerts in Mesoamerica and in response scientists and concerned divers set out to document the extent of bleaching.
Honduras Hit Hardest
Honduras and corals reefs along the Southern region were hit the hardest with up to 80% of corals showing signs of bleaching in Roatan and Utila. A video posted to the Bleach Watch Roatan page shows, Orbicella annularis, Porites, and Undaria completely white or pale yellow.

"We have tagged many bleached colonies to follow up and see their rates of recovery" says Antal Borcsok, owner of Ecodiver Roatan. "And in case of mortality we would like to find out who will take over the real state and how fast they will do so." 
If you are in Roatan you can add your coral bleaching photos and video to the Roatan Bleach Watch page, including
1. Date
2. Site Name
3. Water Temperature
This information will serve as an archive of all bleaching events in the Roatan Area and can be freely accessed by those in charge of local and global conservation efforts.
Guatemala
Ongoing monitoring of three sites in Guatemala has shown that many coral colonies were affected by coral bleaching, although not severe. White or pale bleaching was observed in Orbicella, Porites, Undaria, and Siderastrea.
These photos showing bleaching in Guatemala were posted to the Healthy Reefs For Healthy People (HRI) page by Guatemalan coordinator Ana Giró Petersen. HRI is currently collecting data throughout Guatemala and Mesoamerica for an accurate region-wide assessment of coral bleaching.

Belize
Reports of coral bleaching have been coming in from Belize since mid September. Wide-scale bleaching throughout the country with up to 59% of coral on some reefs having suffered some bleaching. Fragments of Hope Belize (FOH) does an incredible job of documenting coral health in Belize and have reported both good and bad news about this years event.
"Shallow reef by bread & butter caye (back reef, SWCMR) had 59% bleached corals (of 200 surveyed); shallow SWC fore reef had 46% bleached, LBC shallow has 33%, and LBC 12m deep has 44%" writes Lisa Carne Executive Director of Fragments of Hope.

Lisa has also reported that coral bleaching in her area, southern Belize, may not as bad as major bleaching event in 2008 and 2010, although they are still waiting until the end of the season to know for sure. Some good news to end this story is while some reefs have suffered greatly due to coral bleaching there are others which show no signs of bleaching.
Lisa reports that a sub-site in the Laughing Bird Caye National Park is still looking amazing. What makes this picture even more optimistic is the corals were outplanted as part of her ongoing Fragments of Hope coral restoration project in 2010.

Mexico
Coral in Mexico seems to be the least affected by this year's bleaching event. Northern stretches of the reef are showing the lowest percent of coral bleaching and Melina Soto director of Healthy Reefs Mexico writes, "although there are no drastic whitening, there are pale colonies."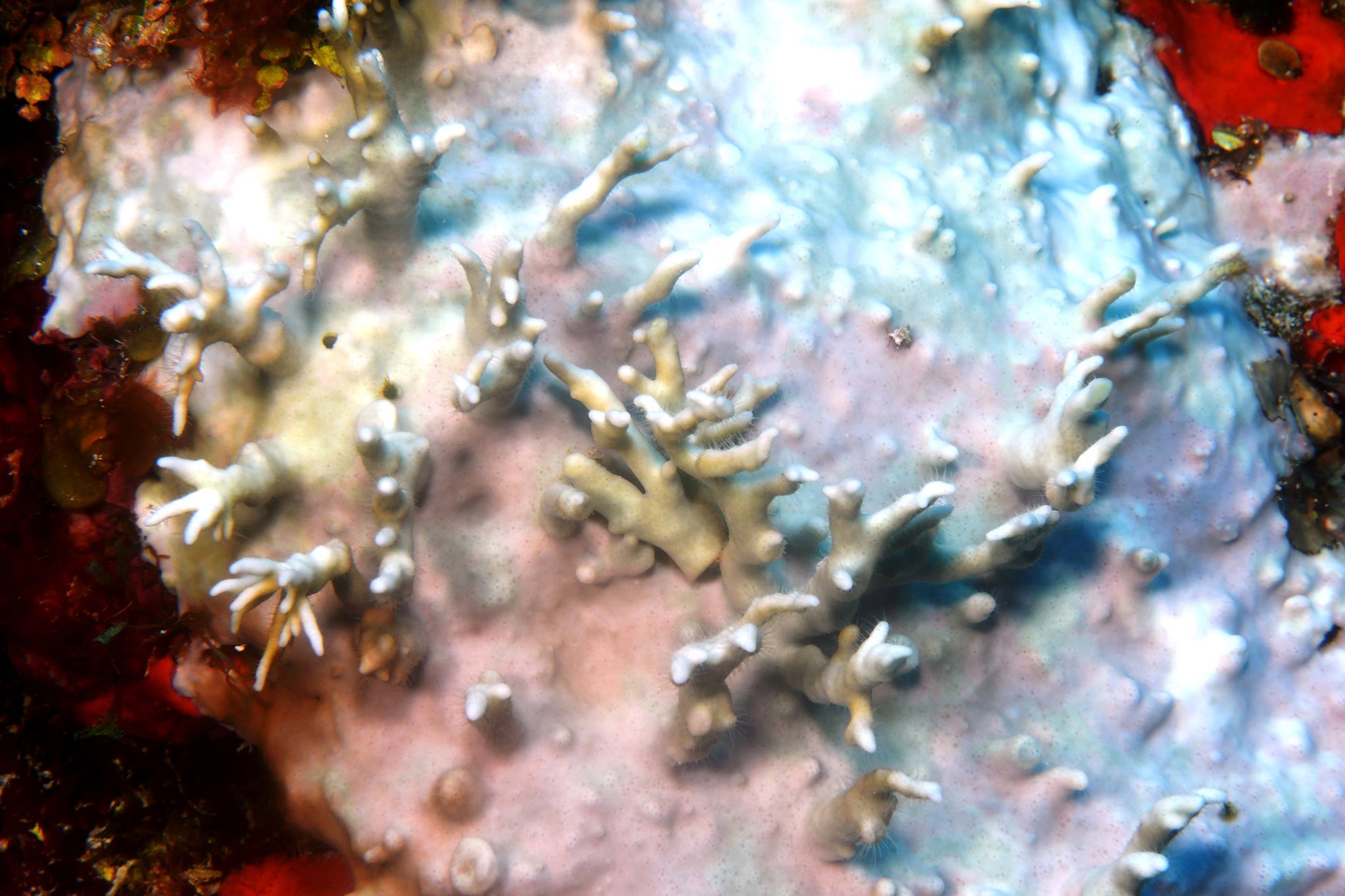 In a personal communication with a fellow coral enthusiast Bob Fenner, he writes "Coral bleaching is WAY down in Cozumel. For the fourteen dives I did down south, less than 1%. In fact, the entire area appears to be rebounding from the 2006-8 troubles."
Monitoring is ongoing in Mexico until the end of October with a full report of the entire Mesoamerican region being compiled by Healthy Reefs. We should have a better picture of bleaching thought Mesoamerica by the end of 2017.
Cooler Weather Ahead
Fortunatly good news is on the way. weather conditions are getting better and according to NOAA temperatures for the year have already peaked. Coral bleaching alerts have been lifted from the region although they remain on coral bleaching watch.
If you have pictures or coral bleaching or information about coral bleaching in Mesoamerica leave it in the comments or upload your pictures for the ReefDivers.io facebook group.