Cactus Corals
Cactus corals are some of the most colorful Caribbean species, yet most scuba divers and snorkelers don't even know to be on the lookout for this magical multicolor coral. Cactus corals grow into thick encrusting plates or large domes and are fairly common throughout the Caribbean, but they are not found anywhere else in the world.
If you're new to ReefDivers.io we are a website about scuba diving and coral reefs, and I try to highlight the diversity of coral species thought photography. One of the reasons I love photographing corals so much is that a single species can have hundreds of different color combination and no other Caribbean coral highlights this diversity as much as Cactus corals.
There are five distinct species of Cactus coral and you can learn to identify each one by checking out my Guide to Caribbean Corals. Being able to tell the species apart is less important than just being able to identify the type of coral, but if you're interested here are a few tips.
The five species are Knobby Cactus Coral (Mycetophyllia aliciae), Low Ridge Cactus Coral (Mycetophyllia danaana), Rough Cactus Coral (Mycetophyllia ferox), Ridged Cactus Coral (Mycetophyllia lamarckiana), and Mycetophyllia reesi. I have yet to find the last coral M. reesi which is a ridgeless deep water species. So for this explanation, we can just focus on the first four corals mentioned in this list.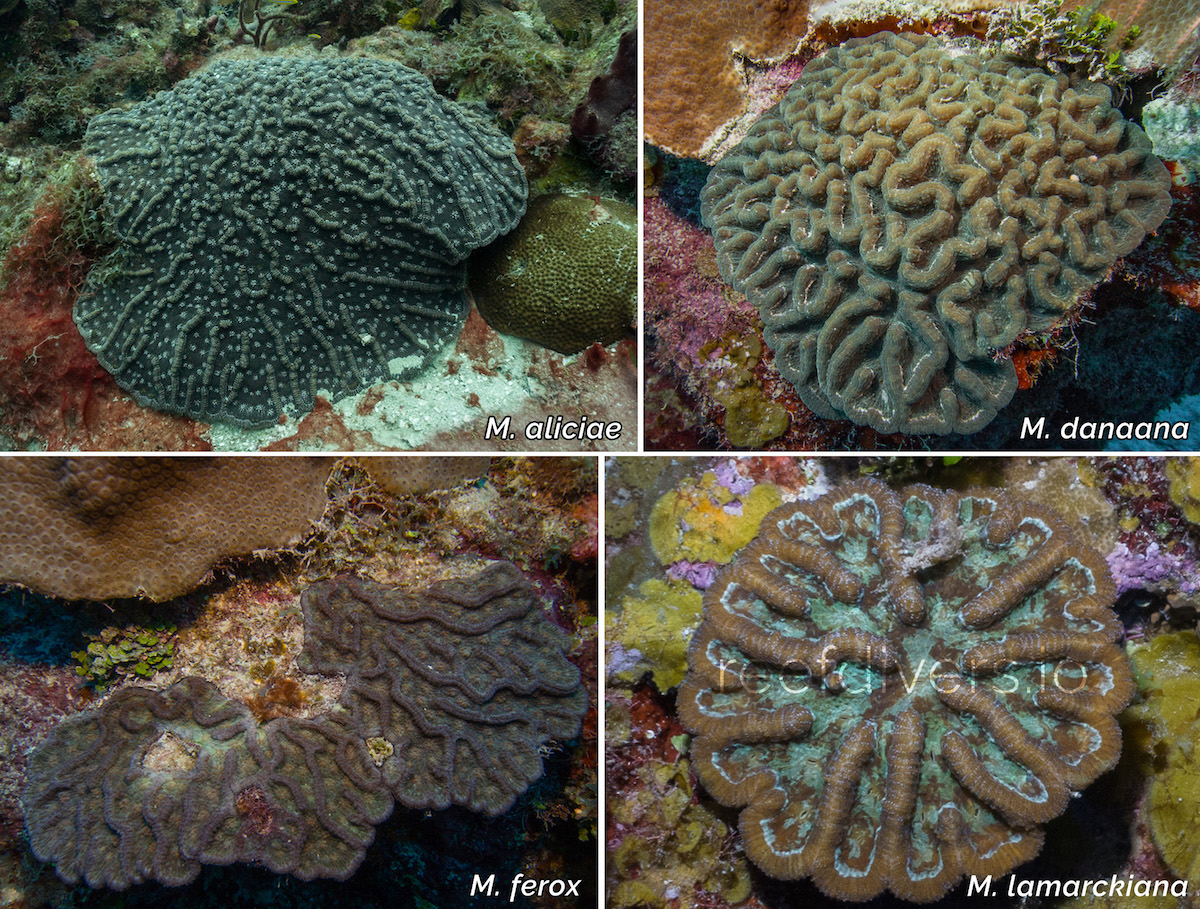 The knobby cactus coral is more of a flat, encrusting shape. This coral has minimal ridges that are disconnected can form little knobs. There is also a distinct flower pattern surrounding each corallite and if you find multiple corallites between ridges you are sure to have found the knobby cactus coral.
The low ridge cactus coral and ridges cactus corals can be difficult to tell apart and some scientists believe they may just be different growth forms of the same coral. To identify these species you have to look at the ridge of the ridges and if they connect in the center of the colony or not. These corals form thick plates with rounded dome tops.
The Rough cactus coral has thin ridges that close around corallite leaving enclosed section and valleys with a handful or more colorful dots. The color of the corallite is often a contrasting color from the tissue giving this coral a polka dot pattern.
Below you will find 25 pictures of incredible cactus corals. Can you identify the species? If you love cactus corals or just love corals, in general, leave me some love in the comment section below.