Living Sea Sculpture
Just below the waves in Cozumel Mexico, a Living Sea Sculpture sits on the sea floor, a refuge for vulnerable coral fragments. The sculpture is located in the Underwater Museum of the Golden Divers amongst famous busts, dozens of reef balls, and leafy fractal reef frames.
Living Sea Sculpture is the brainchild of socio-ecological artist, Colleen Flanigan. In 2004 Colleen embarked on a journey to use her background in Design and Metalsmithing to create habitats that could help regenerate coral reefs.
Colleen was inspired by Biorock mineral accretion, a method that shares many metallurgical principles with her earlier work and links to her love of the ocean and gardening. She set off for Pemuteran, Bali to immerse in an international workshop where she installed her first underwater sculpture.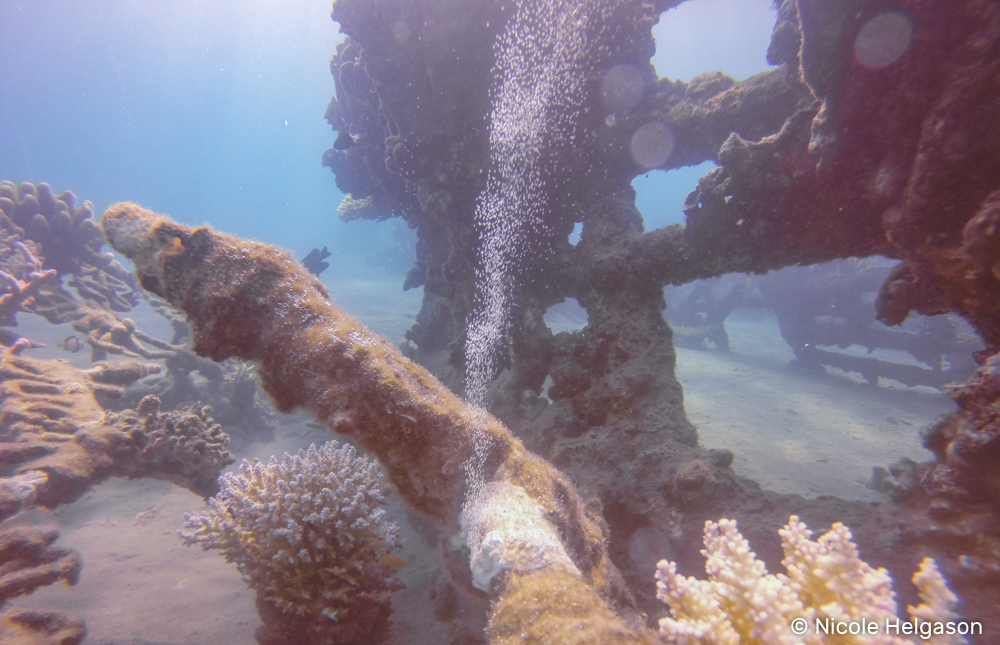 The Biorock method uses electrolysis in the ocean: metal structures are charged with low-voltage DC through the seawater. Calcium carbonate and magnesium hydroxide minerals crystallize around the steel preventing corrosion and fortifying the armature.
With ocean acidification and other stressors making it hard for corals to get the calcium carbonate necessary to build strong exoskeletons and reefs, mineral accretion is an approach to address this changing reality. The resulting limestone is a natural substrate for corals to settle and attach.

After installing projects at Karang Lestari with Biorock Indonesia in Bali, Colleen took a leap to create her most ambitious project yet, Zoe – A Living Sea Sculpture, a 15-foot sculpture (4.5m) inspired by DNA helices now installed in Cozumel.
A Living Sea Sculpture Named Zoe
Zoe was anchored to the seafloor and powered by an international team in September 2016. In addition, there is also a live webcam encased in a protective glass globe to bring the ocean and transformation of Zoe to those who may never visit in person.

Still in her infancy, Zoe is being planted with coral fragments by Colleen and volunteers. At the moment the project is focused on rescuing coral fragments found broken off surrounding coral colonies, primarily
Agaricia tenuifolia
and
Porites porites
species, but, she hopes to add endangered Elkhorn coral (
Acropora palmata
).
There are a few dispersed colonies of Elkhorn clinging to life nearby the frame, pictures at the end of the article. Through collaborations with local universities, and NGO's, opportunities to facilitate seeding and monitoring the coral restoration project are developing.
Zoe is located at 13 feet (4m) deep, which is just 6-9 feet (2-3m) below the neighboring
Acropora
colonies. The similar habitat characteristics between her structure and nearby corals makes the sculpture a good candidate for attaching fragmented pieces of Elkhorn.
Colleen's idea of a living sculpture reimagines coral restoration frames from a static object to a vital organism co-created with marine life to flourish as an aesthetic and functional ecosystem. This project sited in an area highly degraded by hurricanes and human activities serves as a research pilot combining art, science, technology, and tourism.
She hopes this work will enhance survival of homeless fragments, create a favorable condition for coral settlement and fish aggregation, help mitigate destructive local impacts, and raise awareness to transform human behaviors to spark more action to heal the ocean.
Colleen is also working towards measuring the electrical field and other ambient ocean data important to understanding results, such as if the low voltage current is creating a pH buffer zone around the sculpture, the variations in local salinity, Oxygen, and other nutrients, density of coral skeletons after adapting to the frame, and which parts of the structure prove to be most hospitable for survival, to name a few.
You can learn more about this project at
Zoecoral.com,
 and on
YouTube.