During Iberzoo in Spain our correspondent Antonio Lóp went by the Easyreefs booth and snapped a few pictures, including a few of an intriguing of a prototype rotifer reactor to breed artemia and rotifers. They also look to be introducing a smaller version of their Easyreefs Easy Roti Pro, the Easy Roti 250 a 250ml version.
Food manufacturers are making it easier to culture your own artmeia or rotifers with kits and special batches to make production simpler. For some, using DIY setups including 2 liter soda bottles or acrylic tubes are perfect, but others want something more defined and turnkey.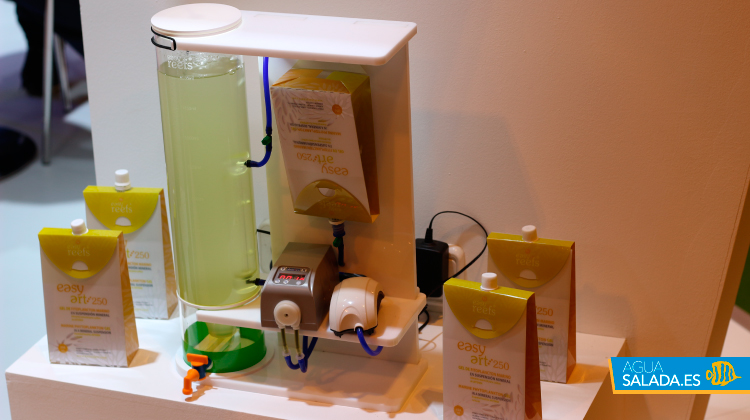 The Easyreef rotifer reactor is taking the latter approach and we hope to see this move from prototype to full production. The unit has a nice compact design allowing you to keep your cultures growing in a more ordered fashion.
The setup features everything on a nice acrylic stand. The main workhorse is the clear acrylic culturing tube with integrated light, most likely an LED, with a conical bottom to guide the culture to the bottom when its ready to harvest from the spigot.
Sitting next to it is a hook to hang the Easy Roti 250 that is drawn out by a small peristaltic pump sitting nicely on a shelf right beneath it to continuously feed the rotifers or artemia. The Easy Roti features two forms of microalgae — Nannochloropsis (80% ) and Tetraselmis (20%). This gives you the slow continuous addition of phyto to the culture. Next to the peristaltic pump is a small air pump to circulate the water.
All-in-all, this is a nice compact setup that allows you to keep a culture, but also lets you easily pull it apart for cleaning. We're glad Antonio snapped a few pictures and we look forward to hearing more in the next few months.
For more images and info from Iberzoo, check out Antonio's blog Aguasalada.