Having fish jumping out of your aquarium sucks. Full netting and eggcrate have been one way to help keep the fish, but with our penchant for rimless open-top tanks, this can seem a bit much. Bananaquarium FishGuard in a new product that prevents jumpers by using a strip of webbing around the rim of the aquarium rather than covering the whole top.
We've seen most companies tackle the issue by covering as much as possible, like the Red Sea Aquarium Net Cover. This is may be one of the few companies using the netting on just a limited area, but is it logical?
Looking at the picture of the FishGuard installed, you can't help but notice that big fat hole in the center just begging for a fish to jump through it. Bananaquarium contends a full tank cover is too much protection. Plus you have to always open it to feed, clean, etc.
The FishGuard is designed to solve what they see is the majority of reasons fish jump. They note jumping mostly happens due to stress inside of its habitat (bullying, fighting, territorial drift from another fish, or a startle response). The fish flees by swimming away — horizontally. They'll run into the glass, attempt to swim up and SPLASH! They're out and on your floor.
How they go about solving this is to use a corner clip that fits over the tanks corner. A clear mesh netting is strung across, corner-to-corner, slipping over a rod that holds tenses up the net and gives a 90 degree turn to the next corner. Secure the net on the last rung and snap on the mesh locks to hold it in place.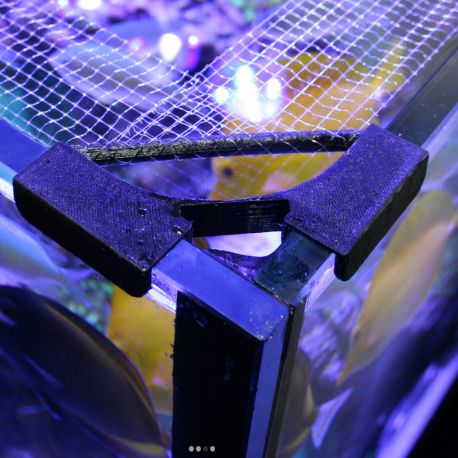 Overall, it doesn't seem too intrusive and solves the issue of opening and closing since you just leave it there. You will need a rimless tank with square corners and have a glass thickness of 6, 8, 10 or 12 mm. They do mention it fits most Red Sea Reefers, (except for the 450 model because of the 15mm glass).
These are available in Europe and other regions. We were able to find it online in some places for around €30-35.