New Hollis Canister Light
Constructed with the highest quality materials in Lake City, Florida, LED1200 Canister Light is a critical tool for demanding exploration dives.
Hollis has expanded its line with the dependable LED1200 Canister Light that provides consumers with the ultimate primary light for cave, wreck or ocean dives. The light head is made from the same 6061 T6-grade aluminum used on commercial aircrafts and provides fast dissipation of the LED components. Redundant seals in the light head and battery ensure no flooding will ever occur, and two canister lid options are available for standard or side mount configuration.
"We've constructed the LED1200 Canister Light using only the best quality components, and we're excited for consumers to experience how reliable this primary light is," said Brand Manger Nick Hollis. "Mark our words, it's the most dependable primary light Hollis has ever produced."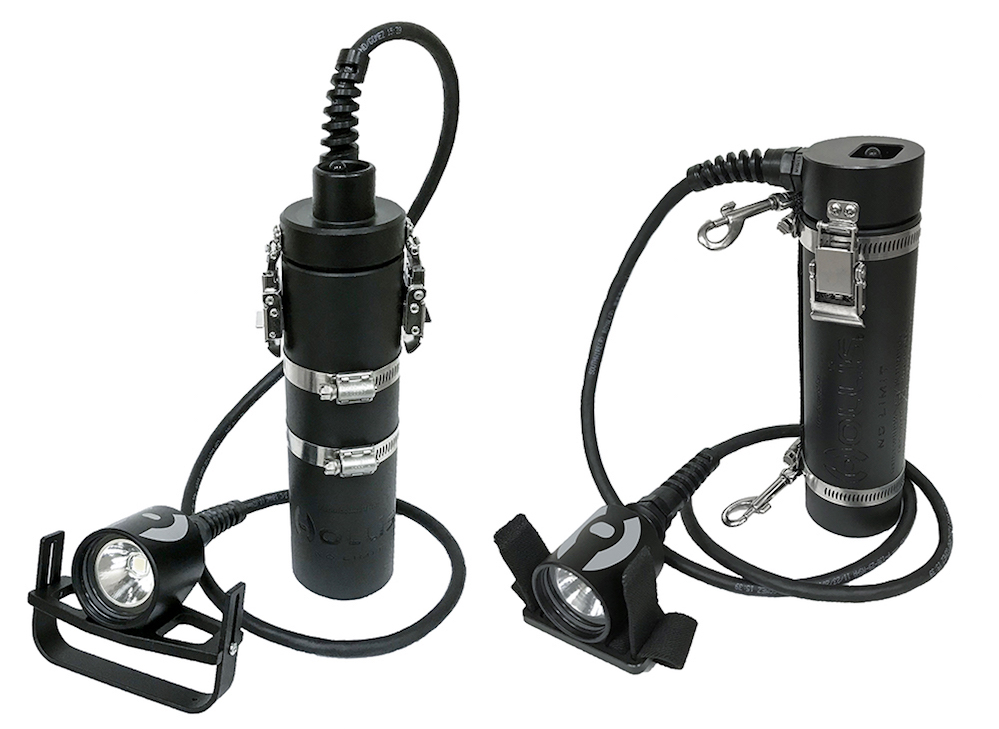 KEY FEATURES
Heavy-Duty Light Head
Machined aircraft-grade aluminum housing and handle
High performance LED OSRAM Emitter with high performance, superior robustness and long lifetime
1200 Lumens output @ 6,000 Kelvin and 6-degree MR11 reflector for a tight beam when signaling
Choice of elastic goodman handle (standard) or hard goodman grip (sold as accessory)
Secure Battery Canister
Powered by a 5.2aH (57.5wH) Li-Ion battery pack
Runtime of 300 minutes and charge time of 3 hours from full discharge
Machined solid Delrin canister with external locking Nielsen latches
Protective toggle switch with durable rubber boot and redundant sealing
Charging ports keeps battery sealed from environment during charging and terminals sealed from water during dives
Convenient Standard / Side mount Options
Choice of either standard or side mount cable routing
Standard top cable length 48"
Side mount cable length 52"
Both options compatible with the same battery
Purchase a spare light head to switch between either configuration
LED1200 Canister Light comes with a Hollis 3-year warranty that covers materials and manufacturing defects. Learn more at https://www.hollis.com/led1200-canister-light/.

About Hollis:
Hollis manufactures dependable and innovative technical diving equipment for your personal exploration needs. We bring engineering experience to the industry, designing the highest quality diving equipment available. Built to accommodate the beginning sport diver to the exploratory technical diver, using the most cutting-edge materials and proven technologies for any condition. Designed and Built with Pride in the USA.
https://www.hollis.com
About Huish Outdoors:
Hollis is part of the Huish Outdoors family of companies. ONE COMPANY, WITH THE BEST BRANDS IN DIVE. Huish Outdoors has brought together the best brands in dive which combined, have over 150 years of history and product innovation. Our portfolio of brands is iconic, complimentary, and collectively represent a full line with each brand being authentic to its category. Our brands include, Atomic Aquatics, BARE, Hollis, Oceanic, Stahlsac, Zeagle, as well as distribution of Suunto in North America.