After such a successful run with the initial run, there is now a second edition of the book "Nudibranch and Sea Slug Identification: Indo-Pacific" available for purchase from the team at Fish ID.
The initial book by Terrence Gosliner, Ángel Valdés and David Behrens sold out and seemed like a better idea to revise and put of a new book as there are now 185 new species showcased in the new book. also now includes additional photographs of species, an identification key, and an up-to-date classification. The new book illustrates 2138 Indo-Pacific nudibranchs and sea slugs, including many undescribed species and features photographs, an identification key, and up-to-date classification.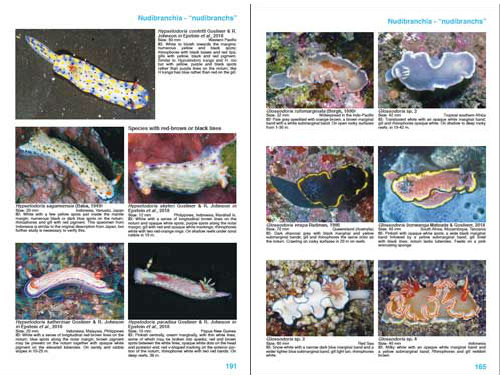 Why limit them to the Indo-Pacific region? Besides being the largest expanse of tropical ocean in the world, the Indo-Pacific region goes from the Indian Ocean coast of southern Africa, to the Red Sea and all the way out to the central Pacific of the Hawaiian Islands, Easter Island and the Marquesas. We know this region supports the most diverse marine fauna of any place in the world for most groups of marine organisms and there are 3,000 described species of nudibranchs and sea slugs in the world and at least 40% of these have been found exclusively in the Indo-Pacific tropics.
As we mentioned in our first review of the book, although nudibranchs and sea slugs aren't the rock stars of the reefing world like the fuzzy sticks and super colorful fish, they hold a place near and dear to us. Their colors are absolutely stunning, their behavior intriguing and maybe the lack of understanding makes them more compelling.
The 2nd Edition hit the stores on November 1 and if you're looking for something for that special reefer in your life, you can grab a copy for $65.