A ground-breaking coral reef experiment, likened to the world's biggest IVF procedure, could be the answer to a healthy future for the Great Barrier Reef which, at 70 million football fields in size, is the world's largest living organism and a natural asset valued at $56 billion.
Professor Peter Harrison, the marine scientist who co-discovered coral spawning 35 years ago, conducted the oversized "fertility treatment" at the Heron Island Research Station with help from the Great Barrier Reef Foundation. The experiment was first trialed in November 2016 when millions of microscopic sperm and eggs were harvested from last year's annual coral spawning event, and placed into giant tanks for fertilization. The subsequent coral larvae were then planted back onto the reef.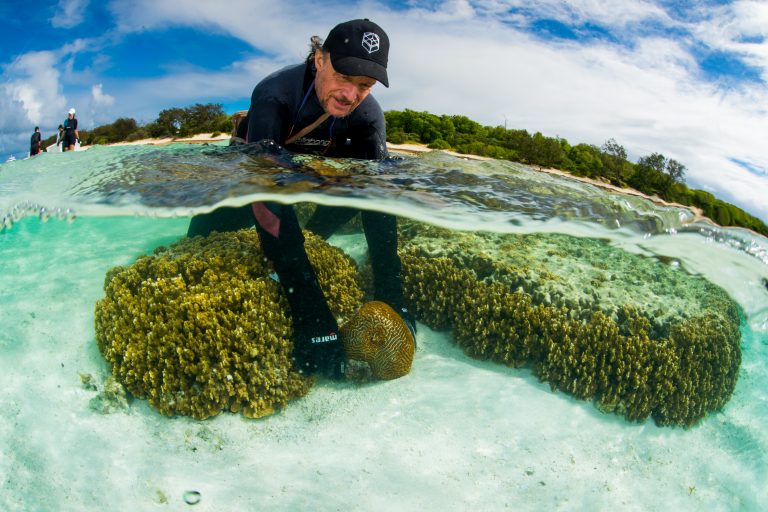 "This is the first large-scale study of its kind and our research shows that we can help corals reproduce successfully by increasing larvae settling on the Great Barrier Reef and allowing them to develop into juvenile corals," said Professor Harrison. "From our previous studies, we know that microscopic larvae, once settled, can grow into dinner plate size corals in just three years and become sexually reproductive."
"The success of this project on Heron Island could increase the scale of coral restoration on the Great Barrier Reef in future; if we can fast track coral growth and regeneration and apply this to other areas of the reef, we hope to see larger areas of healthy coral that can be enjoyed by generations to come."
The success of the larval reseeding project at Heron Island is a marker of hope for restoring areas of the Great Barrier Reef previously affected by coral bleaching. Like any parent-to-be, Professor Harrison will continue to anxiously monitor the growth of both coral colonies and refine techniques for future application to other areas of the Great Barrier Reef.
Great Barrier Reef Foundation Managing Director Anna Marsden said Heron Island, once rated by Jacques Cousteau as one of the Top 10 dive sites in the world, was well qualified for pioneering reef studies. "It's not only tourists who come from all over the world to experience the sheer magic of the Great Barrier Reef at Heron Island, marine scientists also flock to the island to access one of the best reef research laboratories in the world, the University of Queensland Research Station," said Anna.
"Researchers on the island are looking at innovations like larval reseeding to help coral reefs rebuild and adapt so they can live through everything the world is throwing at them and to survive into the future."
Professor Harrison and the team at the Heron Island Research Centre worked alongside the Great Barrier Reef Marine Park Authority on the project, which was made possible through a donation by Stephen Fitzgerald, the former chairman of Goldman Sachs Australia and New Zealand. [ABC News]
Eggs in coral branches Photos from Ocean Gardener Indonesia