The Zetlight QMaven 2 is a second generation reef aquarium light fixture from the company that delivered unique lighting concepts such as the UFO LED. More than most manufacturers Zetlight has focused on engineering unique features into reef aquarium lights in a fixture that is also quite attractive on the outside.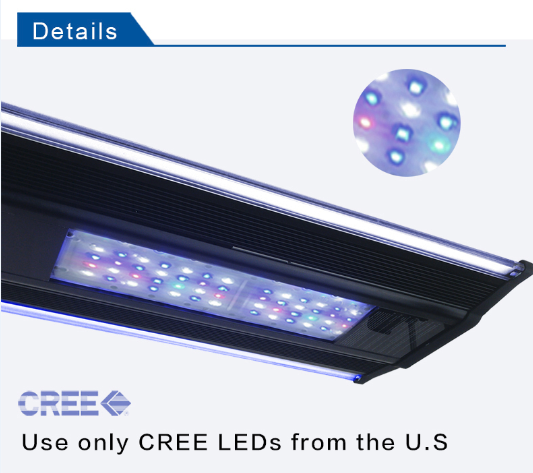 The QMaven 2 continues this trend with a pretty big revamp to their first QMaven fixture, but with tons of new improvements to make reefers give this light a serious consideration. In addition to a fresh crop of LED models, better wireless controls, and a discrete moonlighting system, the QMaven 2 introduces a number of tangible improvements for lighting our reef aquariums.
The first real big obvious difference is the redesigned heatsink which no longer requires a fan, not only making the QMaven 2 silent in its operation, but it also has enabled Zetlight to make this fixture waterproof. The IP67 rating of the Qmaven 2 means that it can take more than a splash of water without incident, and you can get it wet but you can't immerse it – although it'll probably survive a short accidental dip.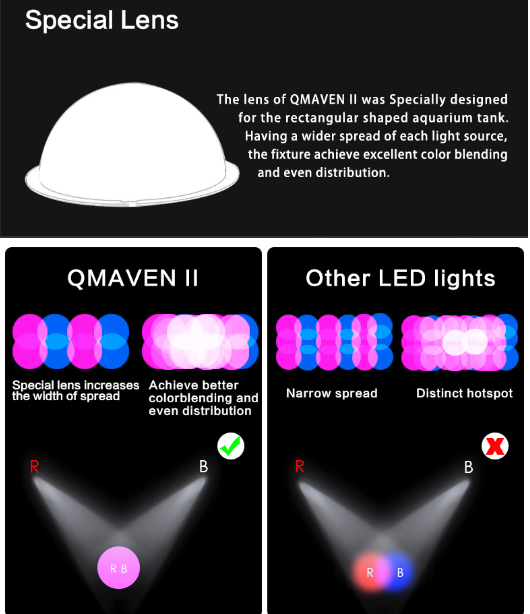 Perhaps the biggest functional difference is new and improved secondary lenses on the Qmaven 2 that are similar to Hemispherical Edge Illumination-style lenses. This new lens system provides lower peak lighting intensity but much more even lighting distribution throughout the entire aquarium, and it also reduces the 'disco-ball' effect due to much better color mixing. The nearly waterproof nature of the QMaven 2 means that cleaning off these lenses and removing unwanted but inevitable salt creep will be easier than ever.
The LED colors include white, red, green, violet/UV and a mixture of blues to cover the entire lighting spectrum with five channels to control and mix the colors to you or your corals' liking. The QMaven is also one of the rare few LED lighting fixtures to have a dedicated moonlight channel so you can see what your reef animals are up to when the main lights aren't on.
Zetlight is offering the Qmaven 2 in three sizes, a two foot version with 90 watts of power, a three foot model with 160 watts of output, and finally a four foot fixture with 210 total watts of light. The models have 56, 112 and 168 LEDs respectively for an average of 1.4 watts per diode meaning these clusters of diodes will be running at peak efficiency (lower watt per diode = more lumens per watt). The QMaven 2 starts at $359 for the smallest 24″ model and includes all the mounting hardware necessary to mount it to your aquarium of choice. [Ming]