Red Sea has a whole new wave of reef aquarium products coming to market this year, and they really want you to use them on your current or future Red Sea tanks. To help make sense of the various new product categories and their sizes, Red Sea has just launched a new service called the MyReefer Wizard.
This year alone we'll finally see a nearly complete ecosystem of reef aquarium products from Red Sea which includes three skimmers, two gyre pumps, two lights, one dosing pump – the only missing component really is a heater and a return pump. The MyReefer Wizard is an online configuration tool that helps users determine which product and which size are most suitable for the different Red Sea tanks and setups.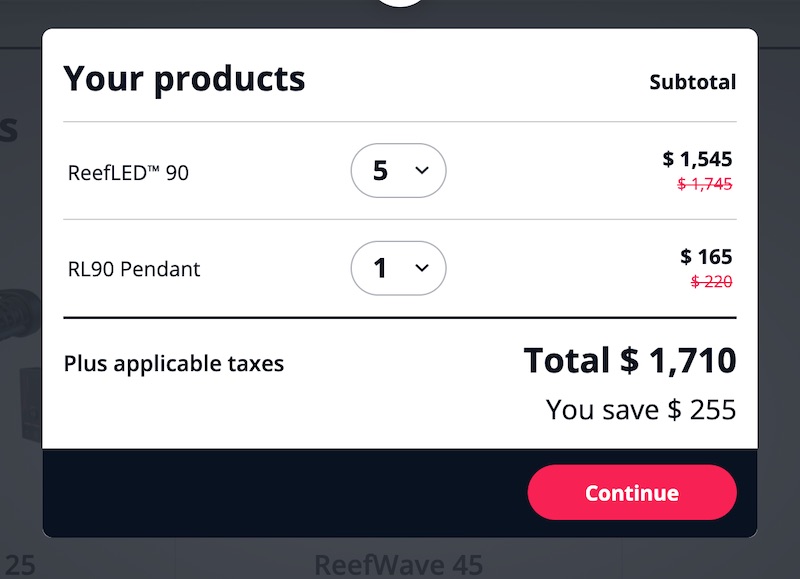 The MyReefer Wizard starts with the option to either upgrade an existing setup or to configure a complete system from scratch. We walked through the configuration tool to see what this wizard would suggest for lighting the Red Sea Peninsula at the Studio using Red Sea's spanking new ReefLED light fixtures. While it recommended four 90 watts lights, we bumped it up to five and it even suggested the hanging pendant/bracket to suspend the lights.
You can see the discounts offered through the MyReefer Wizard before or after a selection of products has been made but then users are asked to submit their Red Sea tanks' serial number to redeem a voucher. We're pretty sure that Red Sea isn't planning to sell directly in any form and we presume instead that this voucher is somehow to be redeemed at your LFS to receive the special pricing – but we're not sure exactly how this program works yet.
The MyReefer Wizard is a great initiative from Red Sea and sure to help them promote, educate and sell a lot more of their devices, and should make aquarium retailers' job of selecting the right gear that much more streamlined. [MyReefer]