Ricordeas from both the Atlantic florida and Pacific yuma species have long held a special place in the mindshare of reef keepers for their colors and their unique appearance. Despite their shaggy, long pseudotentacles that makes them resemble a small anemones, Ricordea is in fact a corallimorph meaning that they do very well in aquarium conditions, and can grow to develop into beautiful colonies of polyps.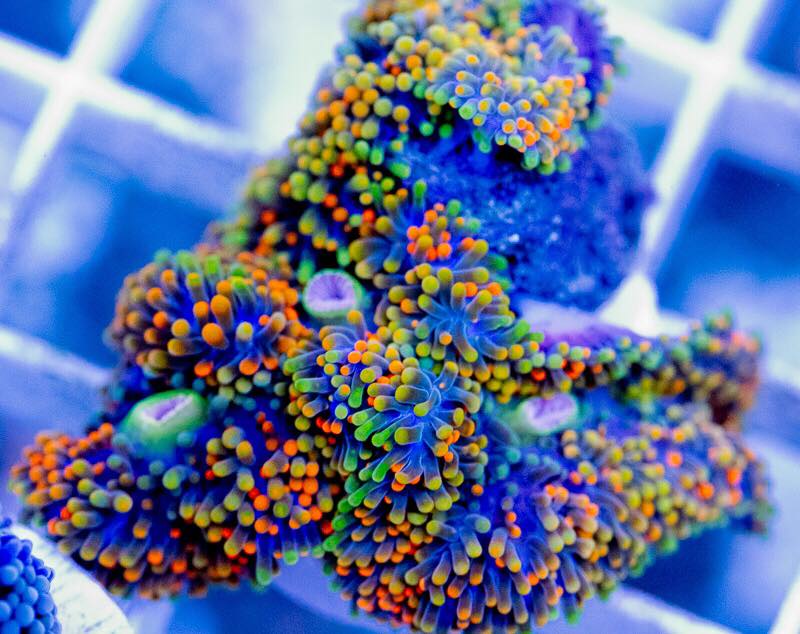 Ricordeas come in a rainbow of colors including orange, pink, green, yellow and some combinations thereof but an exceptional 'strain' called Rainbow Top Ricordeas are pushing the envelope of how colorful these shrooms can be. This particular harvest of Rics was imported by ACI Aquaculture from Haiti and while they're not completely unlike the best R. florida we've ever seen, the quality of these is something remarkable.
The pseudotentacles of this particular batch of Haitian Ricordeas have an unusually high mixing of colors including orange, green, and yellow with a deep blue base. Couple that abundant color with surprisingly long pseudotentacles and these are some of the best and showiest Ricordea that ACI Aquaculture has ever seen.
Close up images of these Ricordeas' long pseudotentacles greatly resembles either a rainbow carpet anemone, or a short Euphyllia cristata, two groups of reef animals which are very highly sought after right now. The best part of these Rainbow Top Ricordeas is that there's more than a handful to go around and we collectively know how to keep and grow these very well, so they are already getting fast tracked for captive culture in aquariums around the country.