Normally, when a wild and crazy version of a free living coral turns up, it's generally sold for a premium and it disappears into a private collection. But thankfully, the truly incredible orange-splashed Fungiid that we featured five years ago went straight to the LiveAquaria coral farm and has been in intensive culture ever since.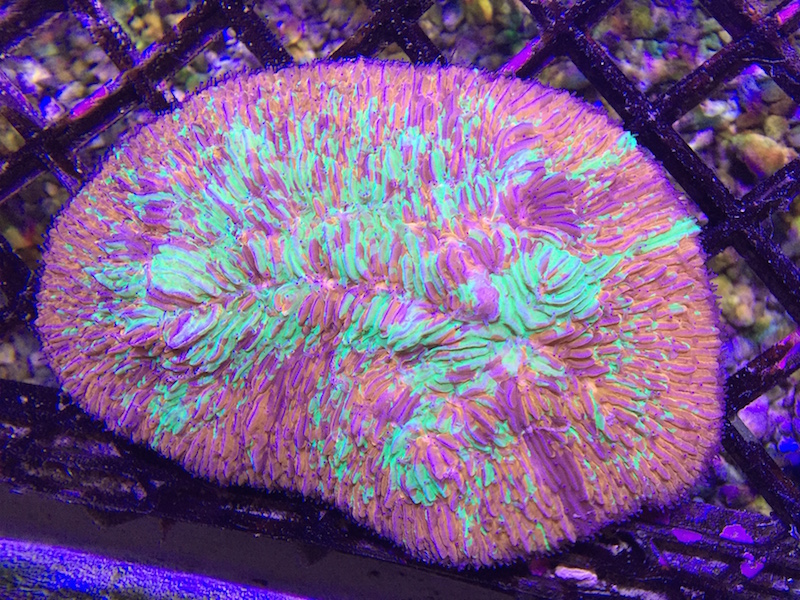 Fungiids can grow fast, but this is relative to the species and it really takes a concerted focused effort to grow this group of corals at any appreciable rate. This is precisely what LiveAquaria has done with a really unforgettable color combination of orange, green and hints of purple in a coral we once identified as a tongue coral, generally assigned to Herpolitha.
The weakly defined central groove hints at a Herpolitha species, but the granular and less definied septa, together with the splashy distribution of color suggest a Sandalolitha species. Both of these genera are hardy, colorful and multimouth colonial corals which is why it was amenable to being propagated and grown from small cut pieces.
LiveAquaria has dubbed this remarkable coral strain, with its combination or orange and green the Irish Sunset Sandal Coral and it joins other truly awesome species in their cultured coral catalog. Along with the Lava Coal Diaseris and the red tentacle tongue coral, the Irish Sunset Sandal coral is a strain to remember and should start making a limited appearance in the Diver's Den sometime soon.