Reef Stock Australia 2019
Pack your bags and buy your tickets!! Reef Stock Australia is happening next weekend.
Reef Stock is an annual tradition that has been energizing the marine and reef aquarium community in Colorado USA since 2008 and now we're coming back for our 2nd year for our international reef show being held down under.
Reef Stock Australia is happening August 17th and 18th at the Stamford Plaza Sydney Airport Hotel & Conference Centre. It promises to be a weekend of good times filled with sexy corals, shiny new reef gear, educational speakers, and tons of raffle prizes.
Come make new friends or hang out with your reef crew! Join us at Reef Stock Australia. RSVP to our official event page and stay up to date with what's happening.
Speaker Line Up
SATURDAY: Included in your ticket is access to educational speakers, there are two each day. Saturday morning Cris Capp takes the stage Saturday 12PM and talks about how to Grow the Nicest Corals. Cris is the owner of Aquatic Art, a LFS in Colorado.
Saturday at 3PM make sure to get your seat early, Vincent Chalias takes the stage to talk about Iconic Australian Corals. Over the past year, Vincent has been traveling throughout Australia collecting corals and documenting his find on Reef Builders.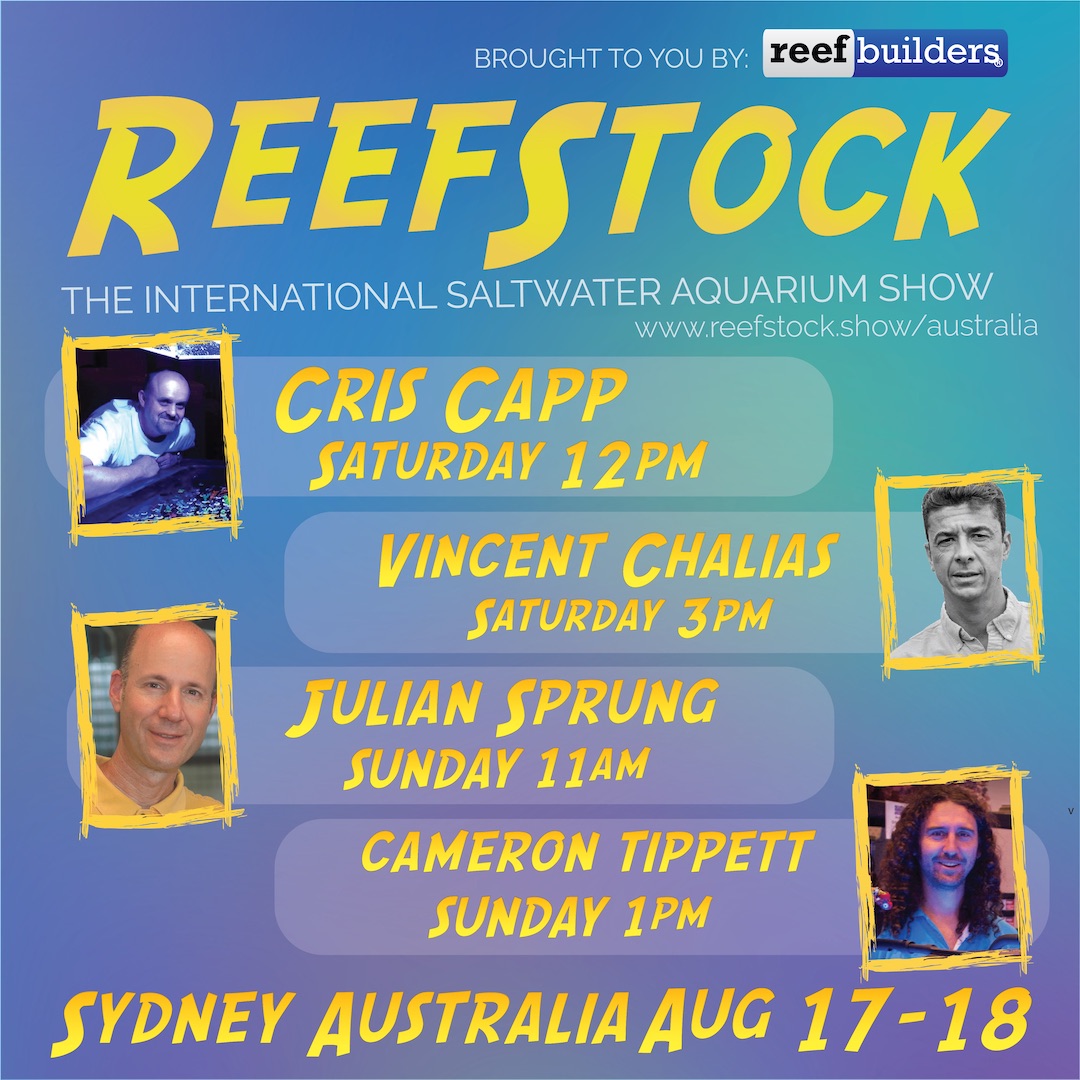 Who says Australian Corals Lack Diversity? Just ask Vincent, these and many more coral stories from Australia coming your way.
SUNDAY: All the way from sunny Florida, the man himself Julian Sprung will be at Reef Stock to speak about Little Stories from the aquarium hobby, part 3, Sunday at 11AM. Julian will also be at the show talking to fan at his Two Little Fishes booth. We are thrilled to have Julian join us in Australia.
To round out the speakers we have an Aussie local Cameron Tippett aka Cam "The Fish Guy". Cameron Tippett is a Marine Biologist and owner of Gallery Aquatica Wynnum Australia. Come check out Cam's talk for tips about Aquascaping your Reef Tank. Cam will be talking Sunday at 1PM.
Raffle Prizes
At Reef Stock we have two raffle prize draws per day. How it works? There will be a raffle table set up outside the show floor. And this year we're stoked to have Rob Mougey as our official raffle master!
On the table will be boxes with different raffle prizes and different prize times. Enter you ticket in the box you want to win and come back when the tickets are being called out. You must be present to win.
Raffle times: Saturday 2pm and Saturday 4pm. | Sunday 12pm and Sunday 2pm.