Mangrove trees are a popular addition to reef aquarium systems, and we've recently focused our attention on them with all the newfound space at the Reef Builders Studio. It's positively easy to simply keep a few Rhizophora mangrove pods alive with basic lighting and their roots in the aquarium water, but this will never result in a large, lush, showy example of the trees that hold and build tropical coastlines.
Earlier this year we received about a dozen fresh mangrove tree pods, hand-delivered by one of the biggest champions of mangrove trees in the aquarium hobby, Julian Sprung of Two Little Fishies. Under bright lighting we managed to get a really great sprouting of these pods within a couple of months, with virtually all of the young trees developing approximately four leaves spread across two nodes.
With this early success in mind we decided to run a super basic experiment to see if we could offer our mangroves a more nutritious substrate for their roots to grow in than the aragonite limestone gravel that is used out only out of convenience. It's easy to surmise that these tropical trees benefit from intense sunlight levels of brightness, but since they tend to grow in coastal mud, with all the trace elements and nutrients that it contains.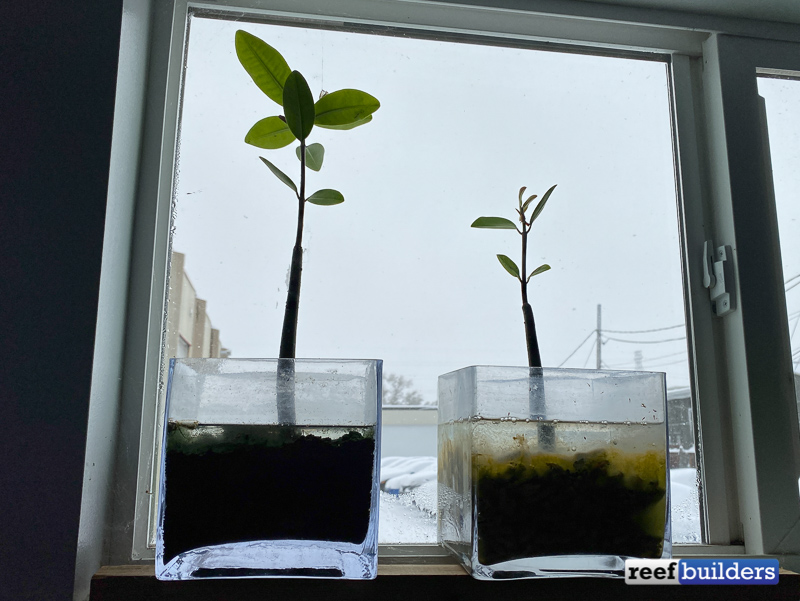 We planted two separate mangrove pods in different substrates and posted them up in the window to give them maximum sunlight exposure. In one glass planter we used Two Little Fishies Reborn, widely used as a preferred calcium reactor media, and in another one we used Brightwell Aquatics FlorinVolcanit, a popular pelletized clay substrate for freshwater planted aquariums. These two trees were essentially grown like a potted plant, kept in freshwater, and watered from a well stocked rainbowfish tank to provide a natural source of phosphate, nitrate, and other nutrients.
After just three months of growth we kind of assumed that the mangrove seedling would grow slightly better in the substrate designed for growing plants, but the visual difference has been nothing short of remarkable. Aside from the identical size of the original seed pod, the tree planted in the freshwater substrate has grown about twice as much, with larger leaves and two more fully developed nodes than the seedling kept in the Reborn.
In discussing the outcome of this basic experiment with Mr. Mangrove Sprung, he posited that the freshwater substrate might actually be providing some phosphate to the tree, and suggested testing the residual water for PO4. We did just that and low and behold, the pelletized clay substrate water has a concentration of 0.14 ppm of phosphate while the water in the reborn media was lower at 0.04 ppm of phosphate.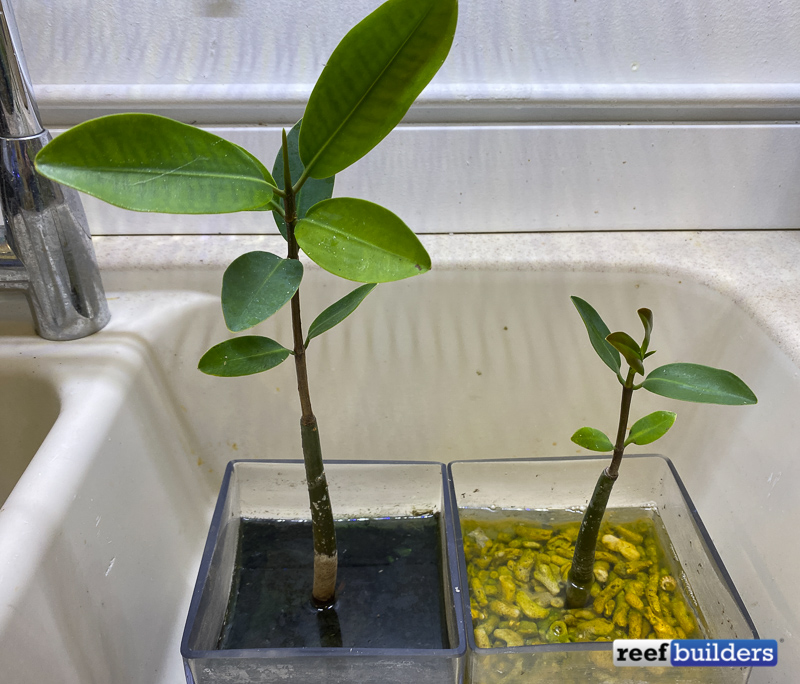 With an added concentration of phosphate it's no surprise then that the mangrove seedling in the FlorinVolcanit grew noticeably more than the typical aragonite substrate most reefers resort to. In retrospect we really should have also tried using Two Little Fishies' Outsanding Selections substrate which was formulated to provide added minerals and trace elements beneficial to plant growth, which Mr. Sprung is confident is an ideal substrate for mangroves due to its higher content of iron.
We're very keen to build and design a showcase aquarium for mangrove trees at the Reef Builders Studio. so we'll continue to investigate an ideal substrate for saltwater tolerant trees like mangroves and will sure to report back on what else we unearth.