The Cade Pro Reef 1800 S2 is an impressive concept for what an all in one reef aquarium can be in this new decade. There's more companies than ever offering high quality rimless, reef ready, pre-plumbed setups with high clarity glass but CADE Australia Creative Director Adam Dalton and his team have put together something quite extraordinary.
If you need any reason to 'believe' in the sophistication of the Pro Reef 1800 S2, then check out the instructional setup video. First of all, this is how ALL 'assembly' instructions should be for all aquarium gear, and secondly, the feature set very much reflects the Pro moniker with more than enough fun useful specs to make the Pro Reef 1800 S2 stand out.
Some notable highlights include the metal framed stand, clearly a sign of things to come with high end AIO aquariums, a built-in power management setup with external switches, and accessible hinged side doors! Another distinctive feature is the generous 15 gallon built-in auto top off reservoir hidden in the back of the aquarium and gravity fed to the float valve of the included sump.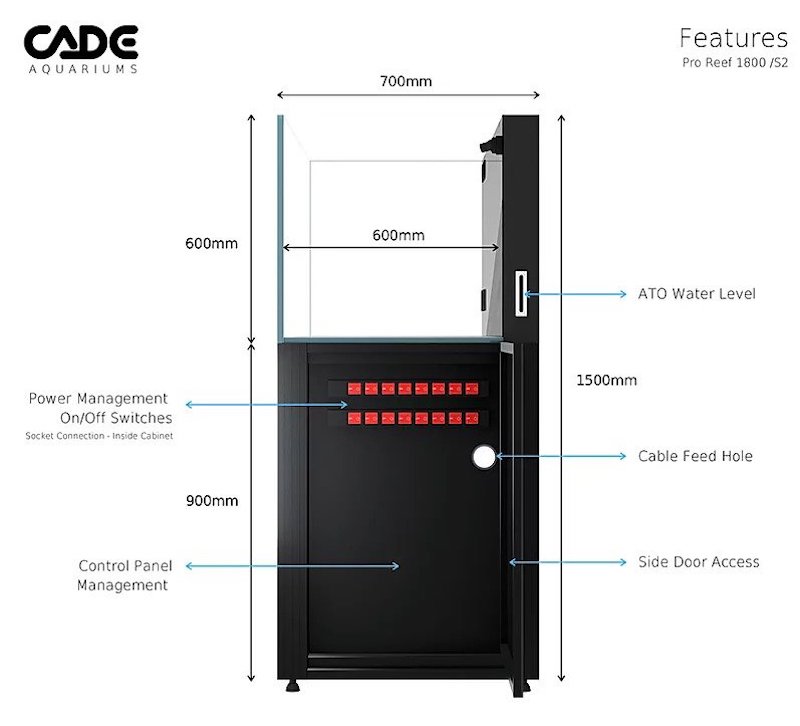 The hard-plumbed return line includes an accurate gate valve for dialing in the continuous siphon overflow, and a water flow manifold on the return for distributing water to chiller, reactors and/or a recirculating protein skimmer. We were very fortunate to first see the global debut of the CADE Pro Reef 1800 S2 at ReefStock Australia and it will soon make its North American debut at ReefStock Denver in just a few short weeks.
The AU$5,499 (US$3,669) is top dollar for a tank of this size – 171 gallon display to be precise – with a fancy sump, metal stand, but the extensive list of bells and whistles could very well be worth it. CADE will soon be enacting plans to bring this luxury kit to the American reef aquarium market and we can't wait to see it for ourselves in Denver come March 7th & 8th. [CADE]