When a casual onlooker asks 'do corals sting' we always wonder if we should give them the short answer, or the real answer. Of course all Cnidarians sting, including corals and anemone, but for most species the sting isn't strong enough to puncture human skin, except where it is very thin like a wrist. We experienced a potent reminder of this fact while getting both hands deep into a reef tank for some fish catching and relocation.
The Euhyllia Garden reef tank is just a little over a year old now and boy have the LPS corals, and their tentacles grown and become very potent. While we've enjoyed having our captive bred angelfish from Poma Labs in this calm, sheltered environment as their nursery within which they can grow up, it was time to transition them into a more fish-centric aquarium environment.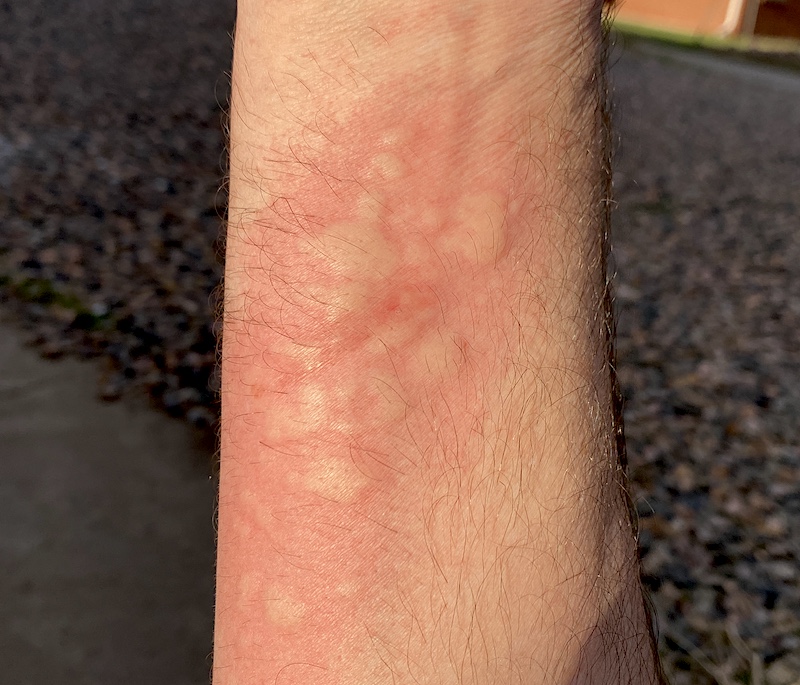 Thankfully, this three foot, seventy five gallon aquarium was aquascaped with a minimum of rock, especially touching the bottom of the tank, so there isn't a labyrinth of caves and holes for the fish to really get out of reach. Nevertheless, while we were able to reach most of the swim throughs and caves of this aquascape quite easily, a living surface of stinging tentacles definitely left their mark on our wrists in particular.
For sure the pictures of our tentacular interaction with various Euphyllia look worse than the actual sting – it was a light burning accompanied by some mild itching, and some substantial swelling. Thankfully the symptoms of being stung by hundreds of Euphyllia tentacles have nearly completely subsided but it's a reminder that some corals can really get their sting on people, especially if they make contact in just the right parts of our bodies.