CHARM
Last week when we saw the frag cleaning robot called 'CHARM' the intriguing video had me asking questions. Isn't it easier to clean frags by hand? How is this robot supposed to recognize all sorts of frags? Is this thing even real?? We had to know more.
What we found online was CHARM, (Coral Husbandry Automated Raceway Machine) aims to automate repetitive tasks when growing coral in a coral nursery or laboratory. CHARM also offers the opportunity for combining coral farming with computer automation to reduce costs and save time.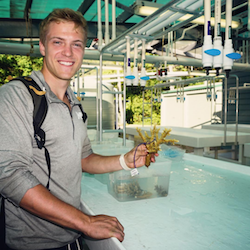 We still needed to know more and got connected to Stephen Rodan, the creator of CHARM for a zoom chat. Stephen is an engineer passionate about coral reefs, especially restoring coral reefs in the wild. He is also a hobbyist, keeping a saltwater aquarium with his father since he was young.
Wanting to have a positive impact on the environment Stephen started the Beyond Coral Foundation with the goal of protection, conservation, and restoration of reef systems using technology, art, culture, and education. Through his foundation, he began collaborating with like-minded coral lovers and visiting coral restoration projects around the world.
While visiting different projects, a challenge that stuck out was the amount of time required for the rearing of micro coral fragments. In particular, they found that spawned and settled frags took extra care as compared to or asexually produced frags.
Often in a laboratory setting or land-based coral restoration facilities in the Caribbean, many raceways will be filled with thousands of identical coral frags. Cleaning and rearing these fragments takes a lot of time with repetitive tasks, mostly cleaning and inspecting the fragments.
Combining his engineering background and desire to see more coral fragments being produced efficiently, he came up with the idea of CHARM.
How it works
CHARM is more than just a toothbrush on a robotic arm, and an important component of the device is the cloud-based computer software. To control CHARM, users select a program sequence from the online portal using a computer or smartphone app.
At the end of the CHARM raceway are multiple tooltips and when prompted, the machine carriage switches to the corresponding tool, for example, a soft bristle brush to remove algae.
The on board camera uploads images to computer software that can differentiate algae from coral initiating a cleaning sequence. However, this software also holds the potential to inspect for color changes ie, signs of disease, bleaching, or pests. It was this camera software that had me thinking of its potential for coral farming facilities in the hobby.
While CHARM is still a prototype, it does have the potential to scale up the production of nursery-grown frags for restoration. We can definitely get behind the potential of installing CHARM over single species raceways and can find additional software features that could benefit the husbandry of corals in multi-species raceways.
CHARM is part of a larger initiative from the Beyond Coral Foundation whose ultimate goal is the protection, conservation, and restoration of reef systems using technology, art, culture, and education.