I was always under the impression that ventralis anthias (Pseudanthias ventralis) were hard to keep, as they are often listed as "expert only". I have always loved the looks of this fish and was a Holy Grail fish to me given where I live, Beirut, Lebanon, and how difficult it is to find livestock especially the exotic species.
Then, a few years ago, a hotspot for Ventralis Anthias was discovered in the Philippines and availability improved considerably. The main husbandry attributes of the fish based on those who had kept Ventralis and assumptions on the forums were:
Very shy and need calm tankmates
Prefer dim lighting
Should be kept at lower temperatures
Should be constantly fed
Finicky feeders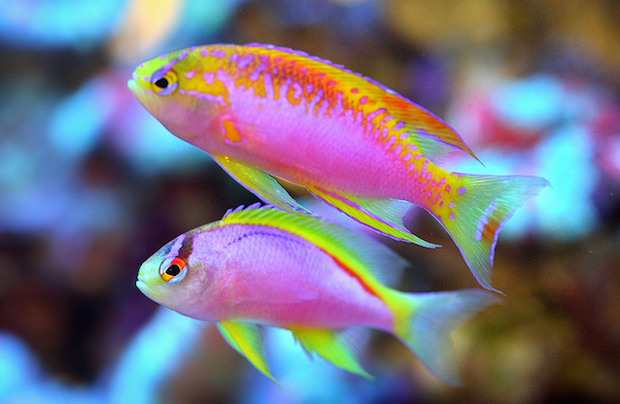 I had to try and was waiting for my opportunity once the season for them started in May. I was in Singapore and a shipment was on its way to Iwarna Aquafram, so I ended up with 8 tiny ventralis anthias (around 3 cms) that arrived back to Beirut all safe and sound.
They were all placed in a unlit QT with dither juvenile mollies and the feeding trials were to begin. I always start with what I assume is the prominent food contender and in this case it was fish roe (which are nothing more than fish eggs). I also had a fallback option in case they were hard to feed which was artemia nauplii (baby brine shrimp) that would need 48hrs to be ready.
That turned out not to be necessary as they were taking the roe with gusto and it was time to start new stuff. Mysis was next, which they took, but not that excitingly as probably a bit on the larger side. Then I started squashing prepared frozen food mix and they took it delightedly.
This is when I began mixing different types of the smallest sizes of pellets along with the frozen foods (what I usually do here is thaw out the frozen food and then add on the pellets so that they soak up the juices and smells). They took to the pellets quite rapidly as well.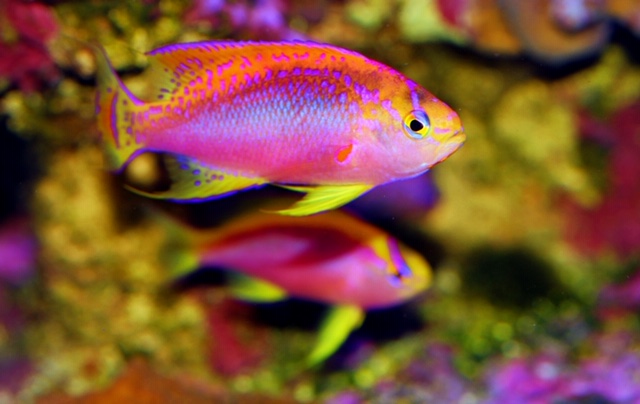 Now, during that time I started losing fish at the rate of a fish every 2-4 days. As they were eating aggressively, I started treating prophylactically with copper and praziquantel, but, continued to lose what seemingly looked like healthy fish.
At the end of QT and once I felt the fish feeding reaction was good and the treatment done, I ended up with three fish. They were moved to the display tank (which is mainly ran by the guttatus tang and a mean female "thiellei" clownfish). The three fish became two quite quickly and then I was left with only one! The remaining ventralis anthias was not one bit shy, it was out and about and mingling with the other fish, would come out to be feed whenever anyone stood by the tank, etc.
I was disappointed as I do not like to keep any group fish in singles but was happy that I finally had a live ventralis in the display albeit at an atrocious success rate of eight to one! Another opportunity came by when BPK in Dubai was taking pre-orders in September, and I was itching at the opportunity to have another go at building up that ventralis group so I went ahead and pre-ordered another 8!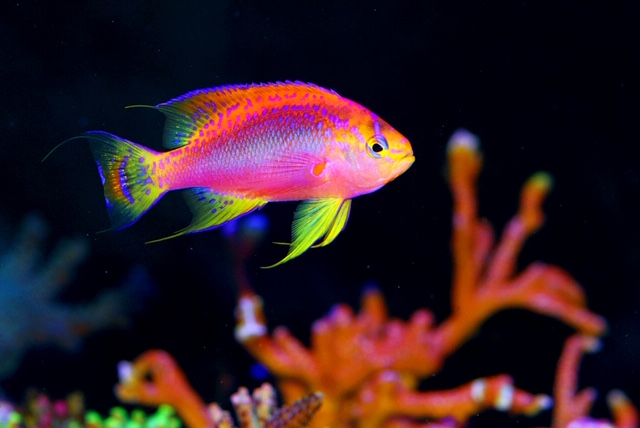 This time though the fish came in quite differently, they were larger, bulkier and looked fuller. Again, 8 arrived safe and sound in Beirut, and were acclimated to QT. It seems that the extra 4 months of growth in the wild did them good! I repeated the same procedure I did with the first batch and they took food with gusto without any issues.
Treatment went ahead but this time I ended up with all eight fish alive and well. I moved them to the display tank expecting some losses at the introduction, but lo-and-behold I had nine ventralis anthias swimming through the tank, in and out of the rockwork. They were not shy at all and did not seem to mind the intense reef lighting or the tankmates.
Fast forward to a month later and I noticed some bickering in between them. They were acting like damsels and not anthias in terms of same interspecies aggressiveness, picking at each other whenever one passes next to the other. I had an almost daily habit of counting them and then noticed I was counting 8 instead of 9 and then 7 then 6!
What was happening here? Why was I losing fish now? I suspected the thiellei female clownfish was the culprit as they are known to be quite aggressive (like this one proved to be in QT, tail grabbing a wrasse!) I kept on watching them until I started noticing some jaw locking in between the ventralis. One of them even had a deformed locked jaw (that fish survived)!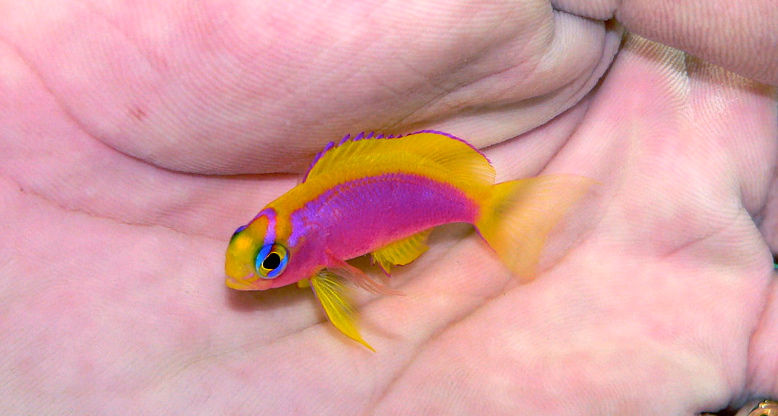 It turned out that a social dominance was being established, and one of the females was turning male! That fish was going after the others in order to deter them from following suit. Once that fish fully turned aggression calmed down and I stopped losing fish.
I ended up with 6 fish, a male and a harem of 5. I suspect that had the tank been larger (display tank is a reefer 525XL), a higher survival rate would have been possible. Now though, each female has made a crevice its home and the male just hovers all over.
I also keep my tank at 23°C but the only way to find out if those temperatures are low enough is to wait it out. The fish are fed 4 times per day, 2 feedings of Reef Nutrition ROE, 1 feeding of mixed pellets & flakes, and 1 feeding of mixed frozen food. Flow is quite strong in the tank, being SPS dominated, and the ventralis do not mind that.

In conclusion, I hope this article serves as an additional experience on keeping and enjoying ventralis anthias as it has become a more obtainable and available fish than what it used to be. This is a true jewel of the sea and the mature adult male Ventralis anthias are a sight to behold!
This article was written by Raed Mabsout and we thank him for his contribution, and sharing his experiences in keeping ventralis anthias in a reef aquarium environment.