Plectranthias purpuralepis is a brand new species of deepwater basslet coming from the North end of Taiwan in the Three Northern Islands area. It's not surprising that this new Plectranthias is found in deep water like so many of its congeners but what is surprising is that Plectranthias purpuralepis is a pretty large species.
Growing up to six inches long, or 15cm, Plectranthias purpuralepis is on the larger side with even the smallest specimens already approaching around 4 inches or 10 cm long. The size and color pattern together makes Plectranthias purpuralepis quite similar to several others in the genus including P. sheni and P. kamii which are also found in that region of the South China Sea.
You might be thinking that at that size this species is almost big enough to eat and you'd be right, because all of the specimens were caught by fishermen and many of the paratypes were actually purchased at a local fish market! Because of the way they were acquired, the specimens of the new Plectranthias purpuralepis are thought to come from around 200 feet deep, probably on some kind of rocky, sloping habitat as is the case for similar species.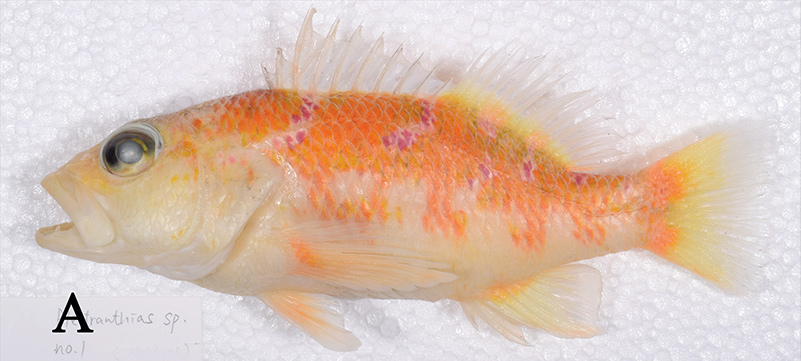 Besides the generic red-orange body with yellow accents and fins, one feature that makes Plectranthias purpuralepis very unique is a couple small partial stripes of white scales that turn a distinctive purple when they are preserved. No doubt the new 'Purple Scaled' perchlet would make an awesome aquarium fish but we still have never seen the yellow spotted perchlets from Taiwan so we're not holding out much hope. [ZooTaxa]