The Akula Ultra Kompact Skimmer from Ultra Reef is an updated mid-range line of protein skimmers packing just as many goodies as the entry level Borei skimmer we introduced last week. AS the name implies, the ultra compact design is akin to 'super space saver' and small footprint protein skimmers with the pump placed within the reaction chamber to fit as much performance in as small of a package as possible.
Ultra Reef has been designing and manufacturing a version of the UKS line of protein skimmers since at least 2013 but have been improved with so many incremental changes that it's time to revisit the feature set for 2020. One of the biggest design cues that Ultra Reef has improved year over year is how completely you can disassemble the entire skimmer without the use of tools because when you're serious about design, you want users to be able to clean every square millimeter of it.
The only tool required for part of the assembly is a screwdriver to fasten down the needle wheel pump which happens to be a slightly modified version of the fabled Sicce PSK needle wheels designated with a '+' symbol. From what we can gather, the Sicce PSK 600+, 1000+, and 1200+ are a slightly tweaked version of the PSK pumps which are nearly identical in specifications except that use slightly more power.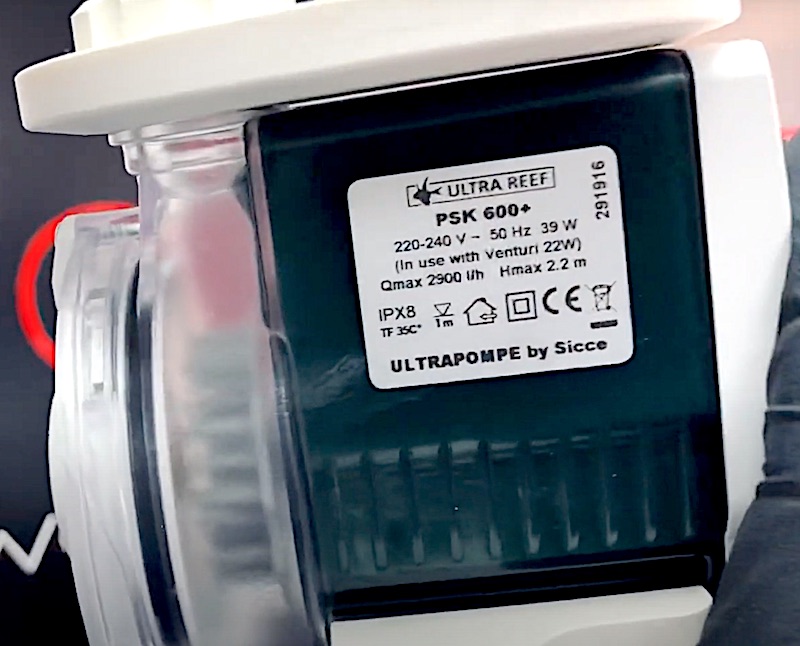 Presumably this specially tuned line of PSK are capable of pulling in a similar amount of air but with more head pressure, but also have a nice clear volute that is usually only found on Sicce's higher end controllable PSK SDC pumps. The only catch about these specially designed SDC 'plus' line of pumps is that as far as we know, these AC pumps are only made for 220 voltage so we'll have to investigate further to find out if Sicce's regular PSK pumps can fit inside and power Ultra Reef's UKS protein skimmers.
Finally, it might be a small design tweak but the very slightly bulbous conical body shape not only looks very attractive, but allows the clear body to fit snugly into the base, again with minimal tools. These hand made, finely machined protein skimmers have virtually no injection molded parts, and are priced at a very reasonable cost starting at 509€ for the smallest Akula UKS-160 using a PSK 600+, 579€ for the midsized UKS-180 powered by the PSK 1000+, and the largest model called the UKS-200 running a PSK 1200+ tops out at 649€. [Ultra Reef]