Plectranthias polygonius and P. hinano are two new species from our favorite group of dwarf basslets, and good thing too because there seems to be tons of them to be found in deep waters of the world. These two new beauties hail from French Polynesia and the Republic of the Marshall Islands in the Central Pacific Ocean.
Both of these new serranids are reminiscent of species we've seen before, either from descriptions of a super exotic, far flung species and the other is quite similar to the popular Geometric Pygmy 'hawkfish' that are common in the saltwater aquarium world. The first one, Plectranthias hinano is very similar to Plectranthias bennetti described from the Coral Sea several years ago;

Interestingly the body coloration of P. hinano is nearly identical to Bennett's Plectranthias but where the latter has a completely clear dorsal fin, the former has some degree of yellow coloring and a dark black spot in the center of the dorsal fin base. The hinano Plectranthias was collected in Tahiti and Moorea in French Polynesia,at a depth of 90 to 98 meters or just around 300 feet deep.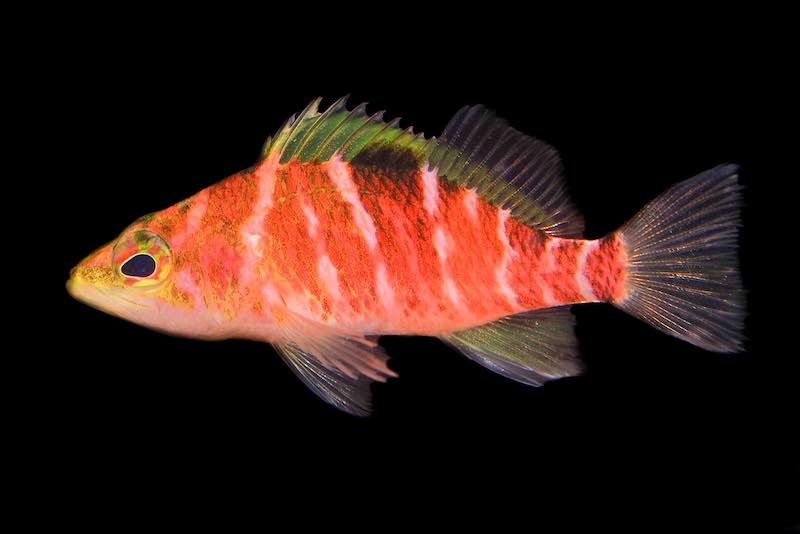 The other species, Plectranthias polygonius which is also from French Polynesia has been sighted in the Marshall Islands as well, and it's also a deep living mesophotic species. This jewel was collected from 105 meters (345 feet) in Tahiti and 120 meters (393 feet) in Maloelap Atoll and it features a very distinctive appearance.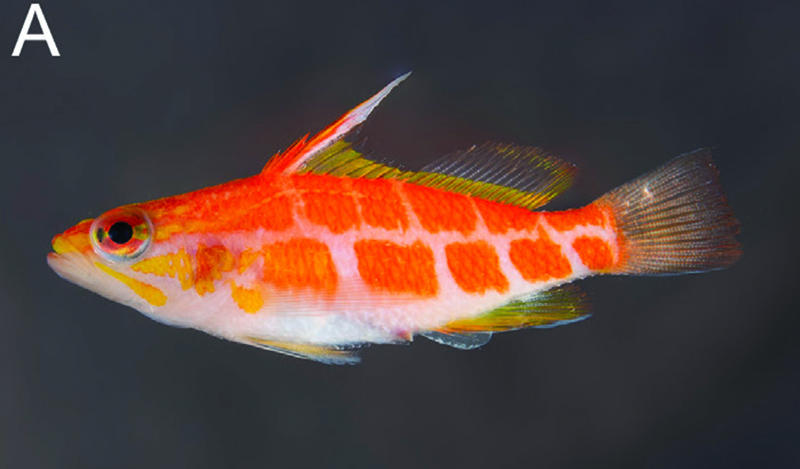 The white body is punctuated by very attractive red squares or polygons with highlights of yellow color in the dorsal and anal fins, as well as yellow stripes on the face. This 'geometric' pattern is somewhat reminiscent of the common Plectranthias inermis, with which is also shares a very prominent elongated dorsal fin spike.
Plectranthias polygonius and P. hinano represent the fourth and fifth new species of this abundant and diverse group of reef fish just this year and brings the total number of species in this genus to a whopping 58. Every time that deep diving ichthyologists dive mesophotic reefs in new parts of the world they almost always come up with new Plectranthias species and we can't wait to see what fun shapes and colors will be discovered in this group. [ZooKeys]