The multibar angelfish has one of the most conservative color patterns of any pygmy angelfish, which is what makes the recent discovery of an aberrant specimen incredibly special. This ghostly white Paracentropyge multifasciata collected by Java Ornamental Fish is part of a very exclusive club of multibar angelfish that deviated from the typical striped appearance for the species.
The last time we saw a multibar angelfish anywhere near this level of aberration was way back in summer 2016 when the 'Snow Leopard' P. multifasciata made a huge splash among angelfish collectors and enthusiasts. That lone individual still retained most of its typical pattern with bars that were broken up into spots but the Ghostly multibar angelfish has a double dose of strangeness for what this species normally looks like.
Gone is the golden yellow base of the body color being replaced with a pallid fleshy white which is peppered with small black spots only on the upper half of the body and dorsal fin. The lower half, anal fin, lower face and pelvic fins are almost completely devoid of any coloration, and is somewhat reminiscent of some of the unusual Genicanthus swallowtail angelfish hybrids that are infrequently collected for the aquarium hobby.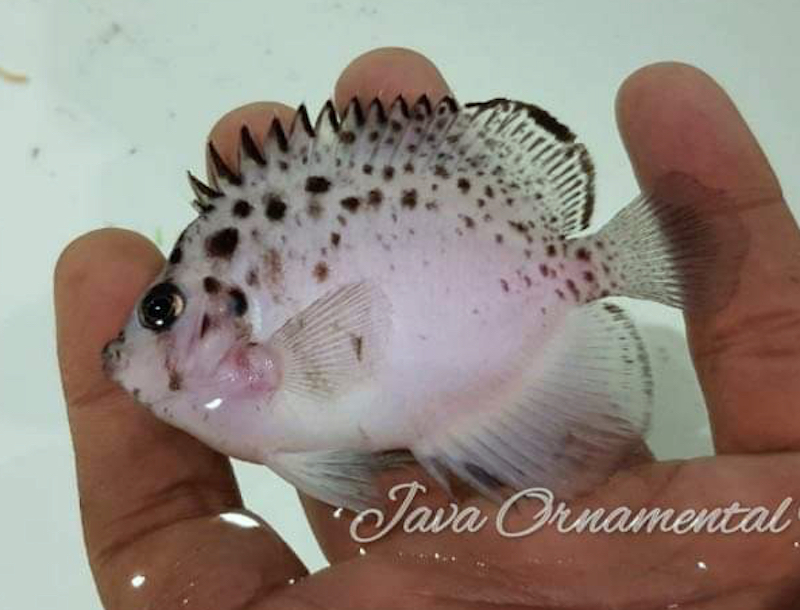 However unlike all other groups of angelfish, the very few species of Paracentropyge and their highly specific distribution implies that there isn't any other (known) species that P. multifasciata could hybridize with to result in this unusual color pattern. The Ghostly spotted multibar angelfish was discovered on the Indonesian island of Sumbawa in the center or this species' natural range.
We've seen enough aberrant Centropyge in the aquarium hobby that have changed back to normal, or at least darker, coloration after some time in captivity but it's hard to predict what the multibar angelfish will do. However with such an extreme coloration to this specimen we really doubt that it will change much if at all after some time under aquarium conditions but the lucky collector that acquires this fish will undoubtedly enjoy a one of a kind specimen at least for some time in the foreseeable future.